F
or your very first job, you need your very
first resume
. But what can you possibly include on a resume when you have no real work experience? Surprisingly -- a lot. A resume isn't just about the previous jobs you've had; it's about showcasing what makes you a hard-working, motivated employee. The best place to really hone those skills is in and outside of the classroom, through academics and
extracurricular activities
.
First Job Resume
Many students struggle with drafting their first job resume. After all, a resume is meant to showcase previous
work experience
to get a new job. This leaves many students to wonder what they should display. The solution to this problem is actually very simple. Students need to think of their current role as a job, which is providing them with real world experience regardless of whether it feels like a job. Think about it like this: your
GPA
measures your performance at the job. Your extracurricular activities and volunteering show your initiative and skill set. Finally, your school serves as your workplace.
First Job Resume Sample for Students
If you need help formatting your first resume, take a look at the first time resume with no experience sample below. It will help to get you started in the working world!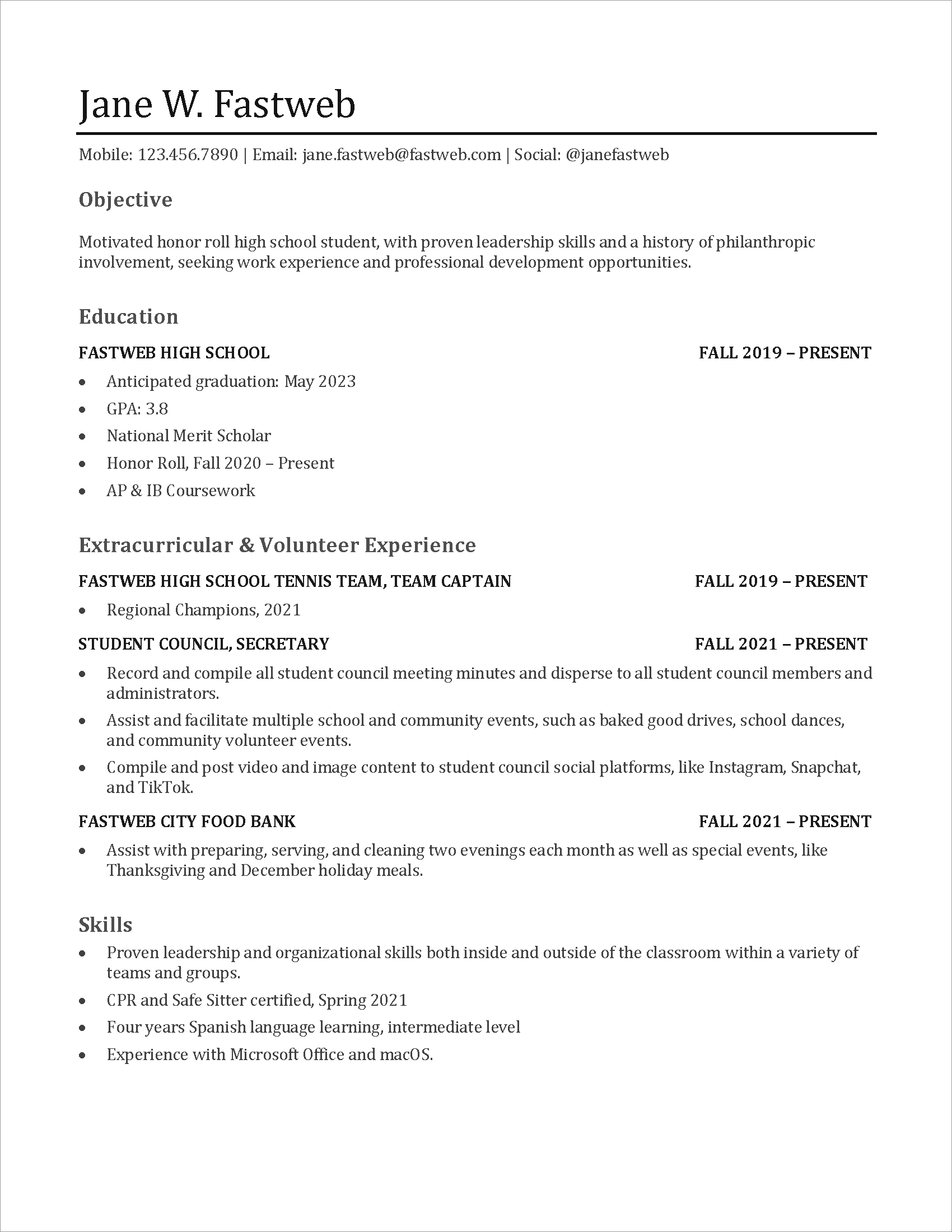 Download PDF
How to Style Your First Job Resume
The above first job
resume sample
is a very functional resume. While this type of resume has been the norm for years, resumes are beginning to evolve. How you format your resume is entirely up to you, but here are a few things you should consider: • The most important thing about your resume is not how it looks but rather the information that it conveys. • Consider the field you're seeking to work in – is it more conservative or creative? •
Hiring managers look
at a resume for just six to seven seconds. Some resumes today feature headshots or colorful infographics. As a student, you have to determine whether the field you're interested in or your personality melds with this type of resume. If you do decide on a creative resume, you can find free templates on
Canva
. You'll find that creative resumes today resemble a social media profile. Choosing a creative resume template allows you to showcase graphic or visual art design.
Finding Your First Job
As a student, your first job could very well be a
part-time job
that you commit to after school or on the weekends. It may even be a role that you take on seasonally, during the summer or over the holiday break. Students can typically
find part-time jobs at local retailers
, fast food franchises, or with a small business. Though it can take weeks to months to find your first job, stay persistent in the search, application, and
job interview
process. You can also be strategic about where you look and apply. Some retailers and
fast food stores
will actually help you pay for college. Maintaining a role at that particular company could mean less student debt as well as a reliable paycheck throughout college to help cover student expenses. As you search, here are a few places you should consider: •
Target
•
Starbucks
•
Chick-fil-A
If you're a college or grad student, there are prestigious corporations that will pay for college tuition as well. Starting in a part-time role at a company, like Amazon or Boeing, could lead to a lucrative, full-time job offer after graduation. Find out which retailers, fast food stores, and companies offer
tuition reimbursement
, and consider a role at one of these employers for your first job.
Interviewing for Your First Job
Just like your resume, you may be uncomfortable heading into your
first job interview
because you have no "work experience." And again, just like your resume, consider highlighting your experience as a student or member of a group or organization at school to serve as the work that you can discuss. You can talk about challenges and achievements that you've had both in and outside of the classroom. Through the experiences you've had, there will be lessons learned that will prepare you for the job interview as well as work in the real world. For instance, you can share when a particular subject was difficult for you and what you did to overcome the challenges, like reaching out to ask for help or putting in extra hours to study. Or discuss the time that you took on a
leadership role
in an organization. Maybe you didn't feel quite prepared for that role – what did you do to compensate or grow? As you get ready for your first job interview, it's also important for you to come up with questions that you can ask. This part of the job interview may stump you, but there are actually many
questions that you can ask your interviewer
.
No Experience, No Problem
As a student, you may feel insecure about your lack of work experience, but you don't have to. When you shift your mindset, and think of your role as a student as a job, you'll find that you actually have a great deal of experience that you can offer to a potential employer. Be confident in the work that you do both in and out of the classroom. Display it proudly on your first job resume and discuss it in depth during your first job interview. Good luck during your
first job search
– you're going to crush it!