Volunteer
Find a way to give back.
70% of admissions officers surveyed valued consistent local volunteering over a long period rather than a short stint abroad.
Admissions officers like to see words like "Commitment" and "Passion" most when applicants describe their community services.
DoSomething.org is one of the largest organizations in the US that helps young people rock causes they care about. Any young person 25 and under can join by texting "JOIN" to 38383 or joining online at www.DoSomething.org.
*2010 DoSomething.org Community Services and College Admissions Study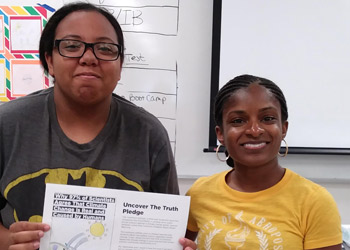 You could win an easy $3,000 scholarship by sharing why you care about the environment. We'll give you a step-by-step guide to share your story so you can help educate your friends, family, and community on the tangible effects of climate change on our lives. By sharing your thoughts, you'll automatically enter to win a $3,000 scholarship!
What:
$3,000 Scholarship
When:
September 1 - 30, 2018
Visit:
https://www.dosomething.org/us/campaigns/grab-mic/action
to learn more and stay up to date for a new Grab the Mic scholarship each month in 2018.