Volunteer
Find a way to give back.
70% of admissions officers surveyed valued consistent local volunteering over a long period rather than a short stint abroad.
Admissions officers like to see words like "Commitment" and "Passion" most when applicants describe their community services.
DoSomething.org is one of the largest organizations in the US that helps young people rock causes they care about. Any young person 25 and under can join by texting "JOIN" to 38383 or joining online at www.DoSomething.org.
*2010 DoSomething.org Community Services and College Admissions Study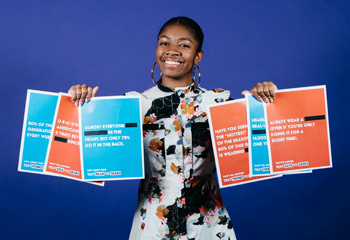 Question: 90% of this generation ___________ every Answer: wears a seat belt in the front seat. Seems like *everyone* is doing it, but the 10% who aren't are at serious risk.
You could win an easy $5,000 scholarship just by printing and posting flyers with enticing fill-in-the-blanks like the one above. For every poster you share in your community, you'll keep people safer on the road AND earn another chance at the $5,000 scholarship. Win-win!
Rules:
Unlimited. No minimum GPA or essays required. Must be 13 to 25 years old to apply. This scholarship is only open to those residing in the U.S. and Canada or those who hold citizenship in the U.S. or Canada.
What:
$5,000 for one winner!
When:
The scholarship is open from October 1, 2017 to October 31, 2017.
Go to:
https://www.dosomething.org/us/campaigns/ride-seek
to learn more!