By now, you've probably started to think about packing for college. While it's easy to get overwhelmed, remember that you're just going to college - not Mars. Every school year, tons of students pack too many items in fear that they won't be prepared. Your move back shouldn't require moving trucks or a moving company! When box packing, remember if you do forget an essential, you can always ask someone to send it, bring it whenever they visit or pick it up the next time you head home.
Follow this list to help ensure you've packed all the essentials without over-packing. You can also
download the checklist here
.
Always Ask First!
Before bringing any of the following items, contact your school's housing office and ask about the rules and regulations within the residence halls.
College Apartment Packing Checklist:
Bedroom

Comforter/Bedspread

Pillows

Sheets (Check to see if they need to be a special size)

Bed risers (If your bed isn't a loft)

Book light

Hangers

Crates or stacking storage containers

Mini-Refrigerator

TV/DVD Player/Movies

Fan

Stereo/Speakers

Shelving

Facial Tissues

Laundry basket/bag

Laundry detergent

Stain remover

Rolls of quarters (If necessary for laundry)

Dryer sheets

Cups, dishes & silverware for in-room snacks

Reusable water bottle and coffee mug

Plastic containers with lids
Personal Care

Shower caddy

Shampoo/conditioner

Soap/body wash

Towels (Bath, face, washcloths)

Shower shoes

Bathrobe

Deodorant

Shaving Cream / Razors

Make-up

First-aid kit

Feminine Products

Cold and pain medicine

Hair dryer (Straightener, Curling Iron)

Hairbrush/comb

Cotton swabs, cotton balls, etc.

Sewing kit (with safety pins)

Lint brush

Wrinkle release
Other Fun Items to Consider:

Posters/art

Framed photos with family, friends, roommates

Dry erase board (For messages from friends)

Deck of cards, Board Games
Apparel

Comfortable clothes/shoes for class

1 interview outfit

1 dressy outfit (For formal events)

Work out clothing/shoes

1 bathing suit/beach towel

Light jacket for early fall/spring

Raincoat, rain boots, umbrella

Slippers

Winter coat

Winter hat, scarf, gloves, boots
School, Computer & Tech

Computer/laptop

Computer/laptop case

Wireless mouse

Keyboard

Lap desk

Stereo/Speakers

Tablet or E-reader

Desk organizer

Binders, folders

Printer

Printer and ink cartridges

Printer paper

Pens, pencils

Highlighters

Dictionary/ Thesaurus (Apps work, too!)

Backpack or messenger bag

Calculator

Day planner

Post-It notes

Scissors

Tape

Ruler

Stapler

Paper/binder clips

Rubber bands

Extra Phone Charger(s)
Handy Things to Have

Safe with a lock (For valuables)

Flashlight

Toolbox/Basic tool set

Batteries

Weekend bag or small suitcase

Extra Power strip(s)

Poster putty or Command Strips for hanging decorations

Stepladder
Bathroom

Shower/bath mat

Shower curtain

Shower tension rod

Shower curtain hooks

Towel hooks

Shelves

Full-length mirror

Air freshener

Toilet brush

Toilet cleaner

Plunger
Cleaning Supplies

Rags, sponges, scrub-brushes

Swiffer/Swiffer pads

Mini Vacuum

Dish soap/brush

Dish rack/drying mat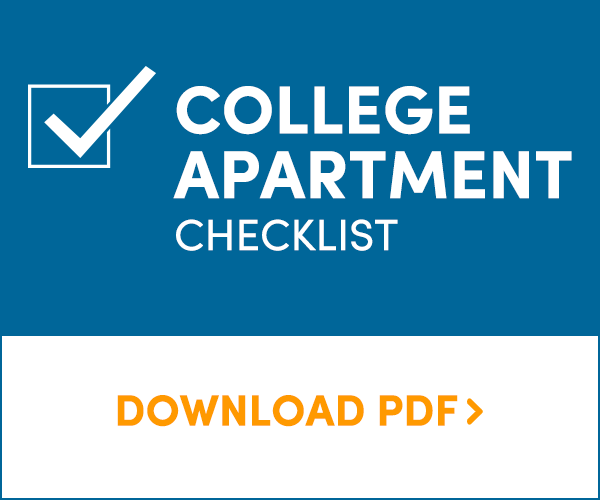 While you're packing for college, whether it's your first year or last, remember to keep up the scholarship search and application process. The scholarships you win could pay for your off-campus housing. While some scholarship providers will stipulate that their award can only be used to cover tuition, room and board, or textbooks, others leave it up to the student to decide where to spend their money. As you
search for scholarships
, this is something that you can check for in the "Terms and Conditions" on the scholarship provider's site. If it's unclear where and how you can spend a scholarship, you can always email the scholarship committee and ask.
Tips for Winning Scholarships
There are steps you can take to increase your chances of winning scholarships:
1. Update your Fastweb profile frequently.
Every day, we add new awards to our database. With that, you need to make sure you're
updating your profile
every few months with your GPA as well as adding new activities, jobs, and volunteer opportunities. You'll find that you may qualify for more scholarships after you've updated your profile.
2. Apply to scholarships often.
You don't have to be a strategist to understand that the more scholarships you apply to, the greater your chances of winning. Set a goal of applying to 1-2 scholarships per week.
3. Continue the scholarship search through college, grad school, etc.
So often, student limit their scholarship search to their junior and senior year of high school. There are thousands of
scholarship opportunities
that are exclusive to college, grad, professional, and nontraditional students. The point is: don't stop applying to scholarships until you've completed your education.