A great cover letter can give you an advantage over other applicants based on what it says about who you are and where you're hoping to go.
What will yours say about you?
Including a cover letter with your application demonstrates that you're an applicant willing to go the extra mile in terms of effort and making a great impression, especially when it is not required to complete the internship application process. A strong cover letter not only demonstrates that, but also that you are the right internship applicant to fill the available internship position. But, an internship cover letter doesn't function like a typical cover letter. In fact, it has to work a lot harder than a general cover letter. Why? Chances are that if you're applying for an internship, you may be lacking in "real" work experience, because you're likely a student or you've decided to switch careers. But gaining experience is why you need an internship in the first place, right?
Sponsored
$1,000 March Scholarship
Easy to Apply
That's why a great internship cover letter can make all of the difference between getting the position and just being another applicant in the pool. And, you definitely want to stand out because internship positions, especially the great ones, are highly competitive and go quickly! Ensuring you stand out is your surest way to internship search success and a cover letter can help you do exactly that. Essentially, you want companies to take a chance on you in order for you to gain experience, and a great cover letter can help you do just that. By getting your foot in the door at a great company, you can build solid career connections through networking, gather invaluable real-world experience in your field and, perhaps even gain college credit. A successful internship can also help launch your career because companies often hire previous interns first. Your internship cover letter should focus more on what you want to do, rather than what you've already accomplished, which differs from a traditional cover letter format. That said, don't be afraid to add previous work or extracurricular activities – even those that you think may not be relevant to your internship search. For students just starting their careers,
any
experience is good experience.
Sponsored
Get Your Custom List of Scholarships to Help Pay for School. Sign Up Now!
Fastweb is your connection to scholarships, financial aid & more.
Internship Cover Letter Tips:
Start by Introducing Yourself
First, start by introducing yourself within your cover letter. Give a brief summary of who you are so they get a clear picture of the applicant (YOU!).
State Your Intentions
Make sure to state the specific internship position for which you are applying so that your intentions are clear. You never want a potential employer to be guessing which position it is that you are applying for.
Detail Your Background
Next, give background information on what you're currently studying and where. Also, be sure to include your goals and intentions toward a career in that particular field.
Share Your Research
It also doesn't hurt to mention something you've learned about the company during your research. This could include previous projects they've completed in which you admired their work or, perhaps, include future projects they plan to work on that you'd love to be involved in. You can also mention their company culture and how you'd fit in, including any details that reflect the kind of company dynamic for which you hope to work. Make sure to include and reference the specific company name to show you're specifically interest in
their
company (even if you are applying to several other internships as well).
State Your Goals
Use a small paragraph to talk about what you hope to do with your major and career upon graduation and discuss how an internship with that particular company can specifically help you reach your goals.
Detail Your Experience
In the final paragraphs, you can showcase your previous work experience as well as your extracurricular activities and volunteer work.
End with a Summary & Closing Statement
Finally, close your internship cover letter by clearly providing your contact information, in addition to reiterating your desire to work and learn from the company through an internship opportunity there. A great cover letter sample can help you achieve all of the above steps, because it will provide a solid outline and example of what your cover letter should look like. While it is just an example and your cover letter will need to be tailored to your student experiences, it can help provide you with an example. From there, you will be able to easily organize your cover letter details and begin to visualize and create your own successful cover letter!
Internship Cover Letter Example
Check out the below example for a little more guidance on your internship cover letter. Using this internship cover letter sample can help you draft and create a strong internship cover letter of your own, detailing your unique experiences and attributes.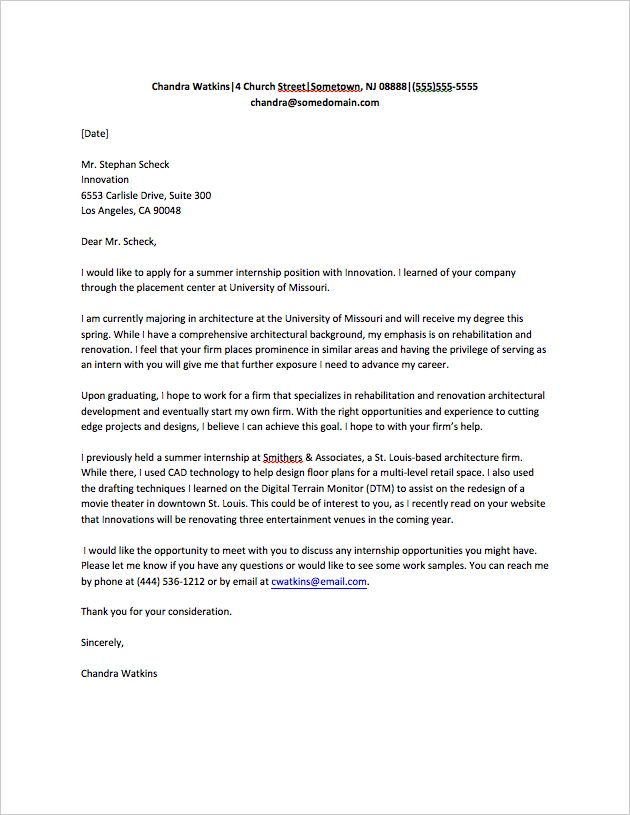 Download PDF
Using the tips and example cover letter above, you can draft a successful internship cover letter in no time. Good luck with your internship search!
Does your resume pass the 6-second test?
Get a
free resume assessment
from Monster today.