O
ctober is unofficially the start of the seasonal part-time job hunt. Traditionally many students start their job search within the retail or fast-food job markets for short-term work. For some students it is a way to make money for the holidays. Others would rather use their long break as an opportunity to learn something new with a winter seasonal job, and some even use their part-time
job earnings to help them save
and pay for school. In fact, 58% of Fastweb members polled in September do not currently have a part-time job but said they are considering a seasonal job. Nearly 60% of Fastweb users that currently hold a part-time job are considering a new, seasonal part-time job this winter. As a member of Generation Z, you're likely looking for a job that lets you test a variety of your skills. A recent
Forbes article
highlights research that supports this idea, stating that 80% of Gen Z students want a job that provides various opportunities for them to explore and grow many skill sets. If you are going to work, why not make your seasonal part-time job an adventure experience?!
Think Adventure Jobs for Your Next Part-Time Job Experience
If you'd rather avoid the bustle of a retail or
fast-food job
, consider an adventurous perspective as you begin to
look for your next seasonal part-time job
. While the jobs listed below may not be close to you, use the examples below to find similar, unique careers in your area. If a job is really speaking to you but away from home, consider connecting with the employer to find temporary housing opportunities for the job you are interested in.
Adventurous Part-Time Jobs
We've connected with several employers across the United States that offer some of the coolest jobs in the U.S. Use the examples below to look for similar opportunities.
Eastern Region
Kimball Farm: Westford, Massachusetts
A seasonal operation, Kimball Farm is known for its seafood, homemade ice cream and family-friendly activities, like its zipline and mini golf attractions. The farm offers a variety of fall seasonal jobs and fun outdoor jobs. Zachary Cournoyer, Manager of Machines and Amusement Devices, says that they are searching for high school and college students looking to make extra money. He adds, "...there is always something to keep everyone moving and enjoying their time here!"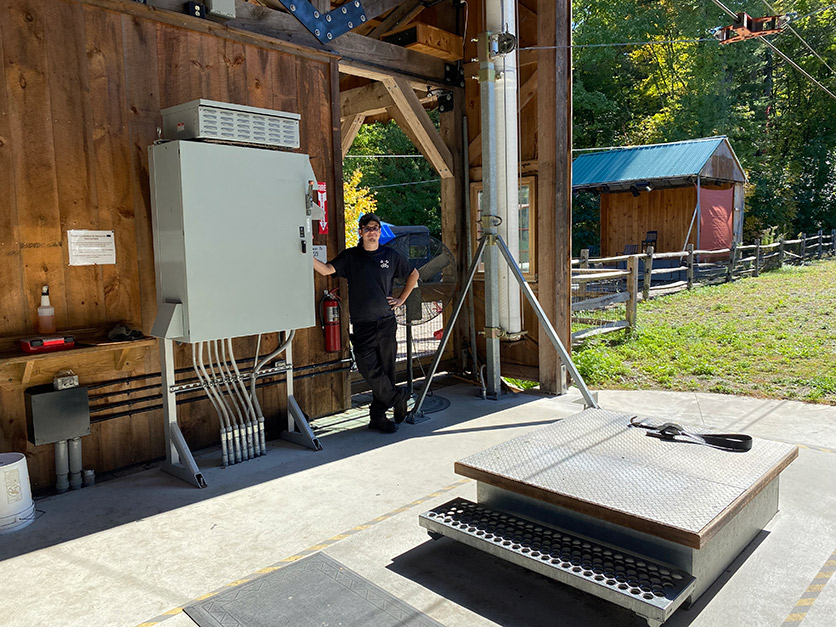 Chris performs the daily safety check on the zipline attraction to get it ready for the Kimball Farm customers.
Farm employees get perks too, such as food and ice cream discounts, and can even enjoy all the farm amusements and activities for free. Cournoyer adds that
Kimball Farm's adventure jobs
can be a lot of fun and they present many unique opportunities for students that you wouldn't find in a fast-food job.
The Vertical Challenge: Alton Bay, New Hampshire
A family ski and snowboard tour organization, this company hosts races at ski resorts in the northeastern areas. Some of the most adventurous jobs happen with a hill-crew position, like ski instructor or snowboard jobs. Hill-crew employees are generally college and grad students with winter sports experience. They actively use problem-solving skills to set up racecourse runs, serve as race guides and respond to course happenings. The VC also offers plenty of jobs that require no skiing or snowboarding experience. These cool jobs include brand ambassadors, ambassadors, DJs, and more. Heather Clifford, VC Owner and CEO, adds "We want EVERY VC employee to have an adventurous nature. Part of the reason stems from needing to deal with sometimes adverse conditions and taking the initiative to solve problems. But the other one is that we want them to convey that spirit to our racers."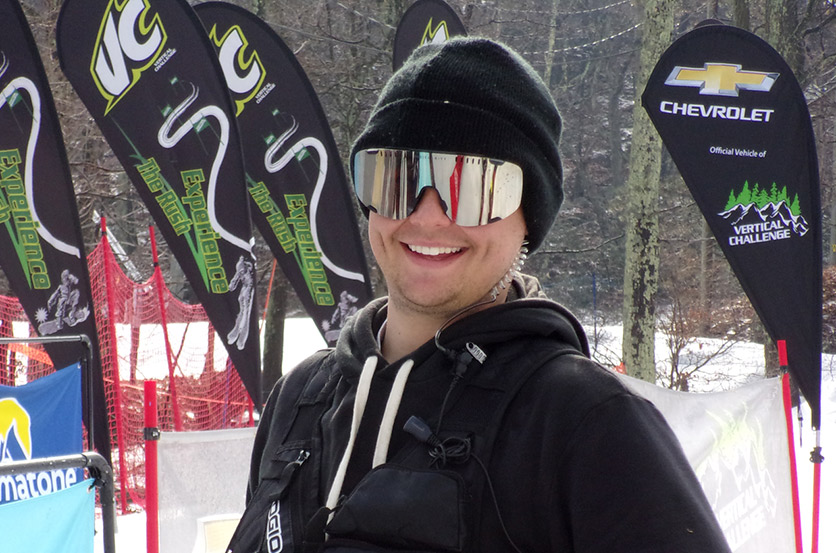 VC employee Gunnar Ouellette is at his post ready for the races to begin.
Clifford explains that VC student workers have many opportunities to gain work experience that goes beyond the mountain. The real-world experience their employees gain
translates well on a resume
. The skills gained as a VC employee include hands-on application of manual skills, mentoring, customer service, creative problem solving, teamwork, and more. The part-time job season at VC involves a one-day training session and working weekends from January 8-April 1. You will get paid to engage in a fun outdoor, work-hard, play-hard experience. Lodging and meals are covered if you are a VC Tour employee. Clifford adds, "We take pride in how young people of different backgrounds and schools find common ground and form lasting friendships. They even get asked for autographs at the wrap-up session at the finals." If you are interested in a VC job,
complete their contact form
. In the meantime, check out this YouTube video where the VC crew explains their adventure work.
Midwestern Region
Faulkner's Ranch: Kansas City, Missouri
If you dream of outdoor seasonal jobs, you can do many outdoorsy jobs at the ranch. During the fall season, Faulkner's Ranch is looking for part-time employees to help them manage their annual pumpkin season. From a ranch hand and pony attendant to a cashier or social media manager, there are many sales or
retail job opportunities
that are not the norm.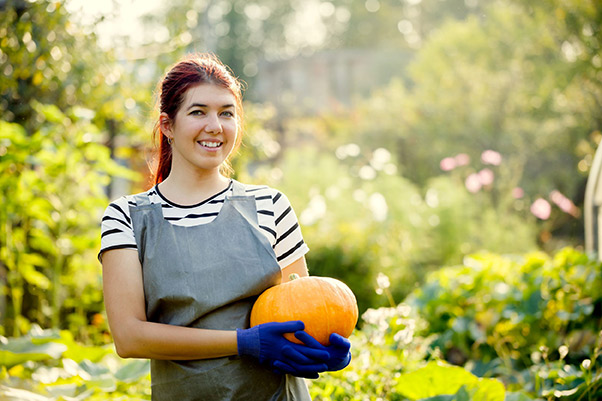 Also an event venue, the ranch is looking for
seasonal help
on both the weekdays and weekends.
Bluefin Bay Resorts: Tofte, Minnesota
Maybe you have never had the chance to see any of the Great Lakes? This resort chain offers three lakeside getaways—and they are looking for seasonal part-time employees to help. If a winter seasonal job is not possible, they offer summer jobs as well. According to
coolworks.com
, they offer jobs with employee housing. To enjoy nature while you work and find adventure after your workday is over, look for a resort job during
your winter break
.
Western Region
Zion Outfitter: Springdale, Utah
If you are looking for adventurous jobs, find an outfitting business to see what types of fun jobs they are hiring for. Many outfitters are located close to national parks and state parks. Your tasks may include traveling with hikers to explore, or making sure people have the proper tools and gear they need to trek a journey safely. See what types of
adventure-worthy jobs Zion Outfitters
is offering.
Double Canyon: West Richland, Washington
Consider learning something new in the world of agriculture. In addition to Double Canyon, many wineries are hiring part-time seasonal workers for their 2022 harvest season. Seasonal harvesters can expect to pick and process fruit as well as maintain and prep equipment used to make wine.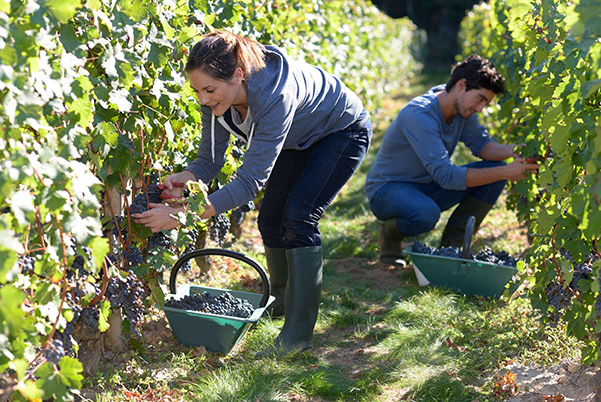 Crimson Wine Group
lists part-time job ventures in the vineyard or wine industry.
Restaurants on the Coast
Find a restaurant on the beach offering part-time jobs. While they may not directly be beach jobs, many places offer outdoor dining so you will feel like you are at the beach while working an awesome job! Places like
The Beachcomber at Crystal Cove
are always looking for cooks, hosts, and servers.
All U.S. Regions
National Park Services
If you're looking to get outdoors and explore National Parks across the USA, the National Park Service offers part-time job adventures for students! Cody Richotte worked as a Visitor Use Assistant in Yellowstone and Olympic National Parks as a part-time student employee. Richotte shares how his National Park, part-time jobs provided him with amazing experiences, "You're on your own, in limited cell coverage, enjoying some peace and quiet away from the stresses of everyday life. You can reset and find some peace in nature, spending some weekends hanging out alongside a lake in your hammock or on the top of a mountain, enjoying panoramic views. We would regularly be visited at our housing area by moose, bighorn sheep, grizzly bears, and two bison." During his time as NPS employee, Ritchotte hiked 600 miles of trails. He adds, "Being in my early twenties when I started, I grew up and learned a lot about myself through my experiences and through my coworkers. I have made lifelong memories and friends. Whenever I go back to the parks, I know the secret places that the usual visitor does not know, which is another great perk of the experience. All in all, I will always hold onto these memories and will never regret my decision to work for the National Park Service."
NPS offers a robust youth program
that includes jobs and internships. Some part-time, Youth Conservation Corps groups even offer jobs that include housing! While the
YCC program seasonality
is typically in the summer, you'll want to apply for 2023 opportunities now, if interested.
Usajobs.gov
is the best resource to find NPS jobs.
Adventure Jobs Across the United States
If you know you would like to use your holiday break to make some extra money and would also like the chance to experience a new place,
CoolWorks
can help you search for awesome work opportunities—scratch that—adventures!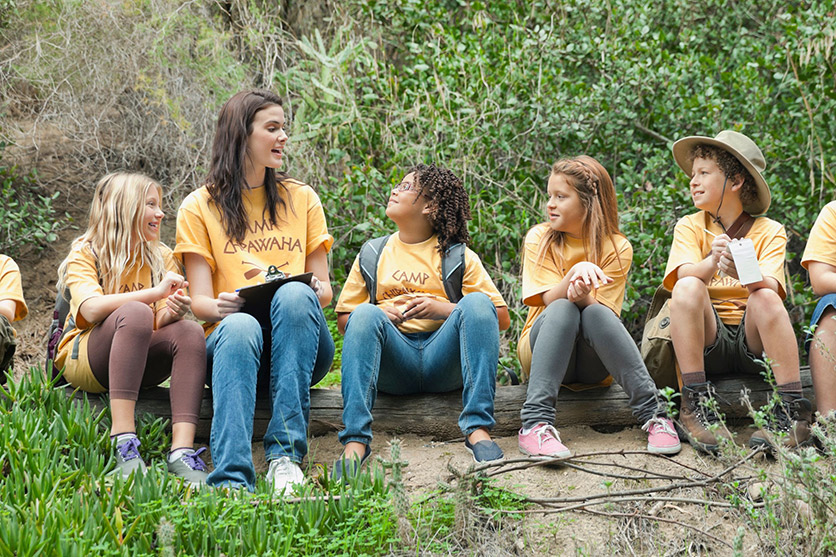 Use their site to narrow down your job search by viewing opportunities by their respective category, like job type (summer camp jobs, ski resort jobs, etc), location, or national park.
Theme Parks
Monster.com shares
theme park jobs
are available all around the U.S. While it is not summer season for everyone, many of these theme parks are still open for visitors in the fall and winter—think fall festivals, holidays, and Christmas celebrations. Dollywood, a theme park located in Tennessee, is even
offering full-tuition (books and fees included) funding
for their theme park employees!
Plant and Flower Nurseries, Farm Work
Plant, flower, and farm operations are often looking for part-time help, especially seasonally. In the Midwest, for instance, it is currently mum and pumpkin season.
Dream Acres Pumpkins and Mums
, located in Higginsville, Missouri, offers part-time seasonal work for students from May through the end of October. Employees can expect to get their hands dirty by helping to plant, weed, and water the flowers.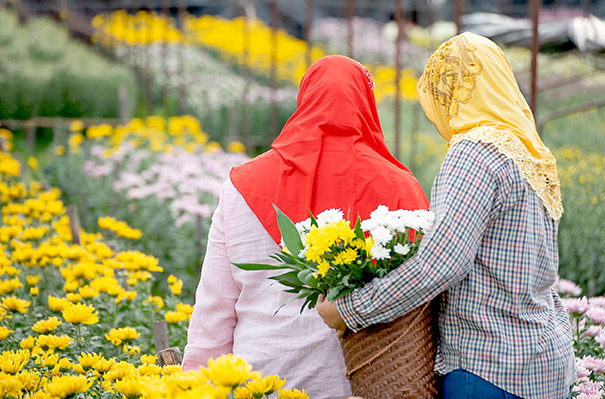 Many plant nurseries and farms have greenhouses, making it possible to produce year-round harvests of all kinds. If this sounds like more of a cool job than working in retail, consider looking for greenhouses, farms or plant nurseries in your area. Do not be afraid to reach out to ask if they are hiring part-time seasonal workers.
Part-Time Seasonal Jobs Offer Flexibility
A busy student, you probably do not want to sacrifice what is important to you, such as staying on top of your schoolwork and having the ability to participate in family and sports activities. According to our survey, this is the top reason why the majority of Fastweb members do not currently have part-time jobs. Employers are catching on to this Gen Z need; many seasonal jobs offer flexible schedules to eliminate employees from missing out on important matters. A technology-immersed generation from birth, Generation Z employees want a chance to move away from nonpersonal, transactional work experiences into IRL (in real life) fun places to work. This winter break, do some exploring to find the perfect adventure job!