Borrowing for College: How Much is Too Much?
Beware of borrowing too much in student loans.
Original Content by Sandra Guy, Updated by The Fastweb Team
June 18, 2018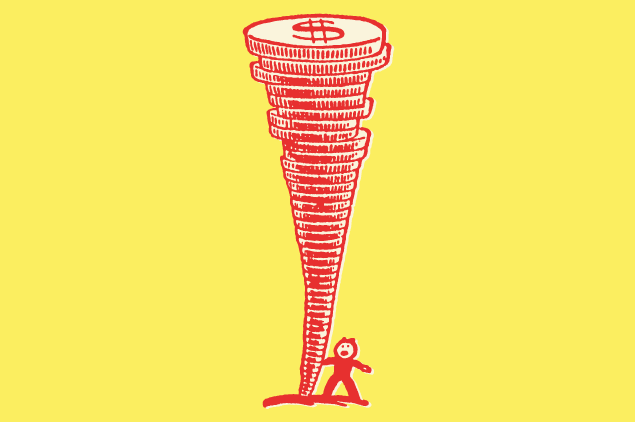 Too much of a good thing can be bad, as Shakespeare demonstrated, and the axiom is true of student borrowing for college.
Students may believe it is difficult enough worrying about the big exam next week or whom to take to the spring dance. Yet students must stretch themselves and imagine a much greater consequence, years into the future, when they consider how much money to borrow to pay for a higher education.
The first step is to try to avoid borrowing in the first place, experts say. "Students should thoroughly explore scholarships, grants and community service awards before they begin borrowing for college," said Marianne Ragins, author of Winning Scholarships for College and publisher of ScholarshipWorkshop.com, based in Centreville, Virginia.
The next step is to set up a budget based on the salary you'll likely make after you graduate from college, Ragins said. Students can check average starting salaries in their field at Salary.com and the U.S. Department of Labor's Occupational Outlook Handbook.
Most importantly, students must view each dollar they borrow for college as a dollar that they will be unable to spend to buy such essentials as a car, a house, or to start a family, and a dollar that they cannot put into a retirement-savings account.
If there is ever a time for discipline and independence, this is it, experts say. That's because lenders are in the business of urging students to borrow as much as possible, and won't warn of the financial consequences.
After students come up with a number for the amount they expect to borrow, they should make sure the loan amount, plus other expected debts such as rent and car payments, do not exceed 33% of their expected future income. Free online calculators are available to help put together a budget and estimate future costs. If college-loan and other debts consume more than a third of future income, look for alternatives.
For example, your budget may look like this:
Budget based on roughly $30,000 net yearly salary:

• Rent – $550
• Debt – $130
• Phone – $45
• Utilities – $100
• Cable/Internet – $20
• Food – $100
• Car/Insurance – $205
• Personal – $240
• Medical – $100
• Savings – $110

TOTAL: $1,600 (take home after taxes)
Students must take into account new laws and policies that make debts nearly impossible to write off. Student loans are no longer easily swept away under today's tougher bankruptcy laws. The Bankruptcy Abuse Prevention and Consumer Protection Act of 2005 extended non-dischargeable debt to student loans from private lenders, so they cannot be automatically written off. Instead, people seeking bankruptcy protection must prove that they cannot repay a student loan and still maintain a minimally adequate standard of living.
The idea that using credit cards to pay for college will be easier is a delusion with terrible consequences, said Dr. Robert D. Manning, author of Credit Card Nation, Professor and Chair of the Department of Business Administration at Prince Mohammad University in Khobar, Saudi Arabia, and Senior Research Fellow at Institute for Higher Education Law and Governance (IHELG) at the University of Houston Law School. Credit cards carry even higher fees than traditional student loans, leaving the unsuspecting to fall into a situation where it would take their entire lifetimes to pay off a credit-card debt, Manning said. Students who want to attend graduate school or another professional school after college must include those debts in any calculation of their future standard of living, Manning said.
"It forces people to say, 'If I'm going to graduate with $50,000 of student-loan debt, how am I going to make it on a $40,000 salary?'" he said.
Need Money to Pay for College?
Every semester, Fastweb helps thousands of students pay for school by matching them to scholarships, grants, and internships, for which they actually qualify. You'll find high value scholarships like VIP Voice's $5,000 Scholarship, and easy to enter scholarships like Niche $2,000 No Essay Scholarship, and internships with companies like Apple, Google, Dreamworks, and even NASA!
Join today to get matched to scholarships or internships for you!
---