4 Ways to Make the Most of My Fastweb
Check out the tools on Fastweb that were created to make your search easier.
By Kathryn Knight Randolph
December 20, 2017
Notice anything different about us?
Whether you've observed or not, My Fastweb has gotten a huge face-lift, and it's not just so we feel a little younger and fresher.
The new interface will actually help keep you better organized so that you can apply for more scholarships and hopefully win more money to pay for school too.
But enough about our new look – let's take a deep dive into the new tools so that you can maximize your chances of winning scholarships with Fastweb.
1. Scholarship Summary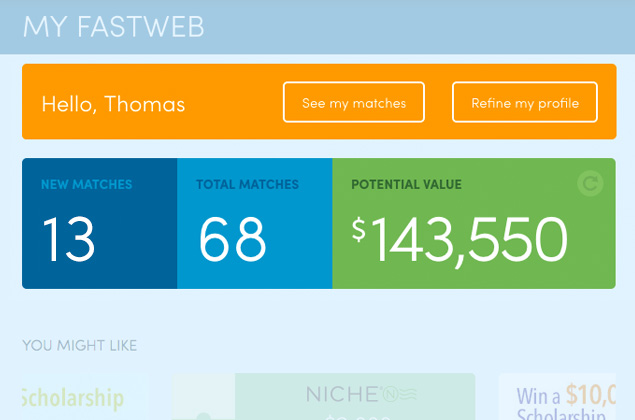 We know that the main reason you're here at Fastweb is to try to win scholarships to help pay for school, and like a good friend, we're featuring that relevant information front and center for you. When you log into the new My Fastweb, you'll see new scholarship matches since you last logged in, the total number of scholarships you have been matched to as well as the total number of dollars you could win if you applied to every single scholarship on your matches page.
From there, you can either check out your Scholarship Matches or update your profile with any new information you may have to share. For instance, if you have a new GPA or you joined a new club or organization at school, you need to update your profile! We'll be able to find even more new scholarship matches for you, which will in turn drive that total number of scholarship dollars even higher.
2. You Might Like…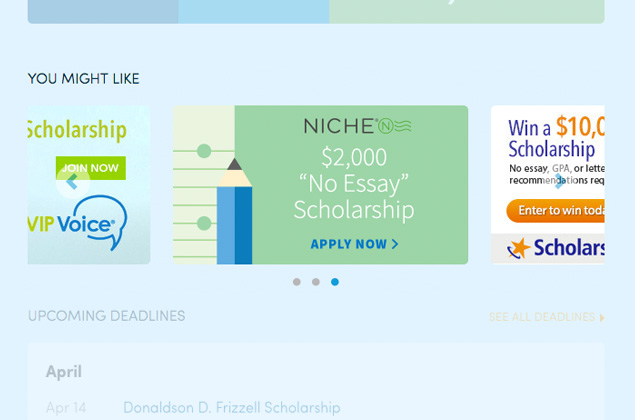 Next, you'll see a listing of exclusive offers that you are more than welcome to check out. Oftentimes, these will be featured contests or scholarship opportunities that are open to Fastweb members only, like our Refer a Friend contest which automatically enrolls you in a $500 monthly drawing each time you recommend a friend to Fastweb with your personalized invite link. These exclusive offers are constantly changing so come back to Fastweb frequently in order to see new promotions and opportunities.
3. Upcoming Deadlines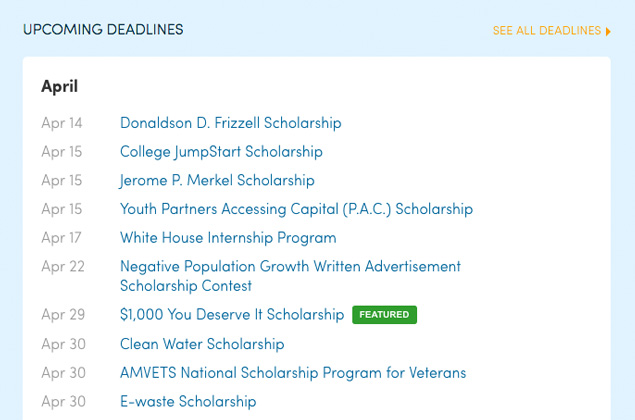 We keep track of your upcoming deadlines in two different places for a few reasons. First, it is our goal to keep you as informed as possible about the scholarship opportunities at your fingertips.
Second, we're doing our best to help keep your organized in your scholarship search and application process. The more you see the deadlines, the better you'll be able to meet them.
Finally, we don't want you to miss a single scholarship opportunity, and repetition is key to remembering so you'll be able to see your upcoming deadlines on My Fastweb as well as on your Scholarship Matches page.
4. What's Trending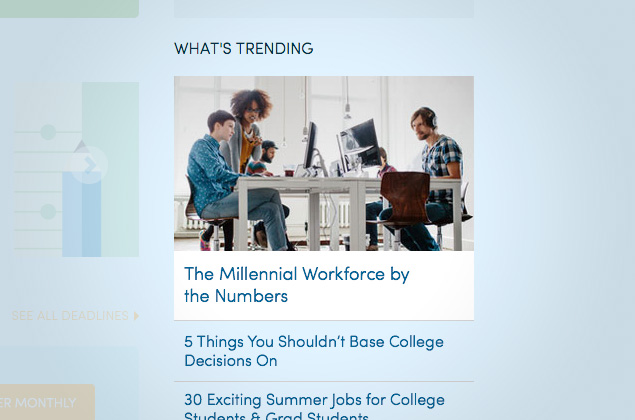 Lastly, you can view all of the cool content that other Fastweb members are reading most. Whether it's tips on how to get into college, expert advice on maximizing your aid eligibility or recent college graduate resume samples, you'll be able to benefit from the expertise of Fastweb editors and Student Contributors.
Not to mention, Fastweb is a community of students that are just like you as well as very different from you. Within our content, Fastweb members can engage with each other and leave opinions or helpful tips and tricks in our comments section at the end of each article. With that, be sure to check out trending topics on Fastweb in addition to your Scholarship Matches.
We hope our new look and feel reinvigorates your scholarship search and helps you down a path of applying and maximizing your chances of winning scholarships. And don't forget – at Fastweb, we value our members' opinions and enjoy creating a user experience that is simple, yet engaging. Let us know what you love (and don't love) about the new My Fastweb in the comments below!
Need Money to Pay for College?
Every semester, Fastweb helps thousands of students pay for school by matching them to scholarships, grants, and internships, for which they actually qualify. You'll find high value scholarships like VIP Voice's $5,000 Scholarship, and easy to enter scholarships like Niche $2,000 No Essay Scholarship, and internships with companies like Apple, Google, Dreamworks, and even NASA!
Join today to get matched to scholarships or internships for you!
---