You've made the first step to help you pay for college by creating your
free Fastweb account
—congrats. Unfortunately, far too many American students don't get this far. We're looking to change this! The world of scholarship hunting has drastically changed within the last decade. Gone are the days of purchasing massive, phone-booked sized scholarship lists. As you can imagine, these printed resources were outdated rather quickly and were not reliable tools for students or their families. This all changed in 1995—
Fastweb's birthday
. Fastweb pioneered the online scholarship database and search engine and continues to be the most trusted national scholarship directory for United States students and parents. Unlike other "so-called" scholarship sites, our research team
vets each and every scholarship
before it's placed within our database.
And we're not just about scholarships, we offer several exclusive tools to help students. Here are four ways you can make Fastweb work for you:
Check Out the Updated Dashboard

When you log in to the updated My Fastweb, you'll see new scholarship matches since your last login, the total number of scholarships you have been matched to, as well as the total number of dollars you could earn if you applied to each scholarship on your matches page.

Once you select See Matches from the dashboard, you'll find specific scholarship deadlines and award amounts.

Keep your search organized by changing the scholarship status to I'm Interested, I've applied, I won! Or Not interested .

You can also sort through your matched scholarships list by college, major, location, and featured or new scholarships. After you've cruised through your scholarship matches, revisit your matched profile to find those you've marked as Interested, those you've Applied for and reconsider those marked Not Interested.

Pro Tip:

Keep yourself organized. Take advantage of updating the status of each scholarship from your matched list each time you visit.

Explore Your Profile View

Explore your Fastweb profile weekly. Make it a habit to reassess and update your profile monthly. For instance, when you move up another grade level—update it. Maybe your GPA has increased? If so, update it. You'll qualify for more merit scholarships. Considering another major? Tell us about it. The trick is to ensure your profile reflects the true you. The more current your profile is, the better scholarship matches you'll receive. This makes applying for scholarships a breeze.

Pro Tip:

Use the Profile Wizard to verify or update your current school year, the year you're applying for scholarships , your major interests, career objectives, ACT/SAT test scores, memberships you're a part of, fraternity or sorority memberships and more!

NEW: Discover The National Scholarship Directory

We've added The National Scholarship Directory to our platform. This massive directory categorizes all vetted scholarships and grants into simple groups. Think of it as your scholarship sandbox—sift through scholarships by: • State • Heritage • Religion • School year • Other unique or weird circumstances Use this fun tool to dig deeper; find those oddball scholarship opportunities to help you pay for college!

NEW: Leap into the Online Learning Tool

There are so many reasons you may be looking for online learning classes or courses. Some students like to obtain certifications to add to their brag sheet. College students may want to supplement their college course work with specializations to enhance their resume. Our research team has made it easy by evaluating many of the online learning platforms on the Web. Fastweb's Online Learning tool provides recommendations, pros and cons and more.

Pro Tip:

Interested in online courses by subject? You can find subjects and subcategories within our online learning tool. If cost is a factor, we've sorted this out for you too. Find online learning platforms that are free, offer free trials, subscription based and more.

NEW: Find Part-Time SEASONAL Jobs
You can find great
part-time jobs
available near you on Fastweb, powered by Monster. We're excited to announce a new part-time jobs enhancement—seasonal part-time jobs. You can now refine your search to help you locate and find seasonal jobs in your zip code. We realize some students would rather find a job during the holiday season to earn some extra cash. Other students may only choose to work during the summer months. We've made it so much easier for you to find a job that fits you where you are. Once you've sorted through your job matches you can revisit them to find those you've marked as
Interested
those you've
Applied
for and reconsider those marked as
Not Interested
. Select
New
on your next visit to show the jobs that have been added since your last visit.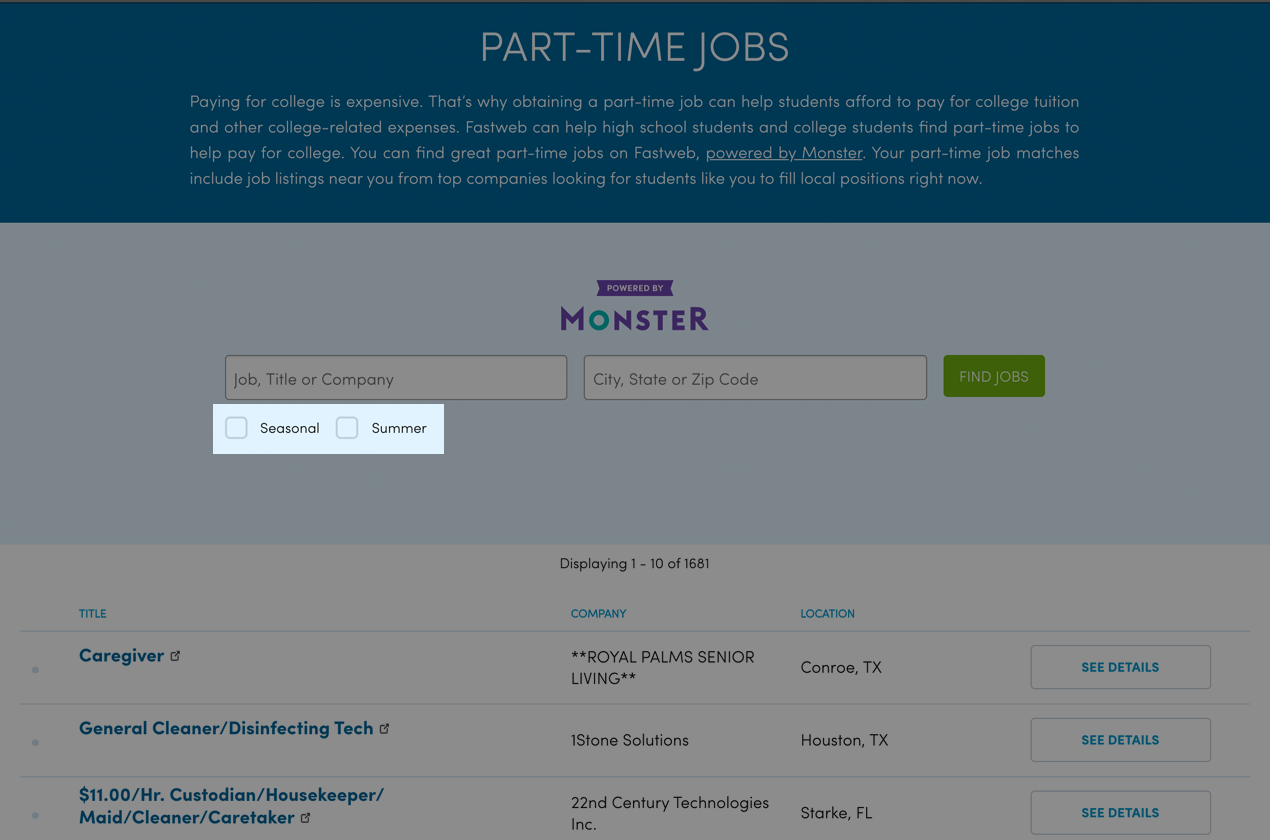 Pro Tip:
Modify your search by choosing a job, title or company within a specific city, state or zip code. Ensure the job works for you by selecting if you'd only like seasonal or summer jobs to display.
Fastweb At Your Service
What Are You Waiting For? We encourage you to consider these four ways to make Fastweb work for you and to try out our Pro Tips. After this, create your own Fastweb process; do what works best for you! Start with visiting and playing with each of the four highlights we mentioned above. Check out our helpful
scholarship lists
and
articles
too! Keeping up with our pioneering spirit as we continue to enhance our scholarship platform. Our goal is simple, to make it as easy as possible for you to find, apply and hopefully win scholarships to help pay for school. After all, it shouldn't be so hard being a high school or college student. See what's happening daily by joining us on our social platforms:
Facebook
,
Twitter
and
Instagram
.