This Halloween, nix paying a fortune for cheap costumes. Instead,
you don't need to look any further than your what's in your very own closet for great costume ideas
! Unsure of how to do this? No worries! The good news is that Fastweb has compiled a list of DIY
Halloween costumes
that are already hanging in your closet! You may need to borrow an accessory or two from friends; but for the most part, you should be able to find something on the list (yes, we have women's DIY Halloween costumes and men's DIY Halloween costumes, too!) that you can throw on and still look - and feel - great wearing.
Here's what's important to remember:
the trick to these last-minute
DIY Halloween costumes
is to pull items from your own closet, and never underestimate the power of borrowing items from friends! If you do decide to purchase accessories for your costume, make sure they're items you'll wear again in daily life and you're not wasting your money. That way, you're never spending a fortune on your Halloween costume and actually investing in items versus throwing away money on items you'll never use again! Plus, people will admire your style and creativity. Check out the following easy DIY Halloween costumes, which you can find supplies for in your closet – right now!
1. Cactus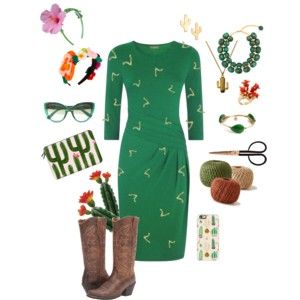 What you'll need:
• Fitted Green Dress (preferably long sleeve) OR Green outfit
• Pipe cleaners, twine, cut up straws or yarn in a different shade of green or tan
• Scissors
• Glue gun or needle and thread
• Shoes: green or tan, boots work, too! Cacti are all the rage lately – you've likely seen designs incorporating succulents springing up in stores galore. Maximize on the trend with a simple, DIY cactus costume. All you'll need is a green outfit – a dress works perfectly, and some pipe cleaners or yarn to sew or glue on as the prickly pieces. Don a flower in your hair (they do flower!) to top off the trend with a pretty detail.
2. Vincent Van Gogh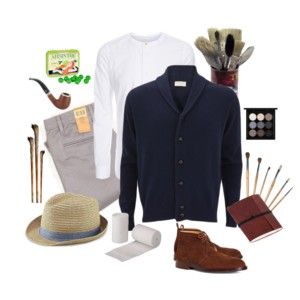 What you'll need:
• Navy Cardigan
• White Shirt
• Bandage (for your left ear)
• Straw Hat
• Paintbrush(es)
• Pipe
The beauty of this costume is that you've got a loose canvas (okay, terrible pun admittedly intended) to work with and the rest is up to your imagination! Many of the accessories are suggestions based on Van Gogh's self-portraits or life and you can pick and choose what you'd like to include in your costume. So others recognize your costume, we definitely recommend a light beard and a bandaged ear (just so you keep everything accurate, Van Gogh cut off the lower part of his left ear). Van Gogh was often in ill health, so adding makeup for a pale complexion and even dark gray or blue underneath your eyes to enhance these features would make a good addition to your look. He also smoked and drank heavily, specifically Absinthe, hence, the Absinthe gumballs and pipe as accessory suggestions. Remember, artists usually never leave home without a sketchbook, so don't forget to tuck one in your back pocket. Top off your costume by including a paintbrush, of course!
3. Cute Carrot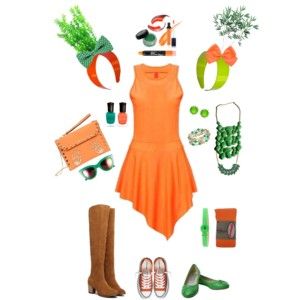 What you'll need:
• Orange Dress
• Orange tights or leggings
• Thick Headband (preferably green, orange or brown)
• Faux Greens
• Thick Green or orange ribbon
• Hot glue gun or superglue
• Green, orange & brown accessories
They say carrots are good for eyesight and this costume is no exception. Look adorable
and
easy on the eyes in this cute carrot costume that's easy to throw together. Simply find an orange dress and tights (which should be a cinch this time of year), shoes and follow some simple instructions to make your carrot greens headpiece.
For the headpiece:
You'll need a thick headband you don't care about and some faux plants. You can use some faux greenery from a craft store, which you tie together with an orange bow to create a bunch. Or, here's a helpful crafter's tip: aquarium plants are easy to work with and already come with a base so they're easy to glue on, are already bunched together and you don't have to figure out how to attach them to your headband. If the area where you attach the greens looks messy, cover it with a big orange or green bow, which will fix the issue and make for a cute detail! Attach your greens to the headpiece using a hot glue gun or superglue and, voilá, your carrot top headpiece is complete! Throw on some brown boots or, if you happen to have some green or orange shoes, those work too. Accessories with green, orange and brown jewelry and makeup and you're sure to be a sight for sore eyes – and the cutest little carrot anyone's ever seen.
4. Brawny Man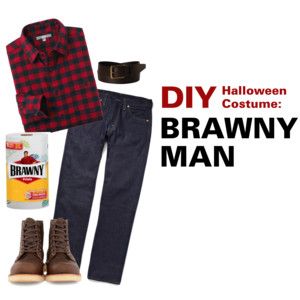 What you'll need:
• Flannel Shirt
• Jeans
• Brown Utility Boots
• Brown Leather Belt
• Brawny Paper Towel Roll
Become the mountain man everyone leans on when they need something strong with this easy costume you can get from items in your (or a friend's) closet. Pair a flannel shirt with some jeans, boots and a belt. Top it off by carrying a roll of Brawny paper towel to show off "your" brand and you'll set the stage for a great evening.
5. Mermaid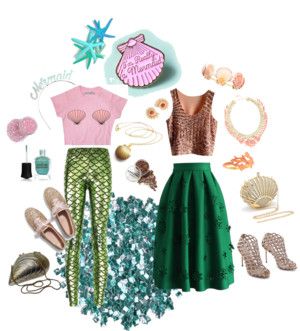 What you'll need:
• Green dress, pants or skirt
• Sparkly or pastel top
• Sparkly/glitter accessories
• Pastel toned accessories
• Mermaid crown
• Shell, fish or scale accessories
Who
wouldn't
want to be a mermaid every day of the year? Perhaps you can't wear mermaid attire 364 days of the year but, on Halloween, it's fair game! Pastels, sparkles and seashell accessories are a must! If you're feeling extra creative, you can even make your very own
mermaid crown
out of seashells.
6. Rosie the Riveter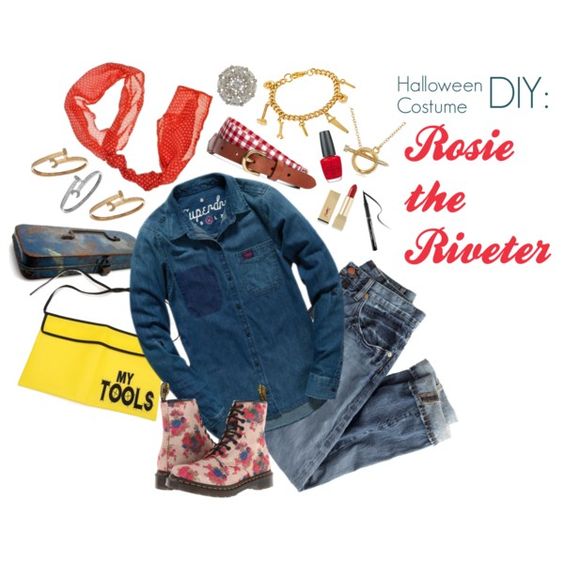 What you'll need:
• Denim Shirt
• Red Polka Dot Scarf or Bandana
• Black Eyeliner
• Red Lipstick
• Brooch
• Boyfriend Jeans
• Utility boots
• Factory-inspired accessories
Tie the red polka dot scarf in your hair, headband style, with the knot facing outward. Place the brooch on the collar of the denim shirt. Roll the sleeves of the denim shirt for a relaxed look. Apply the eyeliner, red lipstick and red nail polish to top off your look, which screams "girl power!" Other suggested accessories include red and white accents, along with anything factory worker-inspired: think utility boots, heavy denim, canvas, a tool belt, toolbox or tools - we happened to find some fun tool accessories for inspiration, too, if you want to go all out, but you can have an awesome look with just the basics! Repeat phrase: "We can do it" with stern face while flexing and you're good to go!
7. Mister Rogers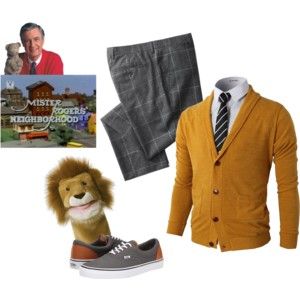 What you'll need:
• "Grandpa" Cardigan Sweater
• Oxford Shirt
• Tie
• Trousers
• Sneakers
• Puppet
Capture the essence of everyone's favorite neighbor, Mister Rogers, with what may be the easiest costume around. Not to mention that as kids we never noticed how stylish he was! Or, perhaps, time just caught up with his fashion sense. At any rate, bring back the nostalgia of childhood by dressing up as the man, the myth, the legend: Mister Rogers. Note: the modern cartoon
Daniel Tiger's Neighborhood
is a spinoff of Mister Rogers' Neighborhood, so we're guessing that, with the way they market items to kids these days, finding a tiger accessory will be much easier than you may think!
8. Waldo from Where's Waldo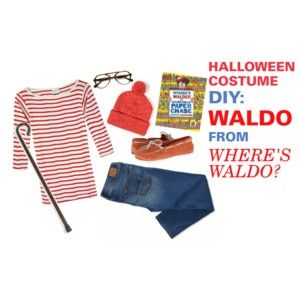 What you'll need:
• Red and White Striped Shirt
• Red and White Hat
• Brown Shoes
• Skinny Jeans
• Cane
• Thick Glasses
•
Where's Waldo
Book (optional)
This easy outfit is basically throw on and go! The best part is, since it's something you'd likely wear on a regular basis (other than the cane, hopefully) you don't need to make a fuss over what to wear other than making sure you're outfit essentials aren't in the dirty laundry come Halloween night.
9. Strawberry Ice Cream Cone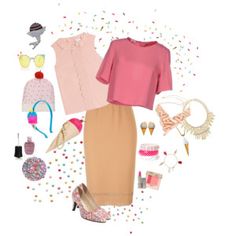 What you'll need:
• Pink blouse
• Tan Pencil Skirt
• Candy-colored cardstock paper, felt or buttons
• Red Headband
• Safety pins, glue or duct tape
• Sprinkles
• Red balloon, Styrofoam ball painted red or clown nose from Halloween store
Look sweet
and
delicious without being provocative. It's easier to accomplish than you may think with this adorable ice cream cone costume! All you need are some simple staples from your closet: a pink blouse and a tan skirt. Add "sprinkles" to your top by adding candy-colored cardstock paper, felt or buttons in a random pattern. You can often even find these items with adhesive backing at craft stores. To add your "cherry on top" you have several options. Using a cheap headband, superglue and sprinkles, coat the headband in glue and dip it in the sprinkles. Take your "cherry" and glue it to the side of the headband (make sure it's completely dry before trying it on!). Cut a long thin piece of red paper for the stem and attach it to the "cherry." Accessorize with a sweet-as-can-be attitude, candy-colored jewelry, make-up, and shoes to top off your look. Your costume is sure to be a sweet treat that nobody can resist!
10. Detective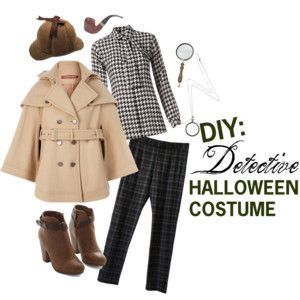 What you'll need:
• Trench Coat, Plaid Coat or Cape-Style Coat
• Khaki, Gray, Black or Plaid Pants (or Coordinating with Coat)
• Coordinating Shoes
• Detective Cap
• Detective Accessories such as: Pipe, Magnifying glass (or necklace version)
• Other outfit suggestions: anything plaid, houndstooth, khaki colors
You can be the campus super sleuth by donning a detective's look for the night. This costume begs for creativity with so many variations on the classic Sherlock Holmes look. Just grab whatever plaid or houndstooth patterns you have handy for a look that's sure to have people searching for
your
name.
11. Burglar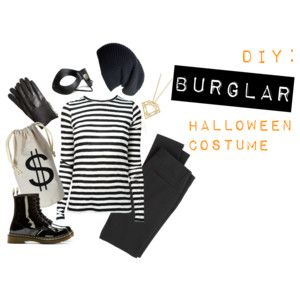 What you'll need:
• Black and White Striped Shirt
• Black Pants
• Black Boots or Shoes
• Black Hat
• Black Mask
• Black Gloves
• Bag for "Loot"
• Diamond accessories
Transform yourself into the world's greatest jewel their – or cat burglar – whichever you prefer. It's simple: use some basic black and white staples, add accessories and voila – you're transformed! Don't blame us if your friends don't recognize you, though.
To make your own "loot" bag:
for creating the "loot" bag: any blank canvas bag will do – use electrical tape or permanent marker to create a dollar sign. Or, any "unmarked" duffle would work also.
12. Charlie Brown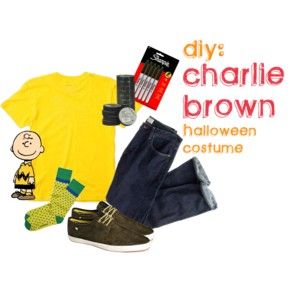 What you'll need:
• Yellow T-shirt
• Jeans or Black Pants
• Brown Shoes
• Yellow Socks
• Think Black Permanent Marker, Electrical Tape or Fabric Paint
Join the Peanuts gang by becoming Charlie Brown in the flesh! Pick up a yellow shirt you don't mind ruining.
To make Charlie Brown's tee:
You can create Charlie's signature zig-zag pattern shirt, which runs horizontally across the stomach by drawing it with a thick black permanent market, fabric paint or with electrical tape. Pair with jeans or black pants, brown shoes (you can use any shoes, really) and yellow socks (if you're going all out). You'll definitely get props for creativity for this one!
13. Minnie Mouse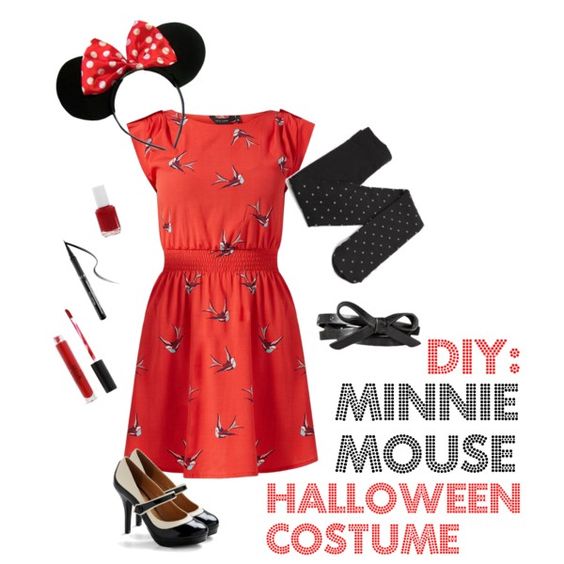 What you'll need:
• Red Dress
• Black Tights (Polka Dot, if Available)
• Black Pumps
• Black Belt
• Red Lipstick
• Mouse Ears with Bow
• Red Lipstick
• Red Nail Polish
• Black Eyeliner
Do you have a red dress? How about a black belt? Great! With a few simple accessories, you have an awesome Halloween costume! Pair a red dress with a black belt, black tights and black pumps. Use black eyeliner for nose and whiskers and dramatic black cat-eye, along with red lips and red nail polish to complete to look. You can either purchase Minnie Mouse ears at a local Halloween store, online or create your own using an old headband.
To make your own ears:
Cover cardboard circles with black trash bags, fabric or felt and attach the cardboard circles to the headband using black electrical tape. Wrap with the tape to ensure the circles are secure. Add a red and white polka dot ribbon bow.
14. James Bond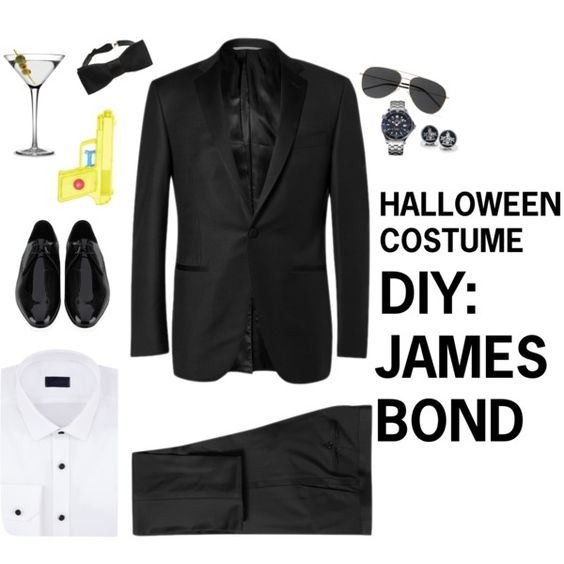 What you'll need:
• Tuxedo or Suit
• Bow Tie
• Martini Glass (preferably plastic)
• Squirt Gun
Okay, it's a little out of the ordinary. Crazy, even. But, who
doesn't
look great in a suit?
Nobody
that's who. You likely have one dress outfit hanging in your closet, just in case someone invites you to a formal. As long as you're careful, why not pull it out and don it to become Bond, James Bond? After all, everyone knows that nobody can resist a guy in a great suit. And, you're sure to get props for creativity. Not to mention, sheer handsomeness. Sounds like the makings of a great Halloween to us! Pair with a fake weapon (clearly fake, so as not to freak anyone out) and a martini glass (shaken, not stirred, of course) to complete your Bond look. You can add additional Bond accessories such as aviator sunglasses, cuff links a flashy watch and any other fancy-schmancy accessories Bond might use to complete his look. Remember, though, he keeps it simple and classic! Now your only tasks are finding that Bond babe and hot Bond car…unfortunately, the areas, we cannot help with.
Alternative option:
If you like this idea, but cannot get over the idea of wearing your Sunday best on Halloween, try pairing a tuxedo tee with some jeans or black pants. You'll get a pun-effect that's sure to be a crowd pleaser!
15. Flamingo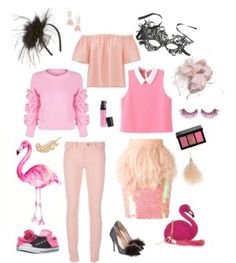 What you'll need:
• Pink outfit
• Feather accessories
• Pink, white and black accessories (but mainly pink)
• Black face paint or mask
Pink, sparkles and feathers – repeat. That's all you need to create your own DIY one-of-a-kind flamingo costume. Whether you're looking to create a costume that's glam or comfortable, this is a versatile bird to become on Halloween. Don't forget to paint your nose black to mimic a beak – or, you can get a black masquerade mask at any Halloween store.
16. Frida Kahlo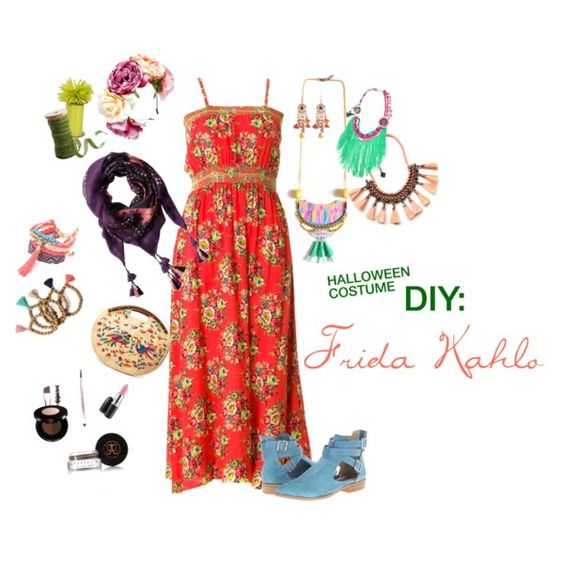 What you'll need:
• Flowing Dress or Top/Skirt
• Scarf or Shawl
• Eyebrow Pencil or Shadow
• Neon Lipstick
• Floral Headband
• Colorful Ribbons
• Bright Necklaces
• Large Dangle Earrings
The lovely artist and icon that was known for her bohemian flare has a look that is both easy to accomplish and fun to recreate. Channel Frida Kahlo's look this Halloween with a boho Mexican-inspired maxi dress or skirt, accessorized to the nines with all of the colors of the rainbow. And, while everyone is in their version of some tiny outfit paired with animal ears a lá Mean Girls, you can rest easy knowing that your costume idea contains class, culture
and
you still look cute at the same time!
For Frida Kahlo's makeup and brows:
Create a monobrow, filling in the space between your brows, using an eyebrow pencil. Remember, her browns were lush and bold, so don't be afraid to apply! Apply neon lipstick, brightly colored blush and bronzer to achieve Frida's look.
For Frida Kahlo's hair:
Step 1: Part hair in the middle, separating into two sections. Step 2: Braid into two ponytail sections. Step 3: Weave or braid in bright colored ribbons as you braid each ponytail section. Step 4: Pin each ponytail diagonally across the opposite side of the back of your head, creating a braided "X" across the crown of your head. Pin as thoroughly as possible so the braids feel secure when you move your head swiftly. Step 5: Pin in faux or fresh flowers or, for the easiest look, place a floral headband so that the flowers sit across the top of your head. For additional instructions on creating these looks, check out the links below.
To create your own Frida Kahlo-inspired look and accessories:
There are a lot of online resources with Frida Kahlo hair, make-up and, of course, brow tutorials. A quick search will point you to them, but we've found a few great tutorials that can get you started. •
How To: Frida Kahlo Inspired Floral Headband
•
Channeling Frida: Hair and Makeup How-To
•
Frida Kahlo Hair & Make-up Tutorial
17. James Dean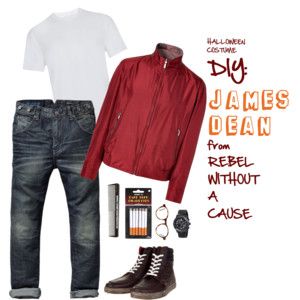 What you'll need:
• Leather Bomber or Denim Jacket
• White T-shirt
• Jeans
• Loafers or Boots
• Prop Cigarettes
• Horn-rimmed Glasses or Wayfarers
• Classic Comb
Get in touch with your inner rebel this Halloween by dressing up as the original rebel without a cause, Mr. James Dean. You can easily achieve this look with a pair of items anyone is sure to have: a pair of jeans and a tight, white muscle t-shirt (an undershirt works great). Top it off with a denim or leather bomber jacket. For the look from "Rebel without a Cause," see if you can find this or a similar item in red in your closet or borrow from a friend. Optional accessories include cigarette props, horn-rimmed glasses or wayfarers, a black watch and a classic pocket comb. For shoes, almost anything goes, but we suggest boots or classic loafers, as Dean wore. Don't forget that you'll need a rebel attitude to go with it!
18. Magic Rabbit Coming Out of a Hat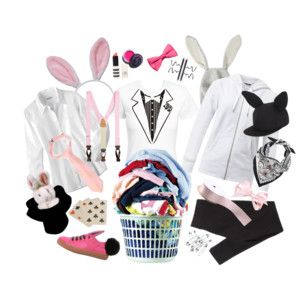 What you'll need:
• White T-shirt, Hoodie or Oxford shirt
• Black Leggings or pants
• A circular laundry basket
• A black laundry bag or large black garbage bag
• Think Pink Ribbon
• A box cutter, sharp scissors or knife
• Duct Tape
• Safety pins
For the Rabbit Ears:
• White Felt
• A think headband or hat
• Wire Hangers or Pipe Cleaners (so the ears stand up)
OR
• Rabbit ears from any Halloween or party store
Finally! A cute animal costume without the, how shall we put it, undesirable
revealing
aspects. To create: take sharp scissors or a box cutter and cut the bottom of the circular laundry basket out, cutting enough so the bottom is wide enough that you can stand inside comfortably. These laundry baskets can be found at most dollar stores nationwide. Place the cut basket into the black bag you're using and cut to fit, tape with duct tape to secure on the inside so that the tape is not visible. Stand in the basket and cut two pieces of pink ribbon to use as suspenders to hold the basket up as if you're coming out of it (like a rabbit coming out of a hat). Tape both straps on opposite sides to the inside of the basket. Note: if you're wearing shirt that will show it, you can also accessorize with homemade or store-bought pink tie. If you don't feel like making suspenders, store-bought suspenders should, too, but they may be more expensive! Line the outside of the basket with the pink ribbon along the brim, tying a bow. Your magic hat is complete! For the ears: cut four rounded triangles out of white felt, lining them with either wire from hangers or pipe cleaners so they stand up straight. Cut two smaller, similar shapes out of pink felt for the insides. You can tape or glue these onto the white ears. Glue or safety pin your ears to the headband. Note: if you don't feel like messing with this part, you can find rabbit ears at pretty much any Halloween or party store, too. You can also get creative by accessorizing with some magic items you can find around the house like a deck of cards tucked into the ribbon of the hat or safety pin "bunny tails" (gathered cotton balls or stuffing) to the heels of your shoes. Throw on your black leggings or pants and some shoes. Make sure to draw a bunny nose and whiskers and you're good to go!
19. Pikachu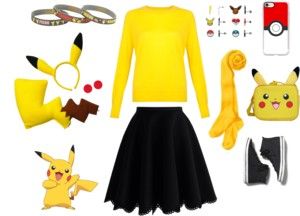 What you'll need:
• Yellow shirt or dress
• Black or yellow skirt or pants
• Black shoes
• Yellow tights (if dress or skirt)
• Pikachu accessories: ears, tail, red cheeks (from Halloween shop)
• DIY Pokéball
Unless you've been hibernating, you know that Pokémon has returned with the release of the Pokémon Go app and, as a result, will likely be a huge Halloween costume theme this year. If you're looking to join in on the craze, why not dress up as one of your favorite characters? Pikachu is an easy character to create and is, perhaps, the most infamous Pokémon of all. Wear as much yellow and black as you can must – you can either paint red dots on your cheeks or attach felt pieces. You can DIY ears and a tail out of felt or, if you're feeling lazy, you can purchase them at any Halloween store or Amazon. To top off your look, create a Pokéball! Take any ball and paint it white. Once the white paint has dried, tape a line halfway across the ball and paint one section half ed. Once the paint dries, use black electrical tape to create the Pokéball markings. You'll wow everyone with your creativity and don't forget, you can only say "Pikachu" all night long.
20. Cowboy/Cowgirl
What you'll need:
• Denim, plaid or western style shirt
• Jeans
• Leather boots
• Cowboy hat
• Bandanna
• Leather belt, accessories
• Option accessories: lasso, horse toy
Surely you have a pair of jeans and a plaid shirt laying around. Add a few details, like boots, a cowboy hat and a bandanna and you've got yourself a costume! Bonus points for adding on leather accessories, carrying a horse stuffed animal or lasso.
To see more of these looks or, for more great student DIY ideas, follow Fastweb on Pinterest and Instagram!