T
here are many different aspects of being a student. There is the learning and studying element that takes up most of your time, but there is also the end goal you are working toward—your future career. You are the next generation of job seekers in the United States.
Whether you are a high school student trying to pick the right career path or a current college student looking for career advice, you have a lot on your plate! Noting these additional areas that require your attention, Monster has created a
Student Career Center
within their site to help students shape their education-to-career journeys. The Student Career Center hub offers a variety of tools current students can use to streamline the other important career-prep tasks related to the end goal: educational and career success.
How to Use the Student Career Center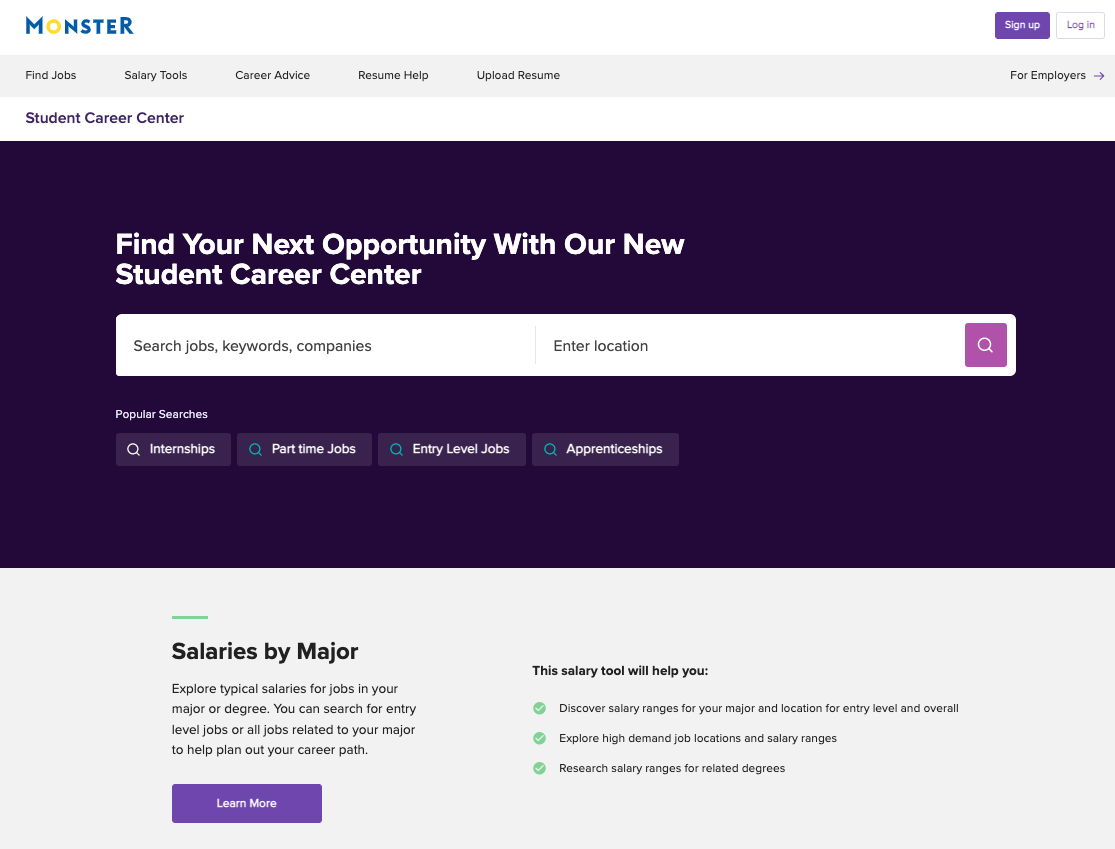 There are five ways students can take advantage of Monster's student-centered hub.
Discover student jobs and internships. Students can search and apply for job and resume-enhancing opportunities like internships, apprenticeships, and even part-time and full-time jobs close to home or school. Having real-world experience makes you a better job candidate in the future. Some students choose to work a part-time job to help them save for and pay for school.
Discover what your starting salary may be using your degree. Use the Monster Salary by Major tool to research entry-level salaries according to college majors. You can also dive into a particular salary by region. Using your expected entry-level salary is another great way to help you determine your plan to pay for college, and the maximum amount of student loans you can afford. A common rule of thumb is not to borrow more than your expected starting salary!
Get expert career advice and guidance. From finding the right type of job as a student to how to put your internship experience on a resume, students have access to helpful articles. Article topics are related to career paths and student employment benefits and opportunities.

Find scholarship opportunities. It is important for students to begin their scholarship search in high school, and to maintain a scholarship application habit throughout college. Noting the importance of helping to lower the cost of college, Monster's Student Resource Center also links directly back to Fastweb to help students find scholarships they should apply for. You do not have to pay back the scholarship money you have earned. You will, however, be expected to pay back the money you borrowed to pay for school. Scholarships help to eliminate the need to borrow money. As you jump into your first career, you will want to avoid paying back large sums in monthly student loan bills.
The personal growth and learning you are working on today will support your future, and this part of student life calls for focus in other areas, too. Current students and recent college graduates should consider using
Monster's Student Career Center
to enhance their student experience and to optimize their journey to the job market.