Meet Angela Ashmore, breaking barriers as the Primary Race Engineer on the 38 Team - Monster Energy NASCAR Cup Series, Roush Fenway Racing.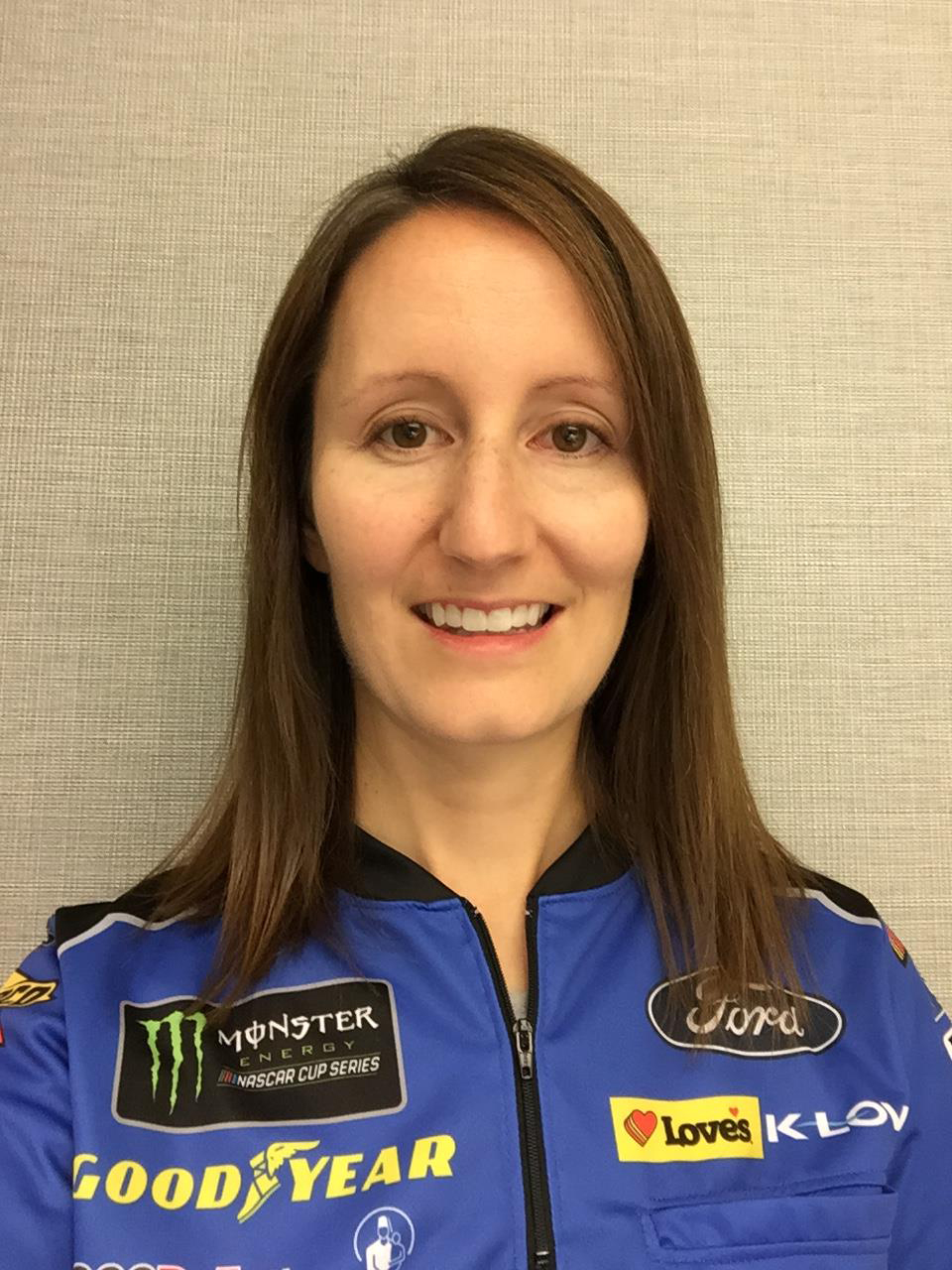 Angela loved racing from a very young age and, according to her, it has always been one of her career interests. Angela reflects that, "Growing up, I was very good at science and especially math, so engineering was a natural fit."
She began her career in a rotational program at Chrysler and worked in SRT driveline after that. She was at Chrysler for 4.5 years before starting at Roush Fenway Racing in 2015. Read on to learn more about Angela and the path she took to become one of NASCAR's top engineers, taking racing by storm.
1. What's your education background?
I attended Purdue University and earned a Bachelor's Degree in Mechanical Engineering in 2010. I started my career at Chrysler in 2011, and at the same time worked on a Master's Degree in Mechanical Engineering through Purdue's distance learning program. I graduated with my MSME in 2013.
2. Did you apply for and/or obtain any scholarships to help pay for college?
I applied for a number of scholarships – whatever I could find, even if it was only $100. I was awarded a few thru the university, but as a freshman there was not much available. The majority of my scholarships came from the university, and a few from my high school. Most of the scholarships I had my freshman year were local ones from my hometown. I was a lot more successful applying for a lot of small ($100-$1,000) ones than the large dollar ones. A few that I received were based on an essay or questionnaire, but there were others I didn't even apply for: I was either randomly chosen or selected based on my academic record. My freshman year was by far my most expensive.

As I progressed through the mechanical engineering program, I was awarded more scholarships through the university, engineering department, and mechanical engineering program based on academic performance. Most of these carried forward until I graduated, and I had accrued enough by my third year to cover my entire tuition.
3. Did you have any internships? If so, where and what did you learn from them?
I interned at a tool and die shop near home after my freshman year. My sophomore year I got an internship at Chrysler, then SpaceX my junior year. I took a semester off to extend my internship at SpaceX, and then returned to Chrysler as a senior before my final semester. My first year was a lot more of learning how an office works and what engineers do day to day. My next three were a lot more technical and I had the opportunity to apply some of what I had learned in school to an actual application, as well as learn new design, coding, etc. skills that I didn't learn in school.
4. How would you describe your current job in layman's terms? What does a typical work day look like for you?
I study tire, aero, and design data and apply vehicle dynamics fundamentals, as well as write and use strategy tools, to decide how to make my car go as fast as possible on a given circuit. I work on car setup (shocks, springs, suspension geometry, tire alignment, etc.) from the shop Monday through Thursday – this is mostly studying data and running simulation. I travel Thursday afternoon and I'm at the race track Friday – Sunday practicing and racing.
5. What do you love most about your job?
I love racing on Sunday and seeing the results of my efforts. It is satisfying to take a car that might have 20th place potential, and run 10th because of the balance and strategy you've chosen.
6. What advice do you have for students going into STEM fields?
Find a technical activity and get involved. There are a million students with a 3.8+ GPA. What will set you apart is your extracurricular activities. Doing this shows an employer you have a specific interest and have invested your time in learning skills that apply specifically to it.
7. What specific advice do you have for females going into the field?
Being different is an asset. Use it. Don't shy away because you're the only girl. Embrace it and take advantage.
8. You're the second woman within your position. Was it difficult to break that barrier?
I would say no. It was a natural progression of my career. Finding an opportunity to get started in motorsports was the difficult part.
9. What qualities should students thinking about pursuing a STEM career have in order to be successful?
Work ethic, initiative and ingenuity: in that order. In engineering especially – you must absolutely 100% must be able to work with other people.
10. What's it like being a successful woman in a male-dominated field? Any advice?
I really don't notice it in terms of work. I'm surrounded by colleagues who share the same interests and passion as me, and they all want me to be successful. I will say that in my experience- when you're new and the only woman, it takes a while for people to trust you. It's frustrating- you'll see a new guy come in, and he'll be invited to get a beer and be best friends with the whole group in a week. Just be patient. Do you job, work hard, show them how awesome you are. The rest will take care of itself.
11. What would you say to other young women looking to be "the first" in a position within male-dominated fields?
It's not as exclusive as you might think. If you're willing to put the effort in, there's nothing stopping you.
12. Do you find most Nascar professionals react positively and respectfully to your position? What about fans?
Generally, yes – the vast majority are highly supportive and want to see you succeed. There are a few who are still getting used to the idea… but it's easy enough to just ignore them.
13. If not, how do you handle any of these negative reactions? What advice would you give to other females experiencing similar situations?
Don't let other people dictate your outlook. Have your own goals, and be your own barometer of success.
14. What do you think the solution is to get more females in STEM fields?
I certainly don't have the answer, but it starts a lot earlier than college. The interest and passion for math, science, and technology can start before you ever enter the school system.
If you have a question for our featured woman in STEM, Angela Ashmore, send an email to ask Angela your question today.
•
Quality Engineer / Automotive Plant – Premiere Solutions
•
Engineering Manager - Randstad Engineering
•
Advanced Quality Engineer – GM at GKN