DIY crafts are a great way to get away from real life. With self-care being all the rage—especially during the political and pandemic year of 2020—it's time for a fun and Instagram-worthy 90's craft comeback! Seeing what people did for fun in the 90s is a great way to step away from technology and to get back to a simpler time. For instance, a 1990s student, would likely create magazine collages for self-inspiration. Today, inspiration is all digital via social media and Pinterest boards. Throw a
90s party
for your parents, siblings or roommates. Be sure to include art projects of this period to keep yourself intrigued, and some (AKA your parents) reminiscing.
Millennials and Gen Xers are loving the 90s-nostalgia vibes Gen Z has embraced. After you've completed your retro crafts, consider gifting them this holiday season! Take a self-care break during your fall or winter break with these five, 90's-inspired crafts:
Perler Beads

Perler Beads are tiny pieces of plastic with small holes in the middle. You arrange them on a pegboard to create your own pixeled design. Once you have your final pattern complete, break out your parchment paper and use your iron to bond them together. Seeing these melt right before your eyes is oddly satisfying. From coasters and key chains to magnets and even iPad covers, the possibilities with this craft are endless! Check out some of these fun ideas for your Perler beads on this BRIT + CO blog post. Get into the melting-bead magic with a Harry Potter Perler Bead kit on Amazon. Or, create Nintendo décor for your desk like this Instagram user did!

Sand-Art Candles or Jars

Sand art is a therapeutic way to spend your time. Showcase your favorite colors by layering colored sand in a jar or painting it on a candle like this blogger does. Use a pointed object to subtlety enhance your layered sand work. Consider a grown-up version, by using it to hold a votive candle like this HGTV blog-post tutorial. Once you've become a sand art pro, challenge yourself to get more detailed like this Instagram user did! Find a sand-art kit for yourself on Amazon.

Origami

Before the era of passing your time watching TikTok food-inspiration videos, teens of the 90s were enjoying all the laughs their Origami Fortune Teller brought. If you're looking for a just-for-fun project, consider creating your own origami fortune teller. With just a piece of paper, some crafty folding and some writing you can get simplistic laughs for hours. Bustle mentions, origami is a project all 90s kids tried at least once. If you enjoyed folding and playing the popular 90s Origami Fortune Teller game mentioned above, level up your skills with some fancy origami art. Decorate your study area with an origami bird or two. Or, add one to your holiday gift wrapping for a handmade touch!

Cross-Stitch

Cross-stitching dates to 618 A.D. according to The Cross Stitching Guild, but that isn't stopping it from having some 90s pop culture influence in the crafting world. A form of embroidery, cross-stitching is a way of embellishing cloth. Choose witty sayings and you can even go Pokémon themed like Instagram user, @brandifloss did. Knock a holiday gift off your list; purchase a beginner's kit to make cross-stitch, holiday ornaments on your own.

Friendship Bracelets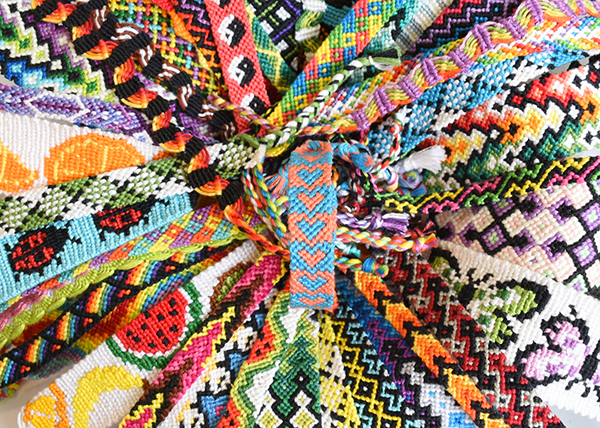 Show your friendship appreciation with a matching bracelet. Crafters use anything from embroidery floss to small-gaged rope to create fashionable jewelry. This
blog lists several easy bracelet patterns
like basic chevron, a double helix design and a nautical sailor knot. If you're not a fan of wearing bracelets, try turning them into BFF keychains. Get started for less than $20 with this
friendship bracelet kit from Amazon
.
Crafting-Inspired Scholarships
If you love to craft and are looking for opportunities to pay for college, consider applying for one of these art-inspired scholarships below:
Deadline:
11/12/2020
Award Amount:
$1,500 The Create Real Impact Contest is open to full - time students between the ages of 14 and 22. To enter, you must create an original work (video, music, creative writing, or artwork) showcasing your idea for a solution or strategy to fix the problem of distracted and reckless driving.
Deadline:
11/15/2020
Award Amount:
$1,000 You could win an easy $1,000 scholarship by using our step-by-step guide to make a mask (no sewing required!) to keep yourself, your friends, and your family healthy during COVID. COVID-19 spreads mainly from person-to-person through respiratory droplets produced when an infected person coughs, sneezes, talks, or raises their voice. Upload a photo of the mask you make by November 15th to be entered to win a $1,000 scholarship. (Added bonus: after submitting your photo, you'll be eligible for a volunteer credit certificate.)
Deadline:
3/9/2021
Award Amount:
$5,000 The Create-A-Greeting Card Scholarship Contest is open to currently enrolled high school and college students in the United States. To enter, you must design a holiday, get well, anniversary or birthday greeting card and submit your work to be judged. Your photo, art, or graphics submitted must be your own original work and you must be at least 14 years of age to be eligible for this award.
Deadline:
4/1/2021
Award Amount:
$10,000 The "Frame My Future" Scholarship Contest is open to full - time undergraduate and graduate students attending a U.S. college or university. To enter, you must submit an original creative image that expresses what you hope to achieve in your personal and professional life after college. Some example entry piece ideas are: photograph, short typed explanation, collage, drawing, graphic design piece, painting, or anything you can create within one image. Your entry must be your own work and must relate to the theme: "This is how I Frame My Future." Google sponsors the popular,
Doodle 4 Google Scholarship
each year too. This $30,000 scholarship contest will be back in 2021! Don't forget to
create your own Fastweb profile
to help you find scholarships to pay for school. Our scholarship matching algorithm is one-of-a-kind, just like you. You'll get scholarship matches that fit YOU sent directly to your inbox—easy, peasy.