It's OK to Drop a Class
Part of growing up is realizing you're human.
Laura Magerkurth
March 27, 2013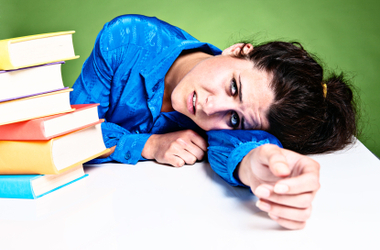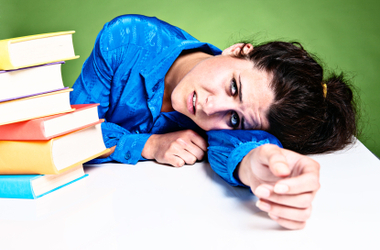 Just a little while ago, I got off the phone with my mom. The only thing that set this conversation apart from the many others we've had over the course of my first year of college is that, for the first time in my life, we were talking about my decision to drop a class.
There really isn't much of a story behind it: I've always struggled with math and this semester has been no different. My online class has gotten increasingly difficult as 2013 has worn on, and my performance in it probably wasn't helped was definitely hindered by my avoidance of it. (Side note: even if you don't have a tendency to procrastinate in most classes, there will be one, someday, that you just can't seem to get motivated for.)
The mean side of my personality is, currently, trying to convince the rest of me that I haven't been focusing enough, that I need to work harder, that if I put in a smidge more work and weren't so lazy, I could get an A.
None of those are true. I have been doing the best that I can, but for several reasons it just isn't possible for me to succeed in it right now. As a result, I have been repeating these to myself over and over again during the last few days.
My inability to do well in it is hurting my performance in other classes. I have enough homework as it is, so spending an entire weekend working on one course when I have studying, writing, and reading to do in five others is an exercise in futility.
I can't spend as much time this class as I would like to. I need to be able to work on this class much more than I can right now, and the next time I take it, I will know what content is coming ahead of time. I know I'll be prepared and confident.
As of now, I am able to drop this class without it hurting my GPA. I dislike the idea of getting a big "W" for "withdrawal" on my transcript, but I dislike the idea of having a bad grade on there even more.
As a bonus, my academic adviser tells me that graduate schools and employers won't be put off by one or two "W's"—there really is nothing to worry about in that area. Apparently, a "W" and a better GPA is always preferable to a poor grade.
I will have to pay a fee for dropping the class (my university charges a flat rate for tuition, not by credit hour), but to me that $50 is worth all the stress and anxiety that have come from this class during the semester.
I would recommend taking note of your registrar's calendar regularly—there are often various points throughout the semester before which you can drop a class without getting a "W" and/or paying a fee.
It's kind of hard for me to not feel guilty about dropping a class, even though I know that it was my best option. I'm becoming more and more OK with allowing myself to be human and with not pushing myself past my boundaries because sometimes it's simply not worth it. That's part of growing up. Like my mom said, there's always next year.
Need Money to Pay for College?
Every semester, Fastweb helps thousands of students pay for school by matching them to scholarships, grants, and internships, for which they actually qualify. You'll find high value scholarships like VIP Voice's $5,000 Scholarship, and easy to enter scholarships like Niche $2,000 No Essay Scholarship, and internships with companies like Apple, Google, Dreamworks, and even NASA!
Join today to get matched to scholarships or internships for you!
---