The Coronavirus pandemic has impacted every aspect of 2020 – including Halloween. While this year will be void of large costume parties, you can still get into the spirit of the season by dressing up. Keep any gatherings small and outdoors or limit the fun to just those that you live with (even if you're all virtual at home with Mom and Dad). Speaking of virtual, you can up the ante on your Halloween costume this year with a fun, Zoom background for your online classes and meetings. Check out these free downloads from
thebash.com
or go all out with a 10-pack of Halloween Zoom backgrounds for $5.99 on
Etsy
.
Looking for more COVID-19 student-impact information? Find it here.
Sponsored
Niche No Essay Scholarship
Quick and Easy to Apply for a $2,000 Scholarship
If you do plan to gather in-person this year, the
CDC
has issued guidelines for Halloween, indicating which activities are low- and which are high-risk for contracting the virus. Lower risk activities include: • Carving, or decorating, pumpkins outside at a safe distance with friends • Having a virtual Halloween costume contest • Participating in a Halloween decorating contest or outdoor scavenger hunt in neighborhoods/living communities
Sponsored
Course Hero $4k College Giveaway
Easy to Enter, No Essay Needed
Some Halloween high-risk activities are defined as: • Participating in traditional trick-or-treat activities (although one-way trick-or-treating, where treats are lined up along a yard or driveway, is considered a moderate risk activity) • Attending crowded costume parties held indoors • Going to an indoor haunted house • Going on hayrides or tractor rides with people who do not live in your household
Sponsored
Easy to apply, with no fees.
Discover® Student Loans
If you are one of the fortunate few college students able to live with roommates this year, consider a few of these ideas for your outdoor or virtual hangouts this year. If you're at home, try and get Mom, Dad and siblings in on a group costume. Though this year is undoubtedly different, it doesn't have to be any less fun. We can't wait to see what our
Fastweb members
come up with!
Two People and/or Couples
1. Mary Poppins and Chimney Sweep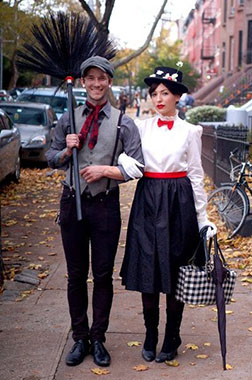 There's only one word to describe this costume duo and it's supercalifragilisticexpialidocious!
Image courtesy of Juxtapost.com.
2. Daria and Jane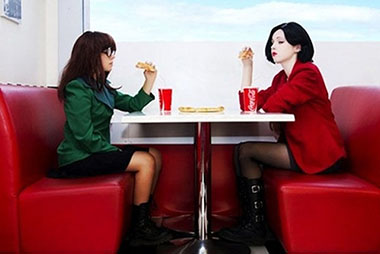 Get animated...or lack thereof (yes, technically they are animated characters who don't act so animated in life) and embrace the sick sad world of Daria Morgenendorffer and her best bud Jane Lane. The costumes are simple, fun and you get to have a constant annoyed expression on your face, which is a bonus.
Image courtesy of Blog.asiantown.net.
3. Popeye and Olive Oyl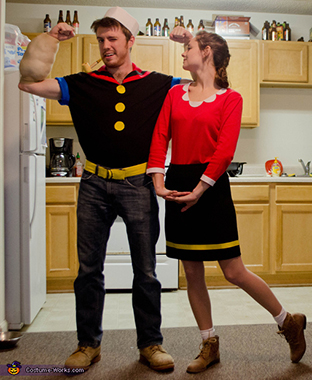 Dress up as everyone's favorite dynamic duo: the spinach-loving sailor and the lovely lady he only had eyes for. Don't forget to take a can of spinach along!
Image courtesy of Costume-works.com.
4. Wayne and Garth (Wayne's World)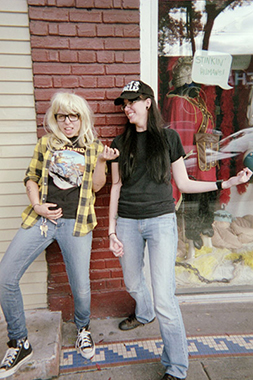 Party on! Dress up as Wayne and Garth to embrace your inner dudes - imagine how fun it would be to
totally
take on their personas for an entire night. Sh'yeah!
Image courtesy of Theredlightvillage.com.
5. Mickey and Minnie Mouse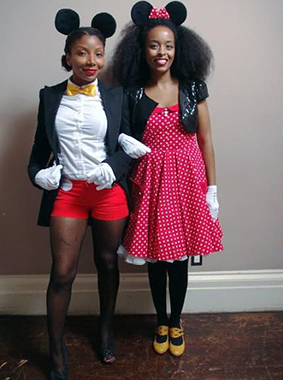 What could be cuter than dressing up as beloved classic characters Mickey and Minnie Mouse? It doesn't matter if you're a guy and a girl or both girls (see photo) - the possibilities of creating your own adorable look are endless.
Image courtesy of 16stonevintage.com.
6. John Lennon and Yoko Ono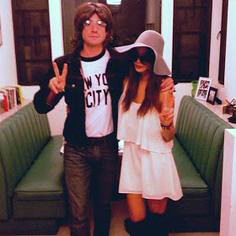 Want a Halloween costume that's chic and creative at the same time? Try dressing up as an iconic couple, like Lennon and Yoko. Bonus: you can likely use items from your closets to create the costume and craft your own "peace" sign.
Image courtesy of Pinterest.com.
Three – Five People
7. Tutti Frutti Friends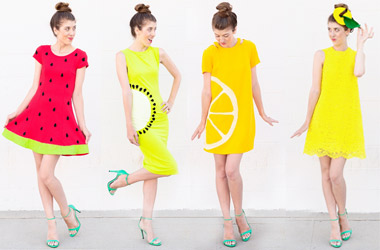 Costumes so adorable everyone will want to eat you right up! Go as a group or alone, it doesn't get much better than these creative and fun fruit costumes. Not into fruit? Check out the rest of
Studio DIY's DIY Halloween costumes
. They're oh-so-clever and fun – you're sure to find one you love!
Images courtesy of Studio DIY.
8. Three Blind Mice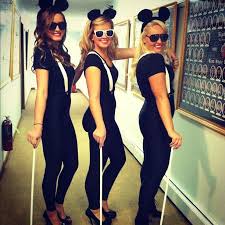 Everyone knows the macabre English nursery rhyme,
Three Blind Mice
, but did you know it makes for a darling costume for three, too? Girls, guys or a combo, your adaptation on these critters is sure to be a hit!
Image courtesy of Thesociallife.com.
9. Four Seasons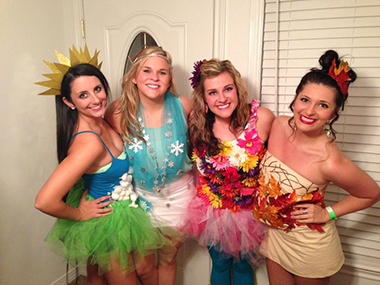 Winter, spring, summer and fall are distinct seasons that everyone is able to easily recognize which makes it even easier for you to recreate. Gather three of your pals and embrace the seasons in this awesome creative costume for four.
Image courtesy of Pinterest.com.
10. The Golden Girls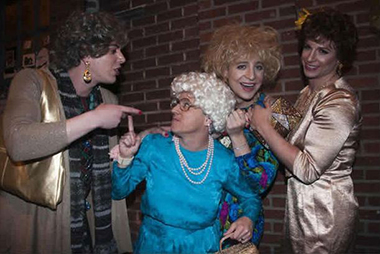 Your friends will thank you for being a friend when you suggest dressing up as the four spunky gals everyone knows and loves. Mega points for the guys who take this on!
Image courtesy of Memecollection.net.
11. The Wizard of Oz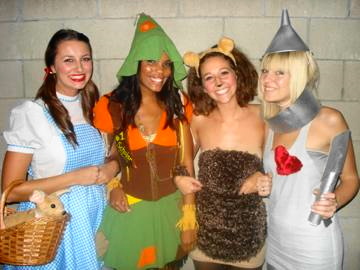 While there are four main characters in The Wizard of Oz, you could expand this costume theme to add on Toto, The Wicked Witch of the West, Glinda the Good Witch, Flying Monkeys, The Great and Powerful Oz and Munchkins of Munchkinland.
Image courtesy of Locallove.tumbler.com.
12. Matryoshka Russian Nesting Dolls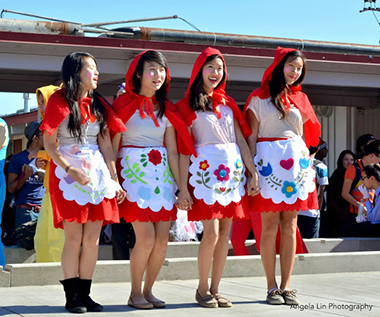 What better way to embrace the hilarious differences in stature between friends than by personifying these delightful childhood trinkets? Plan to wear shoes with varying heel heights to play up your height differences for some added charm.
Image courtesy of Biffsqiggled.blogspot.com.
13. Teenage Mutant Ninja Turtles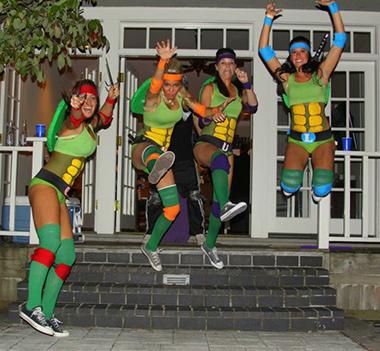 The benefits of wearing a TMNT costume: You have a reason to scream "Cowabunga!" at everyone. You have an excuse to carry around/eat pizza all night long. You get to show off your sweet ninjutsu moves. None of these seem like bad things.
Image courtesy of Followpics.co.
14. The Spice Girls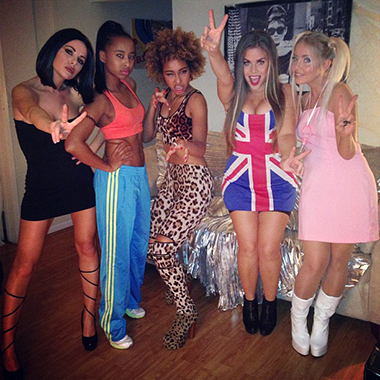 It's time to spice up your life, just saying. And becoming an outlandish British pop star for a night is just the trick. Plus, you already know all the words to the Spice Girls tracks. Don't lie, we know you do.
Image courtesy of Faarrow.com.
15. Scooby-Doo! Characters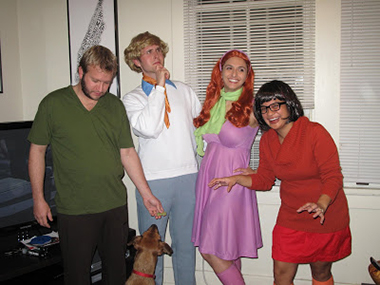 If there's ever a time to get the gang together to solve a mystery, it's on Halloween. We also recommend packing some Scooby snacks because, well, you never know.
Image courtesy of Http4.bp.blogspot.com.
To see more of these looks or, for more creative student Halloween costume ideas, follow Fastweb on Pinterest!