Virginia Military Institute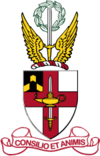 Lexington, VA
University Website:
www.vmi.edu/
Apply Online:
www.vmi.edu/admissions-and-aid/apply/
The Virginia Military Institute (VMI), located in Lexington, Virginia, is the oldest state-supported military college in the United States. It is the only one of the six senior military colleges whose students are military cadets pursuing bachelor's degrees. VMI offers cadets strict military discipline; a spartan, physically and academically demanding environment; and degrees in 14 disciplines in engineering, the sciences and the liberal arts.
VMI has been called the "West Point of the South," but it differs from the federal service academies in several respects. For example, all cadets must participate in the Reserve Officers' Training Corps (ROTC) and may accept a commission in any of the US military branches upon graduation, but they are not required to join the military.
* Description and images provided by Wikipedia under CC-BY-SA 3.0 license .
Virginia Military Institute College Scholarships
Bullet

name
award
deadline

Link

•

Institute for the International Education of Students (IES Abroad)

Up to $5,000
Varies
See Details

Institute for the International Education of Students (IES Abroad)

award

Up to $5,000

deadline

Varies
See Details

•

Virginia Military Institute

$5,000
February 01, 2024
See Details

Virginia Military Institute

award

$5,000

deadline

February 01, 2024
See Details

•

Institute for the International Education of Students (IES Abroad)

Up to $2,000
Varies
See Details

Institute for the International Education of Students (IES Abroad)

award

Up to $2,000

deadline

Varies
See Details

•

John Randolph Foundation

$1,000
January 17, 2024
See Details

John Randolph Foundation

award

$1,000

deadline

January 17, 2024
See Details

•

Virginia Military Institute

100% of tuition
Varies
See Details

Virginia Military Institute

award

100% of tuition

deadline

Varies
See Details

•

Virginia Military Institute

100% of tuition
February 01, 2024
See Details

Virginia Military Institute

award

100% of tuition

deadline

February 01, 2024
See Details

•

Hampton Roads Community Foundation

Varies
Varies
See Details

Hampton Roads Community Foundation

award

Varies

deadline

Varies
See Details

•

Virginia Military Institute

Varies
Varies
See Details

Virginia Military Institute

award

Varies

deadline

Varies
See Details

•

Virginia Military Institute

Varies
Varies
See Details

Virginia Military Institute

award

Varies

deadline

Varies
See Details

•

Virginia Military Institute

Varies
February 01, 2024
See Details

Virginia Military Institute

award

Varies

deadline

February 01, 2024
See Details