Mary Baldwin College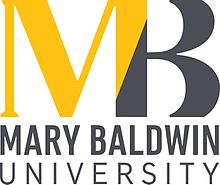 Staunton, VA
University Website:
www.marybaldwin.edu
Apply Online:
www.marybaldwin.edu/admissions/apply/
Mary Baldwin University (abbreviated as MBU), formerly Mary Baldwin College, is a private liberal arts, master's-level university in Staunton, Virginia, USA. It was founded in 1842 by Rufus William Bailey as the Augusta Female Seminary. Today, Mary Baldwin University is home to the Mary Baldwin College for Women, a residential women's college with a focus on liberal arts and leadership, as well as co-educational residential undergraduate programs within its University College structure. MBU also offers co-educational graduate degrees as well as undergraduate degree and certificate programs for non-traditional-aged students.
* Description and images provided by Wikipedia under CC-BY-SA 3.0 license .
Mary Baldwin University College Scholarships
Bullet

name
award
deadline

Link

•

Hampton Roads Community Foundation

Varies
Varies
See Details

Hampton Roads Community Foundation

award

Varies

deadline

Varies
See Details

•

Hampton Roads Community Foundation

Varies
Varies
See Details

Hampton Roads Community Foundation

award

Varies

deadline

Varies
See Details

•

Intel Foundation

Varies
Varies
See Details

Intel Foundation

award

Varies

deadline

Varies
See Details

•

Arkansas Department of Higher Education

Varies
Varies
See Details

Arkansas Department of Higher Education

award

Varies

deadline

Varies
See Details