At Fastweb, we're in the business of making it as easy as possible for you to find scholarships that you qualify for based on your student information. For us, the goal is to match you only to the scholarships in which you have a chance of
winning
. That's why we're constantly making enhancements to the site, in hopes to make your search faster, easier and as straightforward as possible. As you likely know by now, Fastweb is able to show that you qualify for certain scholarships based on what matches the specific information you share within your Fastweb profile. Sharing this student information is vital to your scholarship search. It's important to remember to continually update your profile in order to qualify for as many scholarships as possible. With these goals in mind, we'd like to point out a new site feature that can help you both enhance your profile and, in turn, help you qualify for not only more scholarships, but better scholarships (better, in this case, because they are specific to your student information).
Fastweb's Helpful Feature: The Profile Wizard
Recently, you may have noticed an orange questionnaire at the top of your "My Fastweb" page when you're logged in. This is a new site profile wizard, specifically designed to help you pinpoint profile areas you haven't filled out yet.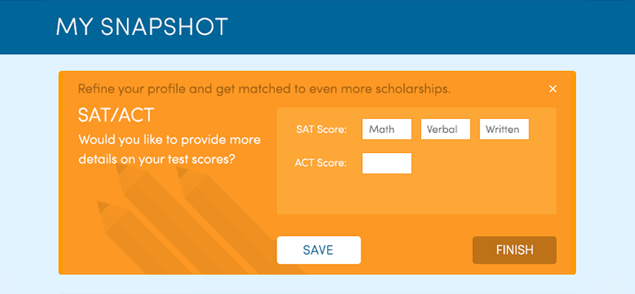 This feature was designed to help users, like you, notice areas you may have missed or not gotten a chance to fill out that are important to your scholarship search. Why are they so important? Because adding information to your profile in these specific areas can enhance your Fastweb profile and, ultimately, qualify you for even more scholarships. Answering some or, better yet, all of the questions will help Fastweb help you – this is information that could be vital to the scholarships we're able to match to you!
Remember, you can always log in to your Fastweb account and manually edit your profile, too. It's time to update your profile information anytime your student information changes, improves or if you have any random updates. Believe it or not, one random update (no matter how insignificant it may seem to you) could mean the difference between you qualifying for, learning about and applying to a scholarship you could win versus not hearing about it at all. For example, are you in a new club? Did you take on a new hobby? Raised your GPA last semester? Ensure you update all of this information regularly on your profile because it can help you qualify for more or better suited scholarships, making your search easier than ever when they appear in your scholarship matches. These changes can make or break your scholarship search, so remember to
update your Fastweb profile
today and continue to do so in the future!