Fastweb's Winners Circle: Rachel Eve
By Leah Westfall
August 05, 2010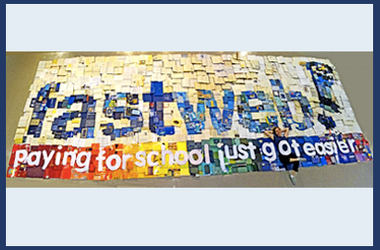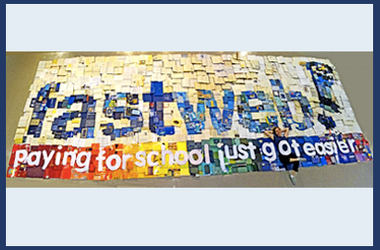 If you haven't already heard, Fastweb recently gave away $15,000 in the Take a Shot at $15k photo submission contest in honor of Fastweb's 15 years online. The idea behind the contest was to ask Fastweb members to celebrate Fastweb by recreating the logo in the most creative way they could think of, snap a picture and submit it to our photo upload contest page. Members submitted fantastic photos of paintings, hand drawn cartoons, their pets, original pieces of art, photoshoped images, their adorable children, amazing landscapes, themselves performing incredible feats and overall some really amazing and creative photos. But, one woman went above and beyond the rest. You guys thought so by voting her into the top ten and so did we by making her our winner.
Rachel Eve, 24, from Middletown, Ohio, created the winning image using books and lots of man-power. Her recreation of the Fastweb logo ended up being 35 feet long by 15 feet wide, when she began, Rachel Eve originally thought the logo would be somewhere around 10 feet.
"I knew I wanted to make the logo out of something," said Rachel Eve. "Books seemed logical to me, but I wasn't thinking about how heavy they were at the time."
Rachel Eve got the idea for her creation when a friend mentioned a free online program called Rasterbator. The site is designed to create templates for blowing up pictures and images into large scale, multi-page tiles. Rachel Eve scanned in the Fastweb logo and blew it up to the largest scale possible; she then printed off the 600 plus page tiles and pieced them together like a puzzle. From there she began her search for books.
According to Rachel Eve she asked everyone she knew for blue colored books since the majority of the Fastweb logo is blue. Her church library let her empty out the whole library, which was about five car loads of books. After trucking books around for the days leading up to the sculpture creation Rachel Eve started laying books down in a high school auditorium. With the help of six people in and out throughout the day Rachel Eve finished the logo, brought in a cherry picker, took it up to the highest level and tried to snap a picture. But it just wouldn't fit, even after borrowing a wide angle lens she couldn't fit the whole logo into one picture, so she took two and seamlessly compiled them together.
"Never in a million years would I have guessed I would win," said Rachel Eve. Once she saw how many entries there were and how hard people were working to make the top 10, she knew she had a slim shot at the $15,000. But her creation won over her peers and the Fastweb employees and now she has an extra $15,000 to put towards school.
Rachel Eve thanks her support system and everyone who helped her. "Use your resources," said Rachel Eve. "I had strangers voting for my entry who said they supported me and just wanted to help."
This is the first scholarship Rachel Eve has earned through Fastweb. A guidance counselor told her about Fastweb while she was in high school. She used the site to compare colleges she was looking to attend for undergrad and finally settled on Vanderbilt University where she triple majored in European studies, Russian language and music, she plays the piano and organ.
Her advice to her fellow students applying for scholarships? "Apply for as many [scholarships] as possible without sacrificing quality," said Rachel Eve. "It's always better to spend time on one quality application than to throw out five that aren't so great."
Being out of school for some time now has forced Rachel Eve to start paying down the loans she owes for her undergraduate education; this is what keeps her applying to scholarships and using Fastweb. "Knowing I had that debt looming over my head is a huge motivating factor," said Rachel Eve.
In September Rachel Eve will attend University College London in London where she will study to receive her master's degree in Human Rights. After grad school she plans to possibly attend law school and work for intergovernmental organizations or non-governmental organizations.
Congratulation and good luck Rachel Eve!
Need Money to Pay for College?
Every semester, Fastweb helps thousands of students pay for school by matching them to scholarships, grants, and internships, for which they actually qualify. You'll find high value scholarships like VIP Voice's $5,000 Scholarship, and easy to enter scholarships like Niche $2,000 No Essay Scholarship, and internships with companies like Apple, Google, Dreamworks, and even NASA!
Join today to get matched to scholarships or internships for you!
---