We'd like to introduce you to an impressive woman in STEM, Thales Exoo. Exoo is a Senior Software Engineer at
Public Good
. Public Good is a software company that works with various media outlets, brands and non-profit organizations to help enable people to take direct action on the news. According to the Public Good site, "When people read about issues ranging from women's rights to refugees, or from veterans to natural disasters, our technology empowers them to make a difference by giving them actions they can take in those moments of inspiration."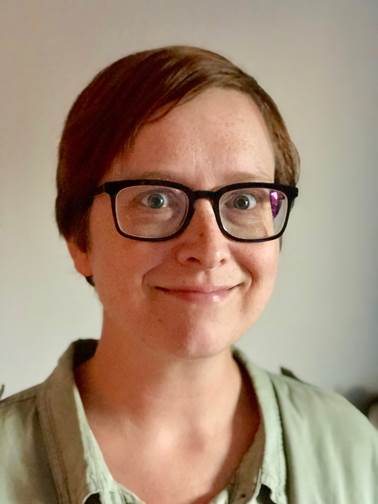 Read on to learn a little more about Thales, her career and how she got to be where she is today. Here's the story of how Thales developed an interest in STEM fields, in her own words:

"Growing up in the 1980s and early 90s I was surrounded by computers, because my father taught Computer Science at a university. I remember painstakingly typing in every line of BASIC programs from "Compute!" magazine into our Atari 400, and then modifying them to see what I could make it do. I remember doing UNIX tutorials (via the "learn" command) that were hooked into the university's network and reading every article on gopher. So yeah, it's always been around. So of course, I did the natural thing and got an English Literature degree. A couple of years into an editorial job for a taxonomy/database company in Albuquerque I had the opportunity to learn JAVA and Perl and help out on the product they were building. I took one class in C++, taught myself Perl, and was mentored by a programmer at the company.

After I moved to Chicago I worked at the Tribune for a few years and got my MS in Computer Science at DePaul University before beginning a series of jobs in the (then up and coming) digital music industry. Those experiences were some of the best, as it was fast-paced learning in an interesting field surrounded by smart and kind people who were always willing to teach, and also open and receptive to learning. A good combination all around. Later I went to work for WBEZ, Chicago's public radio station for almost 5 years before starting with Public Good. I've been here for 2 and a half years. At Public Good we work with media outlets, brands and non-profit organizations to help enable people to take direct action on the news. Throughout the years I've used JAVA, Ruby, PHP, Python, Node.js, Go…and more I am sure! I am not an evangelist for one particular language in the least. Different problems need different solutions. Different groups of people work better with different languages.

In my current role, although I am billed as a full stack developer, I spend most of my time in the back end systems, with things like search (we use Elasticsearch), customer databases, and creating APIs for the front end to use to integrate our product with different systems. Currently I seem to be using Go, Node.js and Python the most, but I still do an occasional Ruby script for the comfort food factor."

Read Thales' Q & A below to discover more about her studies, her field and her tips for students pursuing a career within a STEM field.
1. What's your education background (university, degrees, etc.)?
I have a BA in English Literature from the University of New Mexico and a MS in Computer Science from DePaul University.
2. Did you apply for and/or obtain any scholarships?
I received a scholarship to study psychology, which I did for a year before switching. Jury's still out on whether that was a good choice. I also received a scholarship that waived out-of-state tuition and covered half of in-state tuition. It was an academic scholarship through the university. Both of those were for undergrad.
3. Did you have any internships? If so, what did you learn from them?
Not officially, although honestly my first two jobs were very internship-like. In that I was trained from within without any tangible tech skills for my first job, and my second job at the Tribune was very similar. It was before I got my Masters and I was still very new and was able to learn a lot on the job thanks to a really kind boss at the Tribune. These experiences were also certainly reflected in my pay at the time! I learned how to code from them, so it was definitely worth it.
4. How would you describe your current job in layman's terms? What does a typical work day look like for you?
I am very lucky in that with my particular role I spend a lot of time working on long-term projects, so I'm often heads down on one of those. But I spend the beginning of my day checking in on projects that are currently running, making sure everything is doing what it should, check for errors and do routine maintenance as needed. I work a lot on different back-end systems that help run the product as a whole. Also everyone at my small company spends a lot of time working with what might commonly be a dev-ops sort of role, server and infrastructure work.
5. What do you love most about your job?
I like being able to use my skills in technology not just to make a buck or build a banking interface, but to try to make a real difference by supporting non-profit organizations and causes that genuinely affect people's lives.
6. What advice do you have for students going into STEM fields?
Be sure you love it. Find the specific area that interests you and learn all you can about it, and if it's something like coding, practice as much as you can. Build something that interests you. Build something that saves you time. Maintain your people skills too. Just because you want to sit in front of a computer all day doesn't mean you shouldn't know how to relate to people.
7. What specific advice do you have for females going into the field?
Don't feel intimidated by people, male or female, who have a different learning style than you. If you need to talk through things, don't be dissuaded by those who are quiet. If you need to figure things out solo without interruptions, don't think that's any less valid than those who want to work things out on a whiteboard in front of a group. Be yourself, as cheesy as it sounds, and follow your own instincts.
8. What qualities should students thinking about pursuing a STEM career have in order to be successful?
The ability to tightly focus on one problem. An interest in the subject matter. Critical thinking. And honestly I think more people in general in STEM need to respect the value of the humanities. As easy as it is to joke about my English degree, it's quite frankly what taught me how to think critically, and I could have easily translated that into many different things. Don't ignore those courses, being in STEM doesn't exclude you from being in the world.
9. What's it like being a successful woman in a male-dominated field? Any advice?
I have been lucky in that I have worked for the most part with completely accepting and kind humans. Primarily, yes, that were male. I certainly have my share of horror stories and unkind behavior (be it intentional or inadvertent) from male co-workers or associates, but I have also been lucky enough to be able to carefully choose where and with whom I work, and the men I currently work with as well as so many of the ones I've worked with in the past have been great people who listen and are respectful. I understand from talking with others my experience is fairly singular. I know not everyone is quite as lucky.
10. What do you think the solution is to get more females in STEM fields?
Visible role models of other women in the same industry, peer mentoring in university programs, women in technology student associations. Actively teaching young men and young women (as children) that there is no reason to doubt the validity of women in STEM but making sure they see women in STEM.
If you have a question for our featured woman in STEM, Thales Exoo, send an email to ask her your question today.
•
Software Development Engineer, Kratos Defense & Security Solutions
•
Software Engineer, Penske
•
Lead Software Engineer, CyberCoders