Institute Of Transpersonal Psychology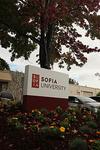 Palo Alto, CA
University Website:
www.sofia.edu/
Apply Online:
https://sof-web.scansoftware.com/cafeweb/tapestry?page
Sofia University, formerly The Institute of Transpersonal Psychology (ITP), is an American private and non-sectarian graduate school. It is accredited by the Western Association of Schools and Colleges. ITP was founded in 1975 and the campus is located in Palo Alto, California.
The curriculum, initially developed by co-founders Robert Frager and James Fadiman, focuses on six areas of inquiry: the intellectual, emotional, spiritual, physical, social and creative aspects of life. One of the features of the school is the requirement that all students take a certain amount of Aikido, which is one way that the school seeks to integrate the "physical" learning component of its teaching philosophy into the curriculum of the program.
The University has three major degree programs, a residential (on-campus) program, a low-residency program combining on-campus and online work, and a global (online) program. The residential program offers options for students to gain both masters and doctoral degrees by taking courses offered on campus. The residential masters degrees options include a Master of Arts in Transpersonal Psychology, a Master of Arts in Counseling Psychology, offered on campus as a full-time or a part-time program, and a new low-residency MACP (in California a person with this degree may be licensed as a Marriage and Family Therapist), a low-residency Master of Arts in Women's Spirituality, and a low-residency Master of Arts in Spiritual Guidance. The residential doctoral programs allow students to earn either a Ph.D. in Transpersonal Psychology or a PsyD Clinical Psychology (in California a person with this degree may be licensed as a psychologist). The global program allows students from around the United States and internationally to take courses online. The degree offerings in the global program include a Master of Arts in Transpersonal Psychology (with specializations in health and wellness, spiritual psychology, creativity and innovation, and transformational life coaching) and a Ph.D. in psychology with a concentration in Transpersonal psychology. Undergraduate degrees are planned to begin in 2013.
* Description and images provided by Wikipedia under CC-BY-SA 3.0 license .
Sofia University College Scholarships