Edward Via College Of Osteopathic Medicine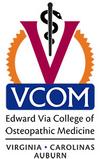 Blacksburg, VA
University Website:
www.vcom.edu/
Apply Online:
https://www.vcom.edu/admissions/how-apply
The Edward Via College of Osteopathic Medicine (VCOM), formally named the Edward Via Virginia College of Osteopathic Medicine, is a private, non-profit osteopathic medical school in the United States with two campuses: the Virginia Campus (VCOM-VC) located in Blacksburg, Virginia and the Carolinas Campus (VCOM-CC) located in Spartanburg, South Carolina. The Virginia Campus is located in the Corporate Research Center of the Virginia Polytechnic Institute and State University. The school is one of 29 colleges of osteopathic medicine in the country, one of four located in the Appalachian Region, and grants the Doctor of Osteopathic Medicine degree. On June 2, 2007, VCOM graduated its first class of 139 students.
* Description and images provided by Wikipedia under CC-BY-SA 3.0 license .
Edward Via College of Osteopathic Medicine College Scholarships
Bullet

name
award
deadline

Link

•

State Council of Higher Education for Virginia (SCHEV)

$20,000
Varies
See Details

State Council of Higher Education for Virginia (SCHEV)

award

$20,000

deadline

Varies
See Details

•

John Randolph Foundation

$1,500
January 17, 2024
See Details

John Randolph Foundation

award

$1,500

deadline

January 17, 2024
See Details

•

Hampton Roads Community Foundation

Varies
Varies
See Details

Hampton Roads Community Foundation

award

Varies

deadline

Varies
See Details

•

State Council of Higher Education in Virginia

Varies
Varies
See Details

State Council of Higher Education in Virginia

award

Varies

deadline

Varies
See Details

•

Hampton Roads Community Foundation

Varies
Varies
See Details

Hampton Roads Community Foundation

award

Varies

deadline

Varies
See Details

•

Intel Foundation

Varies
Varies
See Details

Intel Foundation

award

Varies

deadline

Varies
See Details

•

Arkansas Department of Higher Education

Varies
July 01, 2024
See Details

Arkansas Department of Higher Education

award

Varies

deadline

July 01, 2024
See Details

•

State Council of Higher Education in Virginia

Varies
Varies
See Details

State Council of Higher Education in Virginia

award

Varies

deadline

Varies
See Details