University Of Illinois At Springfield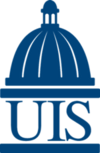 Springfield, IL
University Website:
www.uis.edu
Apply Online:
www.uis.edu/admissions/applyToday.html
The University of Illinois at Springfield (UIS) is a public university in Springfield, Illinois, United States. The university was established in 1969 as Sangamon State University by the Illinois General Assembly and became a part of the University of Illinois system on July 1, 1995.
The University of Illinois at Springfield serves roughly 5,000 students in 23 undergraduate programs, 20 master's programs, and a doctorate in Public Administration. The university was once one of the two upper-division and graduate universities in Illinois, but now accepts freshmen, transfer and graduate students.
* Description and images provided by Wikipedia under CC-BY-SA 3.0 license .
University of Illinois at Springfield College Scholarships
Bullet

name
award
deadline

Link

•

Golden Apple Foundation

Up to $23,000
April 01, 2023
See Details

Golden Apple Foundation

award

Up to $23,000

deadline

April 01, 2023
See Details

•

Stamps Family Charitable Foundation, Inc.

Up to $75,000
Varies
See Details

Stamps Family Charitable Foundation, Inc.

award

Up to $75,000

deadline

Varies
See Details

•

University of Illinois at Springfield

$3,060
Varies
See Details

University of Illinois at Springfield

award

$3,060

deadline

Varies
See Details

•

University of Illinois at Springfield

$2,000
Varies
See Details

University of Illinois at Springfield

award

$2,000

deadline

Varies
See Details

•

University of Illinois at Springfield

$1,000
Varies
See Details

University of Illinois at Springfield

award

$1,000

deadline

Varies
See Details

•

University of Illinois at Springfield

$1,000
Varies
See Details

University of Illinois at Springfield

award

$1,000

deadline

Varies
See Details

•

University of Illinois at Springfield

$1,000
Varies
See Details

University of Illinois at Springfield

award

$1,000

deadline

Varies
See Details

•

University of Illinois at Springfield

$1,000
Varies
See Details

University of Illinois at Springfield

award

$1,000

deadline

Varies
See Details

•

University of Illinois at Springfield

$600
Varies
See Details

University of Illinois at Springfield

award

$600

deadline

Varies
See Details

•

University of Illinois at Springfield

$600
Varies
See Details

University of Illinois at Springfield

award

$600

deadline

Varies
See Details