Spokane Community College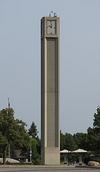 Spokane, WA
University Website:
https://scc.spokane.edu/
Apply Online:
https://scc.spokane.edu/Admissions/Apply.aspx
Established in 1963, Spokane Community College is part of Community Colleges of Spokane.
It is a comprehensive educational institution, offering liberal arts-transfer degrees and a wide array of career-technical degree and certificate options in the fields of manufacturing, transportation, environmental sciences, hospitality, public safety, business, information technology, hospitality and culinary arts. SCC's health sciences division is the largest among community and technical colleges in Washington state.
Located in east Spokane, the campus includes 23 administrative, academic and support buildings located on 148 acres (0.60 km2) next to the Spokane River midway between the cities of Spokane and Spokane Valley. An additional 10 acres (40,000 m2) is used for off-campus facilities, including an Apprenticeship and Journeyman Training Center and Felts Field aviation hangar.
Students of all ages and ethnic origin choose SCC. Some are attracted by the college's career-technical programs, where they can learn specific skills that can be taken into the workplace following graduation. Others already work full-time, but attend school part-time to obtain more skills and knowledge for on-the-job advancement. Other SCC students enroll in liberal arts programs so they can transfer to four-year institutions.
SCC is accredited by the Northwest Commission on Colleges and Universities and governed by the Washington State Board of Community and Technical Colleges.
President: Joe Dunlap
Headcount (fall 2009): 7,436
* Description and images provided by Wikipedia under CC-BY-SA 3.0 license .
Spokane Community College College Scholarships
Bullet

name
award
deadline

Link

•

Washington Student Achievement Council

Up to $11,000
Varies
See Details

Washington Student Achievement Council

award

Up to $11,000

deadline

Varies
See Details

•

Scholarship Foundation of Northshore

$5,000
February 02, 2024
See Details

Scholarship Foundation of Northshore

award

$5,000

deadline

February 02, 2024
See Details

•

Scholarship Foundation of Northshore

$5,000
February 02, 2024
See Details

Scholarship Foundation of Northshore

award

$5,000

deadline

February 02, 2024
See Details

•

Scottish Rite Scholarship Foundation of Washington

$3,000
March 31, 2024
See Details

Scottish Rite Scholarship Foundation of Washington

award

$3,000

deadline

March 31, 2024
See Details

•

Wildlife Society - Washington Chapter

Up to $2,500
December 31, 2023
See Details

Wildlife Society - Washington Chapter

award

Up to $2,500

deadline

December 31, 2023
See Details

•

Washington Federation of State Employees

$2,000
December 31, 2023
See Details

Washington Federation of State Employees

award

$2,000

deadline

December 31, 2023
See Details

•

Nellie Martin Carman Scholarship Committee

Up to $2,000
April 15, 2024
See Details

Nellie Martin Carman Scholarship Committee

award

Up to $2,000

deadline

April 15, 2024
See Details

•

The Washington Advocates

$1,000
Varies
See Details

The Washington Advocates

award

$1,000

deadline

Varies
See Details

•

Washington Student Achievement Council

Up to $2,000
Varies
See Details

Washington Student Achievement Council

award

Up to $2,000

deadline

Varies
See Details

•

Big Bend Community College

$190
March 11, 2024
See Details

Big Bend Community College

award

$190

deadline

March 11, 2024
See Details