Pomona College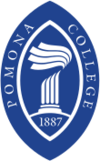 Claremont, CA
University Website:
www.pomona.edu/
Apply Online:
https://www.pomona.edu/admissions/apply
Pomona College is a private, residential, liberal arts college in Claremont, California, United States.
The founding member of the Claremont Colleges, Pomona is a non-sectarian, coeducational school. Since 1925, the Claremont Colleges, which have grown to include five undergraduate and two graduate institutions, have provided Pomona's student body with the resources of a larger university while preserving the closeness of a small college.
* Description and images provided by Wikipedia under CC-BY-SA 3.0 license .
Pomona College College Scholarships
Bullet

name
award
deadline

Link

•

The Winston Churchill Foundation of the United States

Up to $65,000
November 01, 2023
See Details

The Winston Churchill Foundation of the United States

award

Up to $65,000

deadline

November 01, 2023
See Details

•

Thomas J. Watson Foundation

$36,000
Varies
See Details

Thomas J. Watson Foundation

award

$36,000

deadline

Varies
See Details

•

Institute for the International Education of Students (IES Abroad)

Up to $5,000
Varies
See Details

Institute for the International Education of Students (IES Abroad)

award

Up to $5,000

deadline

Varies
See Details

•

Institute for the International Education of Students (IES Abroad)

Up to $2,000
Varies
See Details

Institute for the International Education of Students (IES Abroad)

award

Up to $2,000

deadline

Varies
See Details

•

Pomona College

50% of tuition
Varies
See Details

Pomona College

award

50% of tuition

deadline

Varies
See Details

•

Pomona College

50% of tuition
Varies
See Details

Pomona College

award

50% of tuition

deadline

Varies
See Details

•

Pomona College

Varies
January 15, 2024
See Details

Pomona College

award

Varies

deadline

January 15, 2024
See Details