Memphis College Of Art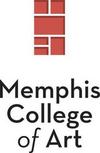 Memphis, TN
University Website:
www.mca.edu
Apply Online:
www.mca.edu
Coordinates: 35°08′15″N 90°01′14″W / 35.1376°N 90.0205°W / 35.1376; -90.0205
Memphis College of Art, known before 1985 as the Memphis Academy of Arts and first established as James Lee Memorial Art Academy in the James Lee House, is a small, private college of art and design located in Memphis, Tennessee's Overton Park adjacent to the Memphis Brooks Museum of Art. It offers Bachelor of Fine Arts, Master of Fine Arts, Master of Arts in Art Education and Master of Arts in Teaching degrees. Some of the majors include graphic design, drawing, painting, printmaking, book arts, computer arts, photography, animation, and illustration. It was founded in 1936 and was once housed in the James Lee House. It is now in a building with 1950s architecture.
Memphis College of Art averages around 450 students each year, with 350 being undergraduate and 100 being graduate students. It is accredited by the Commission on Colleges of the Southern Association of Colleges and Schools and National Association of Schools of Art and Design.
Memphis College of Art provides a rigorous curriculum in an intimate, diverse community. It has enabled generations of leading artists, designers and educators to flourish professionally and contribute valuable ideas to society. MCA is fully accredited with expert, nationally renowned faculty and grants BFA, MFA, MA in Art Education and MA in Teaching degrees with graduates excelling in various careers across the country and internationally. It extends its programs to the public through gallery exhibitions, continuing education, children's classes, and visiting artist lectures. It is more affordable, compared to similar colleges, as per Princeton Review. There is student housing on N. Rembert St., N. Tucker St., and most recently on N. Barksdale, in a building called Metz Hall, which is also based on 1950s architecture.
* Description and images provided by Wikipedia under CC-BY-SA 3.0 license .
Memphis College of Art College Scholarships
Bullet

name
award
deadline

Link

•

Tennessee Student Assistance Corporation

Up to $6,000
February 15, 2024
See Details

Tennessee Student Assistance Corporation

award

Up to $6,000

deadline

February 15, 2024
See Details

•

Tennessee Student Assistance Corporation

Up to $2,850
February 01, 2024
See Details

Tennessee Student Assistance Corporation

award

Up to $2,850

deadline

February 01, 2024
See Details

•

Tennessee Student Assistance Corporation

Up to $4,000
Varies
See Details

Tennessee Student Assistance Corporation

award

Up to $4,000

deadline

Varies
See Details

•

Tennessee Student Assistance Corporation

$1,500
Varies
See Details

Tennessee Student Assistance Corporation

award

$1,500

deadline

Varies
See Details

•

Tennessee Baptist Mission Board

$1,500
January 25, 2024
See Details

Tennessee Baptist Mission Board

award

$1,500

deadline

January 25, 2024
See Details

•

Tennessee Student Assistance Corporation

$1,000
Varies
See Details

Tennessee Student Assistance Corporation

award

$1,000

deadline

Varies
See Details

•

Intel Foundation

Varies
Varies
See Details

Intel Foundation

award

Varies

deadline

Varies
See Details

•

Arkansas Department of Higher Education

Varies
July 01, 2024
See Details

Arkansas Department of Higher Education

award

Varies

deadline

July 01, 2024
See Details

•

Tennessee Baptist Mission Board

Varies
January 25, 2024
See Details

Tennessee Baptist Mission Board

award

Varies

deadline

January 25, 2024
See Details

•

Tennessee Baptist Mission Board

Varies
January 25, 2024
See Details

Tennessee Baptist Mission Board

award

Varies

deadline

January 25, 2024
See Details