La Salle University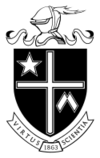 Philadelphia, PA
University Website:
www.lasalle.edu
Apply Online:
https://xbss-prod.lasalle.edu/PROD/bwskalog.P_DispLoginNon
Coordinates: 40°02′21″N 75°09′12″W / 40.03925°N 75.15325°W / 40.03925; -75.15325
La Salle University is a private, co-educational, Roman Catholic university located in Philadelphia, Pennsylvania, U.S. Named for St. Jean-Baptiste de La Salle, the school was founded in 1863 by the Institute of the Brothers of the Christian Schools. As of 2008 the school has approximately 7,554 students, about 63% of whom are undergraduates. Located in northwestern Philadelphia, the university is affiliated with the Roman Catholic Church through the Archdiocese of Philadelphia. The comprehensive cost for a year of tuition is $42,850.
* Description and images provided by Wikipedia under CC-BY-SA 3.0 license .
La Salle University College Scholarships
Bullet

name
award
deadline

Link

•

La Salle University

Varies
Varies
See Details

La Salle University

award

Varies

deadline

Varies
See Details

•

Maguire Foundation

Varies
Varies
See Details

Maguire Foundation

award

Varies

deadline

Varies
See Details

•

Health Resources And Services Administration

Varies
Varies
See Details

Health Resources And Services Administration

award

Varies

deadline

Varies
See Details