Coastline Community College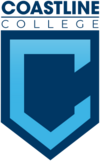 Fountain Valley, CA
University Website:
www.coastline.edu/
Apply Online:
www.coastline.edu/apply/
Coastline Community College is a community college with three mini-campuses and an administration building in Fountain Valley, California, United States. The college offers Associate in Arts degrees, Associate in Science degrees, courses to prepare students to transfer to a 4-year college or university, and career and technical courses that can lead to career advancement and/or an occupational certificate. The college was founded in 1976, and is part of the Coast Community College District. Its sister colleges are Orange Coast College (in Costa Mesa) and Golden West College (in Huntington Beach).
The college is part of the California Community College system, which includes a total of 112 community colleges statewide. Every community college has the same tuition rate (currently $36/unit for CA residents), but it is set by the state legislature and subject to change.
The Coast Community College District serves the following seven California cities: Costa Mesa, Fountain Valley, Garden Grove, Huntington Beach, Newport beach, Seal Beach (includes Sunset Beach) and Westminster.
* Description and images provided by Wikipedia under CC-BY-SA 3.0 license .
Coastline Community College College Scholarships
Bullet

name
award
deadline

Link

•

Asian and Pacific Islander American (APIA) Scholarship Fund

Up to $5,000
January 09, 2024
See Details

Asian and Pacific Islander American (APIA) Scholarship Fund

award

Up to $5,000

deadline

January 09, 2024
See Details

•

The Frank M. and Gertrude R. Doyle Foundation, Inc.

Varies
February 15, 2024
See Details

The Frank M. and Gertrude R. Doyle Foundation, Inc.

award

Varies

deadline

February 15, 2024
See Details