25 EPIC College Courses
These wacky courses may be offered at a college near you.
Elizabeth Hoyt
August 18, 2014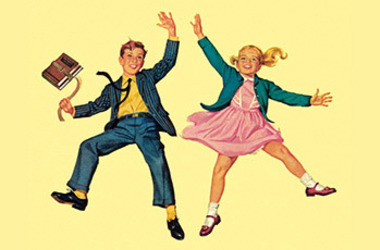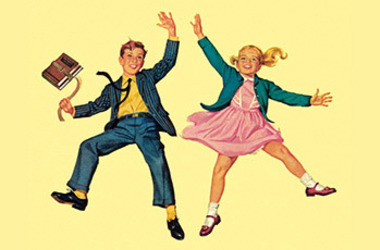 From wacky to fabulous, colleges and universities are offering courses that classify as downright epic to their students.
The pros? The interesting approaches may engage students in subjects that they may not otherwise have paid attention or expressed interest in.
Schools also argue that the offbeat courses breed creativity and provides different ways of looking at the usual or mundane.
Cons? Many feel these courses are just a waste of time, tuition and ultimately are flashy attempts to attract students to campus.
Feelings aside, everyone can agree that the below courses are among both the funniest and the most peculiar courses around. Furthermore, students will undoubtedly look forward to attending any of these courses – the subject matters leave nothing to be desired and many jazz up boring subjects, too!
1. Harry Potter: Literary Tradition and Popular Culture
Otis College of Art and Design
Somehow, J.K. Rowling's series made reading fun again and this course wants to discover why. Through the examination of popular culture, the story themes and book structures, find out the roots behind the Harry Potter craze and, likely, become a Potter fan as well.
2. Philosophy and Star Trek
This course gives students the opportunity to use class as an excuse to watch Star Trek. No joke. Then, they get to analyze it repeatedly in class by applying themes to major philosophical questions that have to do with time, reality, a person's identity and free will–all of which may or may not exist.
3. Tattoos in American Popular Culture
If you're a fan of unique ink, look no further. This course examines American tattoo culture and its roots, exploring how the popular culture of cool ink has developed into a sub-culture over the years and how it relates to race, class, gender and sexuality.
4. Lady Gaga and the Sociology of Fame
University of South-Carolina Columbia
Fascinated with The Fame Monster? Students who have taken this course could pinpoint why. The focus of the course is "to unravel some of the sociologically relevant dimensions of the fame of Lady Gaga."
For die-hard fans thinking this course is the answer to all their prayers, don't transfer schools quite yet.
The syllabus clearly spells out that it's "not a course in Lady Gaga but in sociology; and it is not a course about Lady Gaga as much as about the culture of the fame as exemplified by the career of Lady Gaga. There will be no PowerPoint presentations in this class nor any music or videos." Sounds riveting. Thanks, but we'd rather attend ArtRave: The Artpop Ball.
5. The Art of Walking
You walk anyway, so why not get course credit for it? The course touches upon walking as a lost form of transportation that has fallen behind automobiles and other faster methods of transport.
Since it's part of the study abroad curriculum, you get to do so while exploring awesome countries. Students will follow lesson plans based around walking and its relation to beauty and art in the new areas around them.
6. The Hunger Games: Class, Politics and Marketing
Using the hugely popular Hunger Games trilogy as a case study, this course covers important topics like (but not limited to) oppression, poverty, feminism and how they relate to class, politics ethics, social media and marketing.
7. How to Win a Beauty Pageant
"How to Win a Beauty Pageant: Race, Gender, Culture, and U.S. National Identity," the full title of the course, explains it a little better.
The class focuses on the history of beauty pageants, beginning in the 1920s through modern day, dissecting the aspects to better understand the roles of race, gender, class, sexuality and nation, according to the syllabus. The students in the class also have the opportunity to attend a beauty pageant and apply the aspects they've learned throughout the course.
8. Japanese Swordsmanship
The George Washington University
We're not entirely sure what this course entails but, if it's anything like its title, it is going to be nothing short of spectacular. And, since it's classified as an "Exercise and Nutrition Science Course," it's likely hands on. Even better – who doesn't need that on their resume?
9. Gossip
Believe it or not, this is a graduate course at Cornell, though the title may be misleading. The course focuses on the work of theorists and authors like Sedgwick, Freud and Kierkegaard rather than looking at gossip published by magazines like US Weekly or gossip queens like Perez Hilton.
10. Zombies in Popular Media
Whether you're a zombie fanatic or just looking to be prepared for the zombie apocalypse, this course sounds pretty amazing. Seriously, what other course can you get credit for reading zombie lit and comics, watching zombie flicks and talking about them with your buddies afterwards? It sounds like a Friday night. Get credit while you can.
11. Feminist Perspectives: Politicizing Beyoncé
This course attempts to challenge what you know about Beyoncé Knowles-Carter and place her in several other boxes in addition to the many she already dominates as singer, songwriter, actress, designer, etc.
The course positions her as a black feminist, political figure and discusses her music in terms of impacting social change.
12. Create Your Own Religion
Using the text by Daniele Bolelli, "Create Your Own Religion: A How-To Book Without Instructions," this course allows students to explore, question and develop one's own beliefs without pressure or judgment.
The class stems from the idea that communities of faith try to convert others to believe what they want or have expectations of beliefs so the course allows you to set the rules and guidelines for a change.
13. Underwater Basket Weaving
University of California-San Diego
Believe it or not, this course is also offered at another school – Reed College in Portland, Oregon.
So, for those of you who have always dreamed of learning how to create baskets out of soaking wet plant materials, there's good news because you've actually got options of where to take this course for credit. Plus – it's the most affordable course offered at only $10!
14. Science from Superheroes to Global Warming
University of California-Irvine
We're hoping this course is as cool as the title but know it's unlikely since the lessons are all based around physics.
The exciting part is that students can, at the very least, learn about physics in relation to flying like Superman, the strength of Spidey's web in addition to other superheroes like Batman and Wonder Woman (along with how the world around us is changing). If you have to take physics, this is definitely a super way to do it.
15. The Sociology of Miley Cyrus: Race, Class Gender and Media
A special topics course focusing on how recent the media frenzy shaped Miley Cyrus' identity through pop culture. The course also takes a feminist approach to what it describes as the "Miley 'problem'."
16. Arguing with Judge Judy: Popular 'Logic' on TV Judge Shows
University of California-Berkeley
It's not difficult to agree with Judge Judy or other television judges, considering who they're arguing with. Indeed, the entire seminar is dedicated to dissecting plaintiff logic –or lack thereof– on popular courtroom reality shows.
17. Why Play Matters
Who doesn't miss being a kid? This course allows students to reconnect with their inner child through the art of play. It also stresses the importance of playfulness at any age.
Plus, they get to participate in playtime activities. One question: where do we sign up?
18. Street-Fighting Mathematics
Massachusetts Institute of Technology
Math and street-fighting typically don't go hand-in-hand but, in this course, students learn the possibilities that movements and rhythms of fighting can be examined through mathematical patterns.
19. The Game of Thrones
This course examines the work of George R.R. Martin through the reading of one of his novels and the popular HBO series based on his fiction series. For those staying up late-night watching the show anyway, why not get credit for it?
20. Tree Climbing
Why learn to climb a tree as a kid when you can grow up and pay a college to teach you by taking this course? Clearly, you'll be much better at it than that little boy down the street because you're a college-level tree climber.
21. Ice Cream Short Course
Have you ever wondered how Ben and Jerry got into the ice cream industry? They actually began by taking this course! Learn the ins and outs of the ice cream industry "cow to cone."
At the end of the day, many of these course titles are a little more than misleading. Anything that entices a student to attend class and revitalizes attention in classic subjects is a bonus in our book, as long as colleges know where to draw the line between looking at a subject in a different light versus ignoring classic subjects all together.
As with most things, however, there are exceptions to every rule. If a course seems like a waste of time and money, it probably is.
22. Monsters, from Folklore to Reality
This course examines all types of monsters, from life's predatory monster's, like sharks, to monster's one reads about or sees in popular films, both fictional and realistic.
The class also discusses what it describes to be life's scariest monsters of all: humans.
23. The Textual Appeal of Tupac Shakur
Tupac's memory lives on through this University of Washington course, which explores the late rapper and activist's "philosophical, historical and literary influences" on modern culture.
Undoubtedly, he'd like these changes, which honor his work.
24. Alien Sex
This course is part of the Selznick Graduate Program in Film and Media Preservation. Apparently, it explores sexual issues that pertain to humans. And non-humans. Non-humans meaning aliens.
How they know what those issues are is anyone's guess, but they are probably interesting issues, nonetheless.
25. The Joy of Garbage
This course uses garbage as a gateway to studying aspects of environmental science like decomposition, recycling, waste management, sustainability and nuclear waste. If that doesn't get you excited, this certainly will: there are class field trips to sanitation plants and landfills. Form one line, please.


At the end of the day, many of these course titles are a little more than misleading. Anything that entices a student to attend class and revitalizes attention in classic subjects is a bonus in our book, as long as colleges know where to draw the line between looking at a subject in a different light versus ignoring classic subjects all together.
As with most things, however, there are exceptions to every rule. If a course seems like a waste of time and money, it probably is.

What's the coolest college course you've ever taken?
RELATED
ARTICLES
Need money to pay for college?
Every semester, Fastweb helps thousands of students pay for school by matching them to scholarships, grants and awards for which they actually qualify. Sign up today to get started. You'll find scholarships like the $2,000 "No Essay" Scholarship from Niche, a scholarship open to all U.S. students and those planning on enrolling within 12 months, and high value scholarships like Opinion Outpost $10,000 Quarterly Prize.
---