Volunteer
Find a way to give back.
70% of admissions officers surveyed valued consistent local volunteering over a long period rather than a short stint abroad.
Admissions officers like to see words like "Commitment" and "Passion" most when applicants describe their community services.
DoSomething.org is one of the largest organizations in the US that helps young people rock causes they care about. Any young person 25 and under can join by texting "JOIN" to 38383 or joining online at www.DoSomething.org.
*2010 DoSomething.org Community Services and College Admissions Study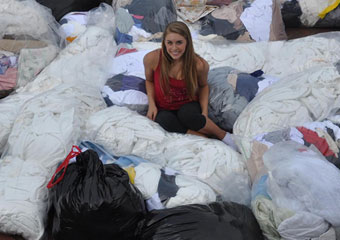 You could win an easy $5,000 scholarship just by recycling old clothes to keep them out of landfills! Clean out your closet (or ask those around you to clean out theirs) and recycle any unwanted clothes. That'll help our planet and automatically enter you to win a $5,000 scholarship. Going green is always in style!
Rules:
No minimum GPA or essays required. Must be 13 to 25 years old to apply.
What:
$5,000
How:
Snap and submit a pic of the clothes you donate, and you'll enter to win a $5,000 scholarship!
No essay or minimum GPA required
.
Deadline:
May 31, 2016
Go to https://www.dosomething.org/us/campaigns/world-recycle-week-close-loop-0 and sign up now!