Volunteer
Find a way to give back.
70% of admissions officers surveyed valued consistent local volunteering over a long period rather than a short stint abroad.
Admissions officers like to see words like "Commitment" and "Passion" most when applicants describe their community services.
DoSomething.org is one of the largest organizations in the US that helps young people rock causes they care about. Any young person 25 and under can join by texting "JOIN" to 38383 or joining online at www.DoSomething.org.
*2010 DoSomething.org Community Services and College Admissions Study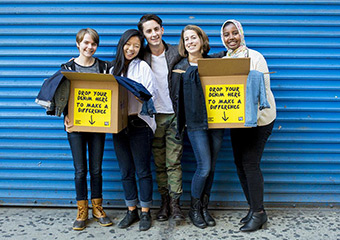 Every year, over a million young people in the US experience homelessness. One item they request often? A pair of jeans.
DoSomething.org is launching the 9th annual
Teens for Jeans
campaign where participants help collect gently-used blue jeans in their schools and communities to be distributed to shelters throughout the country. In addition to providing an important clothing item to others in need, participants also have the chance to win a
$5,000 scholarship!
Every two pairs of jeans count an entry. The more pairs you collect, the more chances you have at winning.
Rules:
No minimum GPA or essays required. Must be 13 to 25 years old to apply.
What:
$5,000 Easy Scholarship
How:
Sign up at
https://www.dosomething.org/us/campaigns/teens-jeans
Deadline:
February 29, 2016.
Go to https://www.dosomething.org/us/campaigns/teens-jeans and sign up now!