Volunteer
Find a way to give back.
70% of admissions officers surveyed valued consistent local volunteering over a long period rather than a short stint abroad.
Admissions officers like to see words like "Commitment" and "Passion" most when applicants describe their community services.
DoSomething.org is one of the largest organizations in the US that helps young people rock causes they care about. Any young person 25 and under can join by texting "JOIN" to 38383 or joining online at www.DoSomething.org.
*2010 DoSomething.org Community Services and College Admissions Study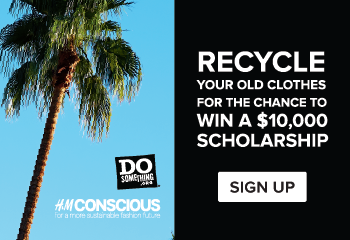 The vast majority of fabric can be recycled, yet
85% of textiles made each year ends up in landfills
. That's 11.1 million tons, or the equivalent of over 70 Billion t-shirts.
Trashed clothes don't only take up space in landfills; they also waste precious resources. To make a brand new pair of jeans—to grow the required cotton and to produce the denim —takes 1800 gallons of water. That's more than enough to take a ten-minute shower every day for a month.
Go to DoSomething.org to apply now!
Deadline :
May 31, 2015
Amount :
$10,000
This April, National Volunteer Week is observed April 12-18, 2015. But, that doesn't mean that you should limit your service to one week or, even, one month! The week is all about celebrating service and according to Points of Light, "is about taking action and encouraging individuals and their respective communities to be at the center of social change – discovering ...

Published 2 months ago | Rated: +39

While you're on break over the holidays, it's easy to get into a lazy mode where you sit around doing nothing with your days, letting them mesh into one long continual nap fest. While there is some value in getting shuteye, there's only so much rest necessary and, to be fair, you do have other, more important things to do. Like ...

Published 6 months ago | Rated: +36

Competitively working your way through high school and college will often feel like one of the most selfish journeys you will take. Everything centers around how to get YOUR degree, how to prepare for YOUR future career, how to ensure that YOU can succeed. Every once in a while, YOU really just need to take some time off and make progress ...

Published 7 months ago | Rated: +24