Student Life >> Browse Articles >> Off-Campus Housing
College Apartment Packing Checklist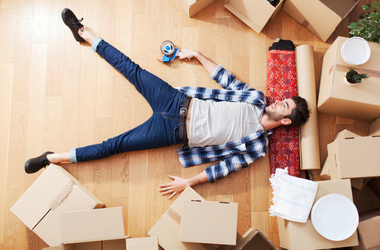 Use this list to ensure you pack all the essentials!
Elizabeth Hoyt
July 07, 2015
Funny photos? Check. Tailgate sweatshirt? Check. Plunger? Ugh…
Yep, it's easy to forget the essentials when there's way more fun stuff to focus on.
Here's an apartment packing checklist to help you ensure you've packed all the essentials so that you don't find out you've forgotten them right when you need them most.



Bathroom

Shower caddy

Towels (Bath, face, washcloths)

Bathroom rug

Shower/bath mat

Shower curtain

Shower curtain/tension rod

Shower curtain hooks

Towel hooks

Bathrobe

Toiletries

Band-Aids

Cold medicine

Shelves

Hair dryer (Straightener/Curling Iron)

Hairbrush/comb

Full-length mirror
Household Supplies

Toilet Paper

Paper towel

Kleenex

Plastic Wrap

Aluminum foil

Laundry detergent

Stain remover

Rolls of quarters (if you need them for laundry)

Dryer sheets

Iron

Mini ironing board or ironing pad

Dish brush / sponges

Dishwashing liquid

Trash can

Trash bags

Air freshener

Resealable plastic bags

Paper plates and cups

Cleaning Supplies

Rags, sponges, scrub-brushes

Mop

Bucket

Dustpan

Swiffer/Swiffer pads

Vacuum

Glass/counter cleaner

Cleaning wipes

Toilet brush

Toilet cleaner

Rubber gloves

Bedroom

Bed (Mattress, Box Springs)

Nightstand

Bed Risers (for extra storage under bed)

Comforter/bedspread

Dust ruffle

Pillows

Sheets (Bring an extra set if you can)

Mattress pad

Desk

Desk chair

iPod/MP3 Player

Stereo/Speakers

Tablet or E-reader

Curtains/Blinds

Curtain rods

Clothing hangers

Alarm clock

Framed photos with family, friends

Book light (if you're sharing a room)

Floor lamp

Nightstand lamp

Crates or stacking storage containers

Fan

Laundry basket/bag

Rug (if your room isn't carpeted)

Address book

Under-the-bed storage boxes

Shoe rack

Computer & School Supply Needs

Computer/laptop

Computer/laptop case

Wireless mouse

Mousepad

Keyboard

Lap desk

Blank discs or drives for the computer labs

Desk organizer

Binders, folders

Printer

Printer and ink cartridges

Printer paper

Pens, pencils

Highlighters

Dictionary

Thesaurus

Backpack or messenger bag

Calculator

Day planner

White-out

Post-It notes

Scissors

Three-hole punch

Tape

Ruler

Stapler

Paper/binder clips

Rubber bands

Extra Phone Charger(s)

Handy Things to Have

Jumper cables

Duct tape

Area maps

Candles

Matches

Umbrella

Safe with a lock (for valuables)

First-aid kit

Stamps

Envelopes

Flashlight

Toolbox

Basic tool set

Tape measure

Batteries

Earplugs

Deck of cards

Weekend bag or small suitcase

Reusable water bottle

Travel coffee mug (to take to class)

Plunger

Light bulbs

Sewing kit (with safety pins)

Lint brush

Wrinkle release

Extra Power strip(s)

Extra Extension cord(s)

Picture-hanging hooks

Air mattress + extra sheets (in case friends visit)

Stepladder
RELATED
ARTICLES
---