Student Life >> Browse Articles >> Extracurricular
Student Life >> Browse Articles >> Health / Nutrition
Student Life >> Browse Articles >> Social Life
Student Life >> Browse Articles >> Student News
Student Life >> Browse Articles >> Time Management
To-Do List: Starting a New Semester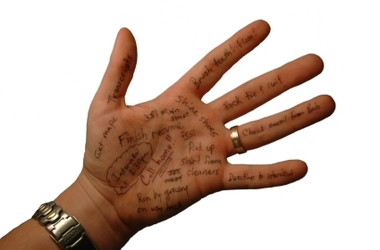 It's hard to keep track of everything you need to do, so making a list is helpful!
Elizabeth Hoyt
September 04, 2013
When starting a new semester in college, there's so much going on that it's hard to keep track of all the tasks that you need to accomplish.
Here's a list of things you should do sooner than later to ensure you'll stay ahead during the course of the semester:
1. Arrange your class schedule

2. Go to all of your classes to evaluate which you'll take

3. Drop any classes you've decided not to take (as soon as possible so you don't get charged)

4. Buy books, notebooks, school supplies, etc.

5. Map out your route to classes so that you're not late the first day

6. Get a parking pass or a bike lock (if necessary)

7. Obtain your student ID

8. Meet your student advisor

9. Purchase season tickets to school sporting events if you plan on attending (they're cheaper for students if you by them in the beginning of the year)

10. Set up an appointment with a financial aid advisor (if you want)

11. Set up your school email account (if you don't already have one)

12. Evaluate which dorms have the best food (if you have a meal plan)

13. Locate the closest library

14. Organize all of the class syllabus documents so you can reference them

15. Create a study schedule

16. Put important dates (like tests, assignment due dates, etc.) into your agenda book, phone, apps, calendar, etc.

17. Introduce yourself to others in your dorm or, if you live off campus, your neighbors

18. Sign up for and attend any club meetings you're interested in

19. Sign up for Greek orientation, if you plan to join a sorority or fraternity

20. Go to your professor's office hours and introduce yourself (TA's count, too!)

21. Check out your school's study abroad office to explore your options for the future

22. Get something with your school's logo on it to wear on game and/or spirit days

23. Begin looking for a part-time job, if you're planning on getting one

24. Find out where the student health center is located, just in case, as well as the gym

25. Check in with your family and friends – they likely miss you more than you know!


Is there anything you'd add to the list?
---