Colleges >> Browse Articles >> Be Prepared
Colleges >> Browse Articles >> Career Schools
Colleges >> Browse Articles >> Choosing a College
Colleges >> Browse Articles >> Choosing a Major
Colleges >> Browse Articles >> Community College
Colleges >> Browse Articles >> Decisions
Colleges >> Browse Articles >> Grad Schools
Colleges >> Browse Articles >> Online Degrees
Colleges >> Browse Articles >> Transferring
Colleges >> Browse Articles >> Art Schools
The Difference in Degrees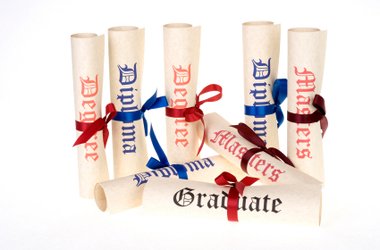 Remember, any college degree is better than no college degree!
Elizabeth Hoyt
July 02, 2013
Bachelor's Degrees –
Bachelor of Science (BS), Bachelor of Arts and Bachelor of Fine Arts (BFA) fall under the category of bachelor's degrees. It is commonly referred to as the undergraduate degree and is the first level of a complete college education.

Bachelor of Science (BS) –
• Typically requires more courses within a specified major than a Bachelor of Arts

• Considered the more technical degree, in comparison

• Likely in fields such as math or science (economics, engineering and accounting are among the usual fields)

• Awarded more often in the natural sciences than the humanities

• Awarded more often in pre-professional academic majors versus purely academic

• Students receiving a BS have a sharper career focus, such as engineering or journalism

• Provides students with more specialized training, often involving technical and analytical skills

Bachelor of Arts (BA) –
• Focuses on a wider selection of courses in social sciences

• Fewer hours studying your major, more elective courses

• The degree's goal is prepare the graduate with a well-rounded education, not for a specific job

• The more popular, more traditional degree of the two

• Awarded after completing courses within liberal arts or social sciences

• Often requires additional coursework requirements in language arts, literature or social sciences

Bachelor of Fine Arts (BFA) –
• Awarded for studying and completing coursework in the fine or performing arts fields

• Available at most universities, but usually within an art school

• Commonly referred to as a "professional" degree due to the rigorous study/training within a student's given major

---