Colleges >> Browse Articles >> Test Prep
Know Your Grad School Exams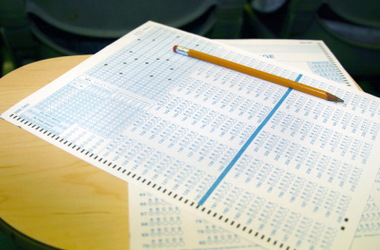 Learn everything you need to know to start the graduate school process.
By Chris Diehl
June 29, 2010
GRE (Graduate Record Examination)
There are two versions of the GRE — General Test and Subject Test. The test you take is determined by the type of graduate program. Check with your prospective graduate school to find out which GRE it requires.
Required for: Most other graduate degree programs, ranging from psychology to art history Cost: $160 for the General Test; $140 for the Subject Test When: The General Test is administered year-round. It must be taken at certified testing centers. The Subject Test is administered three times a year — April, October and November. Both tests offer computer-based testing.
Test duration:
General Test: 4 hours
Subject Test: 3 1/2 hours
Test structure:
General Test
There are three sections:
Verbal: Tests reading comprehension and relationships between words and concepts
Quantitative: Tests math concepts and problem-solving
Analytical Writing: Tests ability to articulate and support complex ideas in a clear, concise way.
More on the analytical writing section: The section consists of two analytical writing tasks. One presents an opinion on an issue of general interest and requires the test-taker to discuss the issue from a perspective of their choosing, providing relevant reasons and examples to explain and support their views. The other
essay
requires test-takers to critique an argument by discussing the logic behind it.
The verbal and quantitative sections are multiple choice. The analytical writing section is in essay format.
Subject Test
The subjects currently offered are: Biochemistry, Cell and Molecular Biology, Biology, Chemistry, Computer Science, Literature in English, Mathematics, Physics, Psychology
Each subject has its own specific sections on which you can be tested.
Scoring: The Verbal Reasoning and Quantitative Reasoning sections of the General Test are score on a scale of 200-800. The Analytical Writing section is scored on a scale of 0-6. The Subject Test is scored on a scale of 200-990, per section.
For more information or to set up an appointment to take the GRE, you can visit the official GRE Web site or call (800) 473-4373.
Need money to pay for college?
Every semester, Fastweb helps thousands of students pay for school by matching them to scholarships, grants and awards for which they actually qualify. Sign up today to get started. You'll find scholarships like the $2,000 "No Essay" Scholarship from Niche, a scholarship open to all U.S. students and those planning on enrolling within 12 months.