Colleges >> Browse Articles >> Test Prep
Know Your Grad School Exams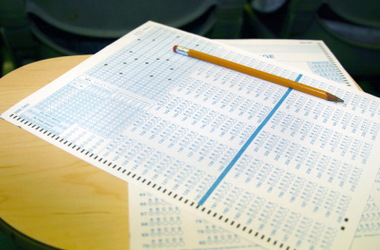 Learn everything you need to know to start the graduate school process.
By Chris Diehl
June 29, 2010
Most students who pursue graduate school must first take one of the following tests: LSAT, MCAT, GMAT or GRE. The required test depends on the type of grad school students plan to attend. Consult your prospective school to find out which test you should take. Learn more about each of the tests:






LSAT (Law School Admissions Test)
Required for: Law school Cost: $136, early registration; $204 late registration When: 4 times a year: February, June, October and December Test duration: Half a day
Upcoming dates:
Monday, June 6, 2011
Saturday, October 1, 2011
Tuesday, October 4, 2011
Saturday, December 3, 2011
Monday, December 5, 2011
Saturday, February 11, 2012
Monday, February 13, 2012
Test structure: The test is split into five multiple choice sections and a writing sample. Only four of the multiple choice sections count toward your final score:
Analytical Reasoning: Logic games
Logical Reasoning I: Consists of solving arguments
Logical Reasoning II: Consists of solving arguments
Reading Comprehension: Assesses ability to understand and interpret a sample reading passage
Each section lasts 35 minutes and contains 23-27 multiple-choice questions. A fifth section typically is used to pretest new test items and to preequate new test forms. There is also a writing sample consisting of one essay that lasts 30 minutes. The essay is not included in your final score, but copies are sent to the law schools to which you apply.
Scoring: Based on a 120-180 scale; average score is about 150.
For more information or to register online, check out the official LSAT Web site or call (215) 968-1001.
Need money to pay for college?
Every semester, Fastweb helps thousands of students pay for school by matching them to scholarships, grants and awards for which they actually qualify. Sign up today to get started. You'll find scholarships like the $2,000 "No Essay" Scholarship from Niche, a scholarship open to all U.S. students and those planning on enrolling within 12 months.