In October, the National Scholarship Providers Association announced this year's winners for the Scholarship Provider of the Year Awards. The award, which is sponsored by Fastweb, seeks to recognize an institution of higher learning as well as a scholarship provider that displays outstanding leadership, innovation and achievement in the field. This year's winners were the University of Maryland – University College (UMUC) and the Hispanic Scholarship Fund (HSF). The recipients of this award were recognized at the NSPA Conference, which took place in October in Albuquerque, NM. In addition to national recognition, the award winners received exclusive benefits and a cash prize of $2,500. At the conference, the award for UMUC was accepted
by Janet Thomas, Director of Military Support Processes and Trends Analysis, Department of Stateside Military Operations, in recognition of the Pillars of Strength Scholarship Program. This program seeks to award caregivers of military personnel who have been wounded, injured or seriously ill in the line of duty. Since its launch in 2013, the Pillars of Strength scholarship program has awarded $500,000 to recipients.
Sponsored
Get Your Custom List of Scholarships to Help Pay for School. Sign Up Now!
Fastweb is your connection to scholarships, financial aid & more.
The award for the HSF was accepted by Daniel Edeza,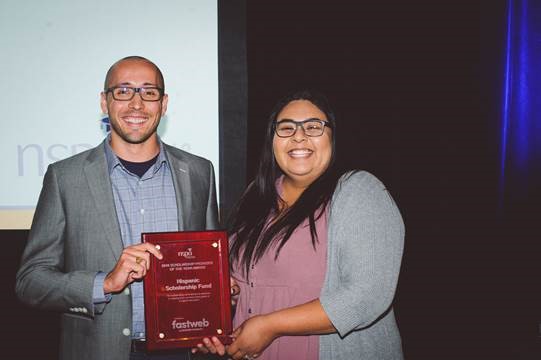 Vice President of Recruitment, Selection, and Scholar Advocacy and Tania Ramirez, an analyst, in acknowledgement of all that they provide to Hispanic American students and their families. The HSF doesn't just provide scholarships, although they have awarded over $500 million in scholarships as the nation's largest non-for-profit organization supporting Hispanic higher education. They further their opportunity to serve their community by equipping recipients with the tools to succeed both in and after college. Fasweb is thrilled to act as a sponsor for this prestigious award for the 19th year. Mark Nelson, Vice President, said, "Annually we look forward to recognizing scholarship providers who are committed to supporting students in achieving their college objectives." Furthermore, Fastweb draws encouragement from the partnership with NSPA, which provides tools, resources, professional development and networking to members that collectively awarded over $2.5 billion in scholarships to over half a million students during the 2016 – 17 academic year.