1. Dorms
College is a time of extreme freedom but, let's face it, not everything about college screams unfettered space. Students don't usually have a lot of extra money and that means that their personal space is limited. In fact, the average college student has bunked down in a dorm room. According to the 2000 census, about 2 million students were crashing in dormitories or residence halls. The 2010 census is not yet complete, but expect to see those numbers balloon with an increase of college attendance coupled with a recession keeping people out of the labor market and in school.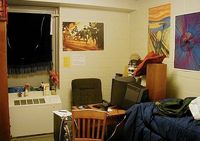 Sponsored
$5,000 Discover® Student Loans Scholarship
No essay required. Students and parents are eligible to win.
As we all know, dorms are crowded, often messy places. They teach us that sometimes it really is time to do that laundry and take out the garbage. Sure, your mom isn't nagging you, but your roommate sure is. Dorms force us into close confines with strangers, they teach us to adapt to new environments and to interact with myriad personalities in tight quarters. Proper dorm etiquette will prepare you for your first real job where you will spend most of your time in small spaces with a variety of people. Whether you are in a very collegiate start-up environment or a corporate cube-farm, your dorm room will have prepared you to share limited resources like: bathrooms, refrigerators, and common areas with people that you didn't necessarily choose yourself.
Sponsored
Course Hero $4k College Giveaway
Easy to Enter, No Essay Needed