One of the main decisions college graduates face is where to plant their first roots upon graduation. Sure, finding a job is a factor in this decision-making process, but you'll want to ultimately end up in a spot that is ripe with diversity, your peers and has a good economic climate. Recently, the
American Institute for Economic Research (AIER)
ranked the U.S. metro cities on their economic and quality of life factors, specifically the top job destinations for young college graduations.
Sponsored
$1,000 April Scholarship
Easy to Apply
In addition to employment opportunities, the cities that qualify high on this list took both urban life and city amenities into account – two factors the research identified as important to college graduates making a decision to move. Research found that those two factors were more important to this group than economic conditions. The study defined the category group of young college graduates as people ages 22 to 35 years who are well-educated (as least a bachelor's degree). Learn more about the
study's research parameters
. Unsurprisingly, more than 25 percent of young college graduates move to the largest U.S. cities – New York, L.A., Chicago, Washington, D.C., and Boston.
Sponsored
Get Your Custom List of Scholarships to Help Pay for School. Sign Up Now!
Fastweb is your connection to scholarships, financial aid & more.
What is surprising, however, is to find many college towns, like Iowa City, Iowa, Bloomington, Indiana and Ann Arbor, Michigan on the list. However, when you take a closer look, it makes sense. College towns are built to be ethnically diverse and often call large corporations home. These cities and towns host many research and technology opportunities offer economic opportunities for graduates to find employment, and often attract young people due to their low living costs and many options of restaurants and bars in downtown areas. Bustling cities and small towns, the cities on this list fall across the spectrum when it comes to lifestyle – but they all have something great to offer. At least one of the ten cities included has something for every young college graduate's tastes, which is exactly what any great top ten list should include. Check out the top ten employment destinations for college graduates in 2015, according to American Institute for Economic Research:
10. Bloomington, Indiana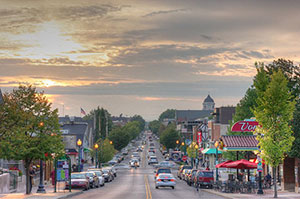 Wikimedia/Yahala
9. Champaign-Urbana, Illinois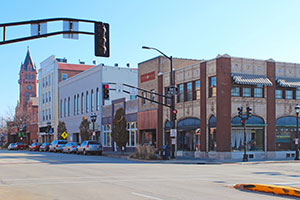 Flickr/Eridony
8. Boston, Massachusetts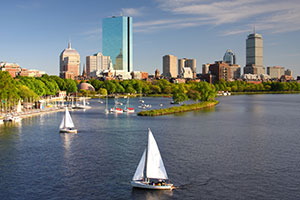 Aerial view of Boston, MA/iStock Photo
7. Lawrence, Kansas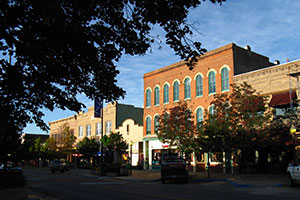 Streetview of Lawrence, Kansas/Flickr/Jasperdo
6. New York City, New York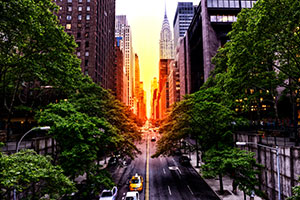 Aerial street view of New York City/iStock Photo
5. San Francisco, California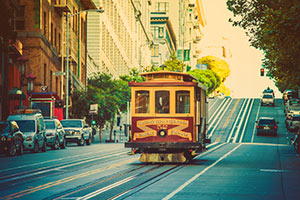 San Francisco street trolley/iStock Photo
4. Washington, D.C.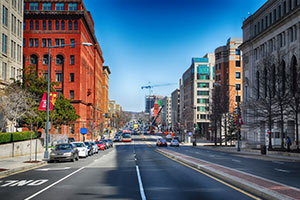 View of Washington, D.C. street/iStock Photo
3. Ann Arbor, Michigan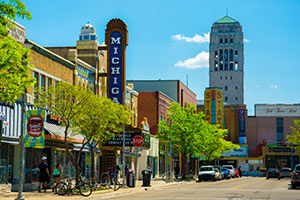 Ann Arbor, MI street/iStock Photo
2. Ithaca, New York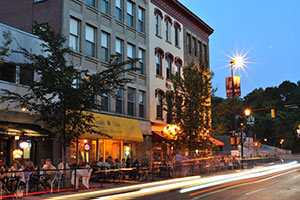 Nighttime in Ithaca, NY/iStock Photo
1. Iowa City, Iowa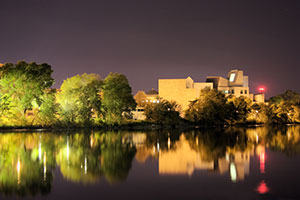 Night reflection view of Iowa campus in Iowa City, Iowa/iStock Photo
Learn more about the research study referenced in this article, Top Job Destinations for Young College Graduates, conducted by the American Institute for Economic Research (AIER).