Study Shows Binge Drinking Could Impact Brain Development in College Students
Two college students drink alcohol.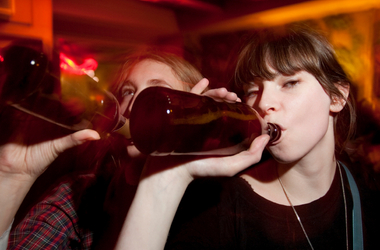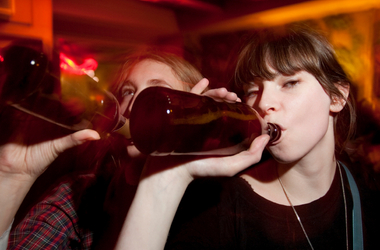 Binge drinking on college campuses is nothing new. What is new is the idea that binge drinking by adolescents can now cause permanent damage to brain development in said drinkers.
According to a story that appeared on May 17 on YourLife.USAToday.com, an experiment was conducted involving 62 college students (age 18-20) to study the impact binge drinking has on the memory. The results of the experiment showed a link between binge drinking in the students and a lower ability to remember a list of words. However, the story states that it is not clear if the difference in the ability to remember words would have an impact on the ability of college students to learn while in school. While that study did not produce major conclusions on binge drinking and a college student's ability to learn, scientists have produce research that suggests the two are related.
The National Institute on Alcohol Abuse and Alcoholism (NIAAA) states that an adolescent or college student's brain is not fully developed until a person's mid-twenties. Scientists believe that the plasticity (the ability to be molded or altered) of the brain during adolescence may make the brain particular vulnerable to the effects of alcohol and other drugs, consequently these effects could be long lasting. In the article Aaron White, program director for Underage and College Drinking Prevention Research at the National Institute on Alcohol Abuse and Alcoholism said "if binge drinking really does compromise the ability to perform memory tasks even days later, the findings could have important implications for students who play hard on the weekends and then go back to working hard during the week.''
In 2000 and 2005, using image techniques to study brain structure, scientists found adolescent alcohol abuse to be associated with a reduction in the size of the hippocampus, the part of the brain which is involved in memory and spatial navigation.
So why is it that college students binge drink? One reason might be that they're more physically able to. The National Institute on Alcohol Abuse and Alcoholism reports that research done in animals suggests that adolescents may be more sensitive to the social stimulating effects of alcohol and less sensitive to its intoxicating and sedating effects than adults.
Although at the time of the study it was not yet confirmed that these differences occur in humans, findings suggest adolescents might be able to stay awake (and perhaps continue drinking) at higher blood alcohol levels than adults. Consequently, the behavior of heavy drinking without becoming sedated may contribute to the greater occurrence of binge drinking in college students and adolescents over adults.
While research continues to be done, mounting evidence shows that binge drinking can in fact adversely affect brain development. Colleges and universities continue to educate and warn students about the dangerous and harmful effects of binge drinking and underage drinking.
Need Money to Pay for College?
Every semester, Fastweb helps thousands of students pay for school by matching them to scholarships, grants, and internships, for which they actually qualify. You'll find high value scholarships like VIP Voice's $5,000 Scholarship, and easy to enter scholarships like Niche $2,000 No Essay Scholarship, and internships with companies like Apple, Google, Dreamworks, and even NASA!
Join today to get matched to scholarships or internships for you!
---