Roommate Etiquette
Kristen shares her freshman year roommate experience.
By Kristen Lemaster
February 22, 2012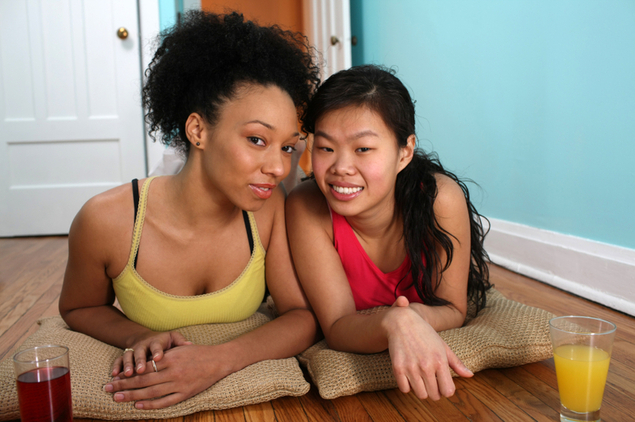 Sitting in the dining hall and eating ice cream at 10 PM one night, my roommate excused herself from the table to get some cereal. When she was gone, one of the girls sitting with us laughed and said, "I don't know how you live with her." It was a good-natured joke, but also a good question, since we hadn't met each other in person prior to the day we tried to shove all our belongings into the same college dorm.
As an older sister, I'm no stranger to sharing a bedroom. There were nights my sister and I stayed up arguing and crying, and there were nights we stayed up talking and laughing, but I knew that on any given night, I had another person's feelings and temperament to take into account. That's a huge responsibility to have to constantly remember, but it really does cultivate more patience, understanding, and respect for others.
Having a roommate necessitates those same things, and I would argue that in order to live with someone outside of your own family, you need those virtues even more often and in greater amounts. It may sound oversimplified, but if you can dig deep and find that extra ounce of sympathy when your roommate's alarm has been sounding off incessantly for ten minutes now and all you want to do is fall back asleep while you still can, you will survive dorm life. I promise it can truly be that easy.
It can also be really, really hard. I've seen that; I've witnessed the fall-out of two girls who seemed to be instantly best friends on move-in day but quickly spiraled down into complete strangers by Thanksgiving break. They are both really nice girls and are happy now to be rooming with other friends. I don't doubt that they have plenty of patience and understanding. For some reason, they just weren't clicking together after all.
Seen your scholarship matches recently? Start applying now.
In contrast, my roomie and I genuinely have it figured out. We're in and out of the room a lot, always careful to find the balance between alone time and time spent just hanging out together. We're not nosy or intrusive about each other's plans or problems, but we care enough to know that we can always count on each other to talk or listen when we need it most. We never tried to force the friendship, and I think that's the secret ingredient.
Jessie was not my friend from the beginning, and I have zero regrets about that. We had talked and texted a little after seeing we matched each other on the UGA roommate search and questionnaire, and we shared the same excitement over starting college, but we didn't know each other. It seemed weird to try to cram everything into the first few weeks when we'd be spending months sleeping six feet from each other.
So we decided our policy was simply honesty. If something upsets you or angers you or makes you uncomfortable, confess it and talk through it. If you need help with something or want to borrow something, ask. Our friendship didn't really come from both of us being in Honors or our shared love of Taylor Swift songs or the strong homesickness we both felt in the beginning. It came from leaving the room to talk on the phone when we knew it'd be a long call, or saying good morning even when we were still only half-awake and probably looked like sea monsters.
The typical college student will settle into her dorm and expect to have her life completely changed by her new roommate. She expects to find a confidante, a sister, a best friend, and a future bridesmaid. But I know now that just a roommate is plenty.
Need Money to Pay for College?
Every semester, Fastweb helps thousands of students pay for school by matching them to scholarships, grants, and internships, for which they actually qualify. You'll find high value scholarships like VIP Voice's $5,000 Scholarship, and easy to enter scholarships like Niche $2,000 No Essay Scholarship, and internships with companies like Apple, Google, Dreamworks, and even NASA!
Join today to get matched to scholarships or internships for you!
---