Making Contact with Your New Roommate
By Leah Westfall
June 14, 2011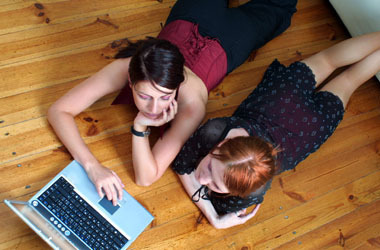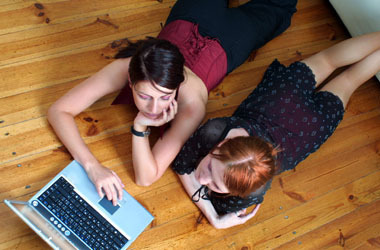 So here you are post graduation and with the arrival of the name and contact info of your new college roommate you're already thinking (and worrying!) about going back. What if you two are nothing alike? What if all they do is sleep? What if they never sleep? What if you hate him/her? What if he/she hates you? Of course you've got a million questions running through your head, you'll be spending the better half of the next year living in close quarters with this perfect stranger. Here's a few things to keep in mind when contacting your new roommate.
College is new to both of you, so you'll most likely both be nervous. In fact, being open and honest about being nervous (moving away from friends/family, new surroundings) may be something you'll be able to bond with your roommate over. Remember, don't turn to your new roomie for all the answers to your questions, they're figuring out things for the first time too.
If you've Facebooked or Googled your roommate, although this can be very telling of the type of person they are, this doesn't tell you exactly who they are, so don't be turned off by something in their online profile, get to know the person before you make any judgments about them. Going into the situation with a positive attitude is one of the best things you can do and while Facebook and email are convenient it's a good idea to pick up the phone and call your new roommate before you meet face to face. You don't have to work out all the details of the room set up and who's bringing what in your first interaction, start building the relationship early on and get to know the person first and focus on the T.V. and mini-fridge closer to the move in date.
Be honest about who you are and the type of roommate you are. You may have been matched with this person at complete random, so don't assume they know anything about you. Be straightforward when answering questions about yourself, if you stay up late, go to bed early or need absolute quiet to study let your roommate know, the more honest you both are – the better living situation, compromise and game plan you'll both be able to come up with so you both feel comfortable in your surroundings.
As much as you'd love to become instant best-buds with your roommate the fact is this just might not happen. You're coming from different places, different backgrounds, different schools and maybe even different countries. Learning doesn't stop when you leave the classroom, with an open mind you'll be introduced to new experiences just living with someone who is completely unlike you. Don't have a single thing in common with your new roommate? Great, you'll have that much more to learn. The important thing to remember is high school is over – no more cliques, no more popular kids and no more nerds, losers or outcasts. You're all starting out on equal footing in college, you're all brand new and you're all trying to find your way. You're a grown up now so it's important to act like one, be open minded and above all be respectful. This is a brand new and exciting experience and whoever your new roommate is, the person will no doubt play a role in your first year at college.
Read more about living with a college roommate in our Student Life articles:

Roommates 101
Survive Dorm Life: Rules to Live By
Need Money to Pay for College?
Every semester, Fastweb helps thousands of students pay for school by matching them to scholarships, grants, and internships, for which they actually qualify. You'll find high value scholarships like VIP Voice's $5,000 Scholarship, and easy to enter scholarships like Niche $2,000 No Essay Scholarship, and internships with companies like Apple, Google, Dreamworks, and even NASA!
Join today to get matched to scholarships or internships for you!
---