Fastweb Celebrates Sweet 16, Surveys 16-Year-Old Fastwebbers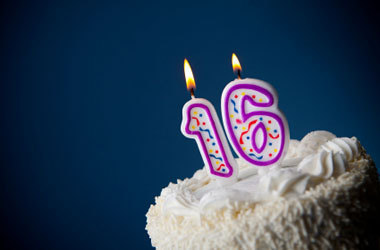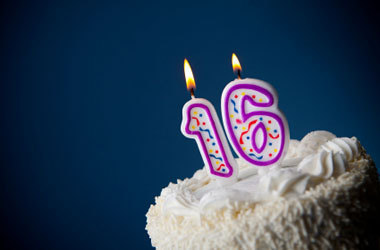 This year, Fastweb is celebrating its sweet 16, and to mark our major milestone, we wanted to find out a little bit more about our 16-year-old Fastwebbers.
In a survey distributed a few weeks ago, we asked students about their favorite celebrities, social media usage and school-related concerns. The results revealed that our Fastwebbers love to have fun and stay in better touch with friends but also share a serious desire to do well in school.
Through the survey, students were able to share which big star would make the perfect BFF. High on the list were celebrities like Selena Gomez, Justin Bieber, Taylor Swift and Emma Watson. According to the Fastweb press release, "Taylor Lautner also ranked high on the list, while Robert Pattinson was nowhere to be found, revealing that Fastweb's 16 year olds are a Team Jacob crowd."
The survey also showed that 49% of teenagers are aware that their Facebook profiles and Twitter accounts could affect the way their admissions applications are judged. On the other hand, 23% of the survey respondents said that their online image is something only adults need to worry about.
On a more serious note, 39% of students shared that they're most anxious about getting good grades. When it comes to college, 27% of students worry about paying for school and 19% are troubled by their admission chances at their first choice college.
Finally, the survey revealed that "78% of teenagers would still go to college even if they knew they would be a millionaire without higher education. Survey respondents cited being afraid of missing out on additional knowledge if they skipped college. Only 5% thought college wouldn't be worth it if they were already successful."
"Over the past 16 years, we have seen the price of tuition skyrocket, and as a result the Student Loan Debt Clock is quickly racing to hit $1 trillion in 2012," said Mark Kantrowitz, a nationally recognized financial aid expert. "This alarming statistic makes scholarships and other financial relief more important than ever. For 16 years Fastweb met this challenge by offering access to millions of diverse scholarships, and we continue to offer new resources to help students tackle debt, every day."
The information from this article was taken from a Fastweb press release distributed Monday, May 23.
Need Money to Pay for College?
Every semester, Fastweb helps thousands of students pay for school by matching them to scholarships, grants, and internships, for which they actually qualify. You'll find high value scholarships like VIP Voice's $5,000 Scholarship, and easy to enter scholarships like Niche $2,000 No Essay Scholarship, and internships with companies like Apple, Google, Dreamworks, and even NASA!
Join today to get matched to scholarships or internships for you!
---