Coping with College Stress
By Kizzy Preston
October 13, 2011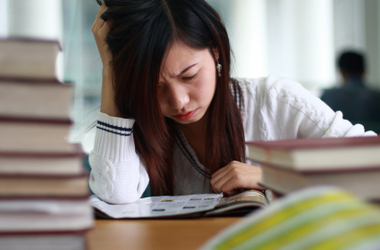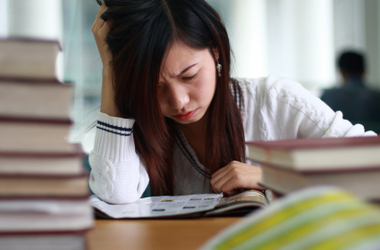 Let's face it, college can be very stressful. Between carrying a full-time course load, work-study or a part-time job, internships, exams, papers due, finding time for friends, and keeping in touch with your family, it can all be too much. Some stress may be healthy, but too much of it will make you very sick.
According to womenshealth.gov, stress can lead to high blood pressure, heart disease, and mental health disorders like anxiety and depression.
So that you are not completely overwhelmed and are able to fully enjoy your college experience, here are some inexpensive ways you can cope with stress.
Exercise — Go for a walk or run in park, play sports, take dance lessons, yoga, or Zumba classes, go swimming. All of these are great ways to be active, and most of these activities are free or can be done for a very low cost at a community center or on your college campus.
Get enough sleep — There is a stereotype of the average college student pulling all nighters trying to write a paper at the last minute, or cram for mid-terms. Not sleeping is bad for your health. A lack of sleep causes the body to not function properly and could land you in the hospital. Try to get your assignments done ahead of time, and shoot for 7-8 hours of sleep per night.
Eat well — Too much late night pizza, fast-food, chips and sweets are not good for your health. Not only will you gain weight and have acne, eating lots of junk food will leave you feeling sluggish and lethargic. Try selecting healthier options from the cafeteria that include fresh fruits and vegetables.
Journal — Journaling allows you to record not just the events of your day, but it also helps you to sort through your emotions. If you are feeling stressed, writing about your problems often helps you to feel better. If you don't enjoy writing perhaps you can use art in your journal as an alternative. Keep a pencil and sketchpad handy, and draw whenever you are feeling overwhelmed.
Join a club — Joining one of the various clubs on your campus is a great way to get involved in an activity you enjoy or are passionate about while making new friends. See the campus activities director for more information on the clubs available on campus or how to start one of your own.
Plan for the Weekend — Create a list of a few fun things you are looking forward to doing over the weekend. Sleeping in, a long brunch in the cafeteria, a matinee movie with friends, a trip to a museum, window shopping at the mall etc., are all inexpensive activities that you can look forward to on the weekend.
Volunteer — Giving back helps you to feel better. There is a sense of accomplishment and fulfillment when you are able to volunteer and make some one's life better. Volunteering helps you to take the focus off of your problems, or stresses. You can volunteer at a local food bank, animal shelter, literacy agency, elementary school, hospital and so much more. Check out volunteer opportunities on Fastweb.
Need Money to Pay for College?
Every semester, Fastweb helps thousands of students pay for school by matching them to scholarships, grants, and internships, for which they actually qualify. You'll find high value scholarships like VIP Voice's $5,000 Scholarship, and easy to enter scholarships like Niche $2,000 No Essay Scholarship, and internships with companies like Apple, Google, Dreamworks, and even NASA!
Join today to get matched to scholarships or internships for you!
---