Being Shy in College
Even if you and your roommate aren't exactly Ted and Marshall, there are many ways to get to know other students.
Laura Magerkurth
November 12, 2012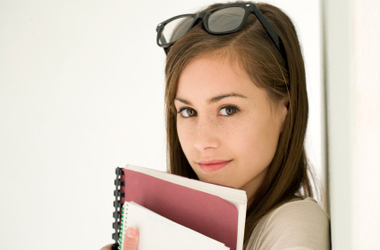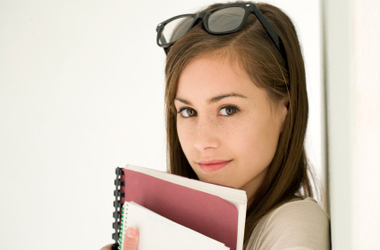 I have never been the most social person. In fact, I'm decidedly introverted: I prefer being with a few close friends than being at a large gathering, I don't feel 100% comfortable getting to know new people, and the way I relax and recharge is by just hanging out by myself and reading, going to the gym, or catching up on TV shows.
I tend to avoid crowded, loud, overwhelming situations because, to me, they are draining. Because of my introverted and also shy nature, I was worried that it would be difficult for me to make friends in college, but fortunately, I've found that I fit in to a tight-knit group very well.
I became very close with my roommate early on. For several weeks, I didn't think we had anything in common and that we'd never be close, but that was before we discovered that we are equally weird. After that now-indisputable fact was revealed, we became much closer. Many people don't particularly love their roommates, but I think it's important to have, at the very least, a working relationship. Counting my roommate among my friends at college has made life a lot more fun, and it has made me more confident about initiating new relationships—if you can be friends with someone you share a scant few square feet with, you can get along with anyone!
Even if you and your roommate aren't exactly Ted and Marshall, there are many ways to get to know other students.
Starting a study group or getting a study buddy will help you get acquainted with people with whom you have at least one thing in common—a class! This will also give you a trusty go-to partner if a group project rears its ugly head, and there's really no bonding quite like griping about a shared professor.
Setting a regular time for meals—even if you go solo—will help you get to know who is at lunch or dinner during a certain time. Just seeing the same faces day after day is very helpful in getting comfortable with others, so when you do decide to sit down across from someone else who's sitting alone, you'll be able to strike up a conversation more easily. But don't be afraid of eating by yourself—lots of people do it in college. Bring a book your iPod or a magazine if you want, or just sit back and people-watch. A good rule of thumb for almost any aspect of college is that nothing is considered weird, so nobody's judging you.
I'll admit it: my strategy for gaining friends is often meeting people through an established friend. There's no shame in asking someone you already know if you can join his or her group for dinner—if you're truly friends, he or she won't mind having you there. The odds are good that if you get along well with someone, you'll get along well with their group of friends, too!
Joining an organization is a great way to get a pack of instant friendly faces. Fraternities and sororities are fairly common, but if that's not your speed, you can always join a service or honors club (plenty of these have social gatherings other than meetings, like bowling nights or movie parties!). You'll meet a few people who have similar interests and you'll get to participate in activities around campus that will familiarize you further with your school.
Thanks to my roommate, my nosiness, and my love of being in clubs, I've built up quite a few friendships that I know will last, at the very least, until graduation. Believe me; if I can make friends in college, you can, too.
Need Money to Pay for College?
Every semester, Fastweb helps thousands of students pay for school by matching them to scholarships, grants, and internships, for which they actually qualify. You'll find high value scholarships like VIP Voice's $5,000 Scholarship, and easy to enter scholarships like Niche $2,000 No Essay Scholarship, and internships with companies like Apple, Google, Dreamworks, and even NASA!
Join today to get matched to scholarships or internships for you!
---