The Military College Drill
By Chris Diehl
January 22, 2016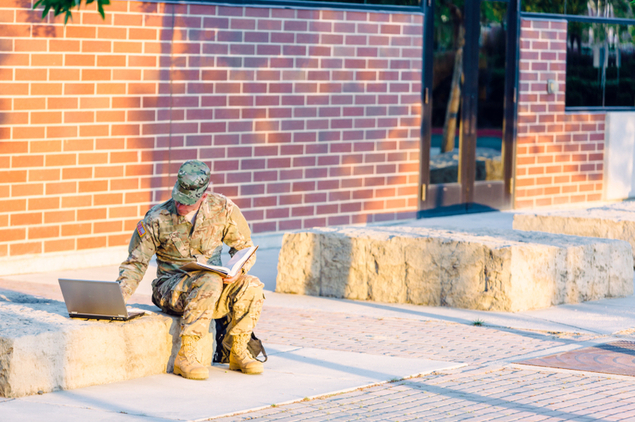 Brian Donovan is a graduate from the US Naval Academy in Annapolis, Maryland. He made the decision in high school that he wanted to go to a military college. "I wanted to challenge myself," Donovan says. "I didn't want to be just a normal college kid. I wanted to do something different."
Every year, thousands of students make the commitment to attend one of the nation's service academies or military colleges. Established on a tradition of honor and duty, these colleges offer a challenging academic environment coupled with an opportunity for national service.
US Service Academies
There are four service academies, each affiliated with a particular branch of the U.S. Armed Forces:
Academics
The academic curriculum at each military institution varies, but they share an emphasis on military, history and engineering courses. Within these subjects, you are likely to find a deeper variety of courses than those available at non-military colleges. West Point offers classes in "Battlefield Operating Systems" and "Map Reading and Troop Leading Procedures" while the Naval Academy has "Undersea Power Systems" and "Ship Vibrations." At the Air Force Academy, you can enroll in classes in space operations, light-plane flying and a free-fall parachute course.
The breadth of classes and opportunity for learning made an impression on Donovan. "The choices have been so rewarding," he says. "You get a chance to fly planes and go out to sea. Last year, I sailed from Australia to Hawaii, and soon I'll be learning how to fly jets and helicopters. My friends are all going to work in offices."
Class size is typically small. Service academy graduates earn a Bachelor of Science degree and are commissioned as 2nd Lieutenants, except in the Navy, where graduates are commissioned as Ensigns.
Military Training/Cadet Life
In addition to academics, students must also learn basic military skills. Students learn how to lead, work in a team environment, strategize in the field of battle and survive under extreme conditions.
New students complete basic training in the summer before freshman year. The next several summers are spent in additional military training. The skills learned vary among the service academies, but all training includes rigorous exercise, firearms instruction, and combat and equipment training.
Inside the barracks, the day begins with reveille and ends with lights out. As part of cadet life, students stand watches, march to meals and wear uniforms for almost all activities. The barracks must be kept clean and prepared for military inspection at any time. Uniforms must be kept in regulation condition. Demerits are awarded for a room or uniform that is not in proper order or "squared away."
Social Life/Extracurricular Activities
Service academies offer dozens of activities that mirror those found at non-military schools: student newspapers, bands, special interest clubs and theater groups, to name a few. Students are encouraged to get involved in extracurricular activities and can even start their own club, as long as they have a faculty advisor.
Military colleges are famous for the strong friendships that develop among students. Bonded by trust, loyalty and commitment to service, cadets become part of the school community. However, there are several differences between service academies and other colleges. Involvement on an athletic team is required. Students cannot leave campus except when granted permission by the school. Some institutions prohibit televisions in students' rooms. Yet there are plenty of opportunities for fun and recreation.
Requirements
The criteria for acceptance are the same among the Armed Forces academies:
You must be at least 17 years old and not yet 23 years old on July 1 of the year of admission You cannot be married, pregnant or have any dependents You must be a US citizen. Naturalized citizens must provide documentation (exceptions can be made in special cases for international students)
High school GPA, transcript and SAT/ACT test scores will be considered. Good grades and scores are recommended.
You must be physically fit, as demonstrated through participation in athletics as well as by passing required physical fitness tests. You must have a congressional nomination to be considered for admission (except for Coast Guard Academy)
By attending a service academy, you have also committed to fulfilling a service requirement in that branch of the military. Your service time begins after graduation, and varies among the armed forces branches:
Army – 5 full years active duty plus 3 years inactive reserve status Navy – 5 full years active duty plus 3 years inactive reserve status Marine Corps – 5 full years active duty plus 3 years inactive reserve status Air Force – 5 years active duty plus 3 years reserve (active status optional) Coast Guard – 5 years active duty as a commissioned officer
In exchange for service, students receive a full scholarship to attend college, as well as room, board, medical and dental care.
Military Colleges
Military colleges are similar to service academies, but don't require a service commitment after graduation. Three well-known military colleges are:

These colleges are not associated with any specific branch of the military, although students are required to complete a certain amount of ROTC semester hours. The curriculum is designed to prepare qualified cadets for a military commission upon graduation, although a commission is not required. However, students do adhere to a cadet lifestyle, with structured days, adherence to an honor code and military training.
Unlike service academies, military colleges do not automatically pick up tuition, room and board costs. Financial aid is available, as are merit scholarships. Many students do take advantage of the scholarships available for ROTC service commitment. Those scholarships are offered for durations of one to three years and are given by both state and federal governments.
Making the Choice
If you're considering a service academy or military college, start planning early. Speak to recruiters, your guidance counselor and students at the school. Research the physical, academic and post-graduate commitments expected of you.
Military schools combine a top-notch education with the opportunity to develop valuable leadership skills. Students who choose to attend a military institution become part of a tradition of national service and principle.
Need Money to Pay for College?
Every semester, Fastweb helps thousands of students pay for school by matching them to scholarships, grants, and internships, for which they actually qualify. You'll find high value scholarships like VIP Voice's $5,000 Scholarship, and easy to enter scholarships like Niche $2,000 No Essay Scholarship, and internships with companies like Apple, Google, Dreamworks, and even NASA!
Join today to get matched to scholarships or internships for you!
---