If anything, prom themes set pretty big expectations for just one night – Stairway to the Stars, Paris by Moonlight, Unforgettable. And while picking the perfect dress, posing for photos and partying until 4 a.m. at After Prom has the ingredients for being a wonderful time full of great memories, winning $10,000 for that night just sounds like more fun. For 12 years now, Duck Tape® brand duct tape has been changing the way high school students get ready for prom with their Stuck at Prom® Scholarship Contest. Rather than spending hours searching for a knockout dress and matching it to a tuxedo, this scholarship opportunity enables students to completely customize their prom attire…with duct tape.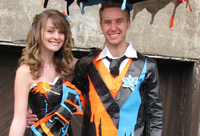 Photo courtesy of Stuck at Prom® Scholarship Contest from Duck® Tape.
Sponsored
Niche No Essay Scholarship
Quick and Easy to Apply for a $2,000 Scholarship
Applicants are required to assemble prom attire completely out of duct tape and then submit a photo showcasing their masterpieces. You must enter as a couple; however, being a co-ed couple is not required. So grab one of your closest friends of the same gender and get to work! Photo submissions will be accepted beginning March 7, 2012. From the submissions, ten finalists will be selected by the judges and online voting will begin on June 18, 2012 for the best dressed duct tape couple. Attire is judged by the following:
Sponsored
Course Hero $4k College Giveaway
Easy to Enter, No Essay Needed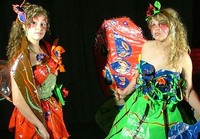 Photo courtesy of Stuck at Prom® Scholarship Contest from Duck® Tape.
• Workmanship (30%)
• Originality (25%)
• Use of color (25%)
• Accessories (10%)
Sponsored
Easy to apply, with no fees.
Discover® Student Loans
• Use of duct tape (10%) The first place couple will be awarded $5,000 each, totaling $10,000. Second place will receive $3,000 each, and third place will win $2,000 each. Runners up each receive $500, and the winners' schools will also receive prizes! (See sponsor's website for details.) Make this prom the best (and most lucrative) – start crafting your prom ensemble, and enter the Stuck at Prom® Scholarship Contest before June 18th!