Fastweb Winner's Circle: Student Finds a Way to Study What He Loves
Andy, pictured on the left.
By Leah Westfall
October 01, 2010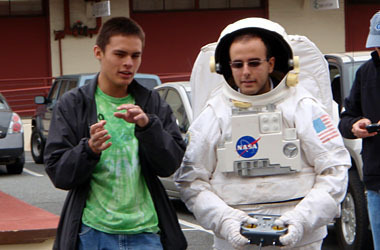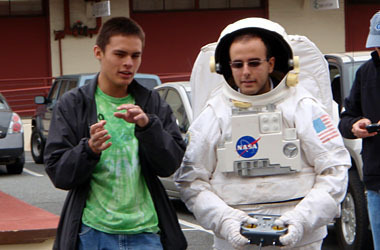 October 1, 2010
Andy has been on Fastweb for the past five years or so, but didn't start looking at the site seriously until two years ago. It was in that time that he fell in love with space travel and Aerospace Engineering, and knew that is what he wanted to study; he also knew he would have to find a way to pay for it.
"I thought not going to school because of money was really unfair" said Andy, 18, from Concord, Ca.
Through his search and dedication to finding money for school to study what he loves, Andy has won four scholarships totaling $44,000 (over four years), three of which he found on Fastweb.
One scholarship was a $3,000 scholarship from the ISSA Foundation. The foundation provides funds for scholarships and other programs that promote the welfare of the general public as relating to the sanitation, cleaning and maintenance industry. Andy was one of 51 students who received a scholarship, total scholarships awarded by the foundation this past year amounted to over $150,000.
In order to apply Andy was asked to submit an essay about his personal goals, a copy of his transcripts, official test scores, two teacher, professor or coach evaluations and evidence of his academic and leadership history.
He also won a $2,500 (per year) scholarship from the California Masonic Foundation. To apply Andy was asked to demonstrate a personal commitment to education, readiness for higher education and the promise of success.
Andy attributes his winnings to his strong educational and extracurricular background. He was valedictorian of Concord High School when he graduated in 2010 as well as founder and president of the Robotics Club his senior year and Quizbowl president his junior year.
Now a freshman at University of California, Davis and majoring in Aerospace Engineering, Andy has used a portion of his scholarship money for tuition and room and board. When asked where he would be without the scholarship money Andy guessed that he would probably be at a junior college somewhere, and while he believes nothing is wrong with going to a junior college he admits it would be a lot tougher to find one where he could study what he loves.
After applying to 32 scholarships Andy has it down to a science. His advice?
-Apply for all scholarships, even ones that are small – you may have a better chance of winning. "There's strength in the statistics game," said Andy.
-Have a portfolio where you keep all of your scholarship material set up and ready to go (transcripts, letters of recommendation and test scores).
-Create some well thought out, solid personal statements about your dreams and goals; these will be used for writing essays.
-Keep your previously written scholarship essays so you can borrow and adapt those statements to new scholarships you're applying for.
-Brag about your achievements, in a good way. Bring out the details and bring it to life. "I think too many times we just put things down on paper," said Andy. "We don't fully appreciate what they mean or signify, especially to other people who might value or think it's amazing that we've done those things."
Applying to scholarships takes time, effort and patience, especially when applying to over 30 of them. So why'd he do it? "I'd have to say the money" Andy jokes. "And the fact that I thought I was going to junior college. I'd been planning to go to college since middle school, it was a powerful motivator."
Although he was prepared and organized throughout his scholarship search and application process, Andy found that it's important to remain flexible and open minded. After thinking he was receiving a scholarship and ending up not qualifying for it, thus forcing him to look at other schools, Andy learned that you have to keep your options open. "Where you think you're going may not be what actually happens," said Andy.
Along those lines when asked about further education plans Andy said that he would love to entertain the notion of grad school but he will have to see where life leads him. ""The [scholarship] money is only for the next four years" he said. "I'm taking it one day at a time."
Need Money to Pay for College?
Every semester, Fastweb helps thousands of students pay for school by matching them to scholarships, grants, and internships, for which they actually qualify. You'll find high value scholarships like VIP Voice's $5,000 Scholarship, and easy to enter scholarships like Niche $2,000 No Essay Scholarship, and internships with companies like Apple, Google, Dreamworks, and even NASA!
Join today to get matched to scholarships or internships for you!
---