Take a Bow and Hear the Applause
During college, learning doesn't just occur in the classroom.
By Ariana Finlayson
March 23, 2007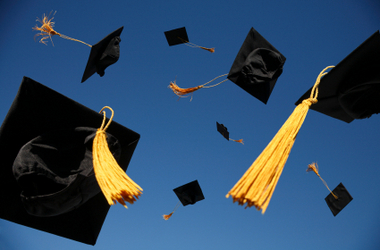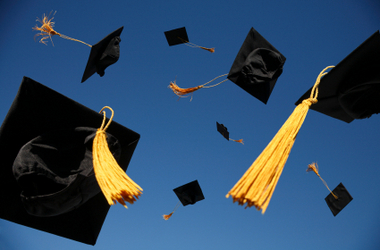 "As you walk across the stage—take a bow and hear the applause. And as the curtain falls, just know you did it all the best that you knew how. You can hear them cheering now, so let a smile and show your teeth because you know you lived it well." – This is Not an Exit, by Saves the Day
I love that band and those lyrics –they're perfect for any closing moment in life, especially experiences that I've invested time and energy into. But these lyrics were especially poignant after graduation, despite its rainy and windy conditions. It did involve me walking across a stage and smiling, with a feeling of accomplishment and relief.
Four years ago, I was wrapping up a similar experience— high school graduation. I was surrounded by family members wishing me the best of luck and teachers cautioning me that the next four years would fly by—and boy did they. I'll miss so much about the college life.
For one, it's easy living under the title, "I'm a college student." By saying that, no one expects you to be searching for a high-paying salary-based job or to move out on your own. You're allowed to be broke and mooch food off your parents. You get tons of sweet student discounts and your school is always giving away free stuff. My boyfriend just began his job in New York and came to the disappointing realization that he will probably never be able to play basketball at the Hofstra Rec Center at 3:30 p.m. with his two best friends. Speaking of friends, my college buddies are now scattered all over the country— no longer a flight of stairs or a building away.
The student life is so good. I was told a million times to enjoy being a student, because there's no other life like it. Here I am three weeks into my "real adult life" and I'm already missing it!
I'm in love with my college experience and the people who I've met throughout it. I'm satisfied with all the choices I made, because good or bad, they all taught me something about myself, which is one of the best rewards.
When I lost my scholarship at the end of my freshman year because I didn't meet the GPA requirements, I learned what it's like to fail and lose something and reap the consequences. And when I appealed and got it back, I was never more thankful.
Being an RA was a positive experience and gave me leadership skills that were unimaginable. I met some of the best people at Hofstra through this experience and I couldn't be more thankful.
My internships were the best real world experience I could have gotten. I couldn't have lucked out better while each one taught me something different about workplace environments, staff dynamics and my own work ethic.
Living away from home made me really appreciate my family. I'm an only child so there were no siblings to miss, but I have a huge extended family. I saw the independence that my parents were giving me and the support that they provided.
Hofstra is pretty diverse in my opinion. One of the biggest lessons I learned was to never judge a book by its cover. In college, you will talk to people who you probably wouldn't in high school, just because cliques are not as prominent in college.
Along with not judging, I learned not to buy into stereotypes. I'll never forget that I was always so surprised when I met someone from Brooklyn, Queens, or the Bronx
and he or she didn't fit the stereotype that I had unconsciously formed in my mind. Surrounded by a student body with backgrounds so different from mine, I saw different family dynamics and traditions, as well as cultural diversity.
I really never thought that my college experience would have ended up the way it did. From the start, I knew I would learn from the books, meet a lot of people, and have a lifetime of student loan debt. What ended up happening was that I walked away experiences and tips that will benefit me so much in this "real world."
I miss Hofstra, college life and being a student. But my mom has always told me, "Ari, you must go forward." Usually, mom would say that in regards to moseying in the morning or taking my sweet old time. This time around though, I'll take it for moving forward in life.
Need money to pay for college?
Every semester, Fastweb helps thousands of students pay for school by matching them to scholarships, grants and awards for which they actually qualify. Sign up today to get started. You'll find scholarships like the Course Hero's $5,000 Scholarship, and easy to enter scholarships like Niche $2,000 No Essay Scholarship.
---