Older and Wiser: A Scholastic Advantage
Adult students may have advantage over younger students.
By Lisa Hardman
March 06, 2007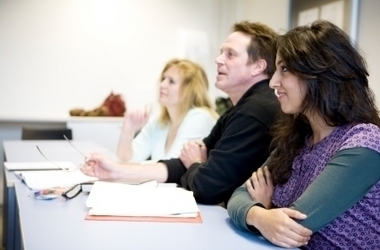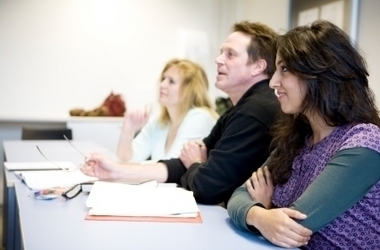 Several weeks ago, a guest speaker in my "publishing your writing" class shared his insights regarding creativity and the writing process. He surprised me when he admitted that becoming a father was one of the best things that had ever happened to his writing. "From that point on," he said, "it was the end of narcissism." Unexpectedly, his vantage point changed when he realized that he was no longer the center of the universe. As he began to write more expansively about the wider human experience, his writing became more consequential and more significant.
Sitting in class that day, I realized that I too had experienced this kind of epiphany in my own life. Twenty years ago, as an eighteen-year-old music performance major, I remember my professor repeatedly urging me to perform with more self expression. I tried my best to emote, but looking back, I honestly believe that I was incapable of the pathos he demanded from me. My naiveté was due to the fact that life just hadn't required that much from me yet. Although I had experienced the typical angst of youth, tragedy and grief were still unfamiliar to me. I just wasn't cognizant of the finer particulars of the human experience or of the range of human sentiment because I had not yet learned about loyalty and loss, self-denial and self-sacrifice. But all that changed when I became a wife and a mother.
With marriage and the birth of each of my children, my musicality miraculously improved. Without realizing it, raising a family had taught me how to be a better musician. Now, as a returning college student, I am discovering that my domestic experience adds richness to my education that wasn't there the first time I went to college. Many of the barriers I thought I would encounter in my studies have not materialized. Years of practical experience have actually refined my critical thinking skills and provided me with an unexpected advantage in the classroom.
As a younger student, my attempts at problem solving were superficial at best, but now as a more mature learner, I bring depth to the process of what my English textbook calls "wallowing in complexity." Although each class assignment takes a great deal of commitment and hard work to complete, I actually value the struggle with complexity. The years of managing an energetic household has honed my ability to handle intricacy and as a result. I have reaped the satisfactory reward of true intellectual growth this past semester.
No matter what educational obstacles I encounter, I know that it is never too late to be what I might have been. With plenty of patience, persistence and perception under my belt, I am learning that next to the joys of family life, pursuing a higher education can be one of life's most fulfilling undertakings.
<a href = "/college-scholarships/">Find scholarships now!
Need money to pay for college?
Every semester, Fastweb helps thousands of students pay for school by matching them to scholarships, grants and awards for which they actually qualify. Sign up today to get started. You'll find scholarships like the Course Hero's $5,000 Scholarship, and easy to enter scholarships like Niche $2,000 No Essay Scholarship.
---