Nomination of Sonya Sotomayor Inspires Hispanic Students
Sotomayor with students in New York. Photo courtesy of www.whitehouse.gov/photogallery/Sotomayor-Bio/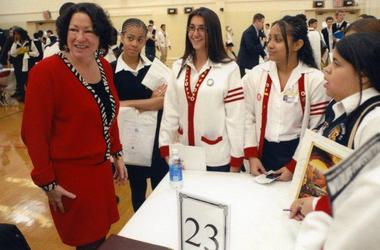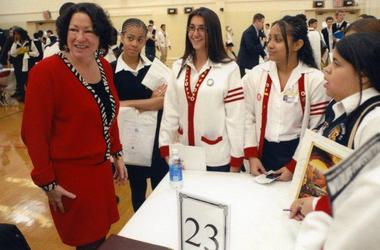 On May 26, 2009, President Barack Obama nominated Sonia Sotomayor for appointment to the U.S. Supreme Court. If confirmed, Sotomayor, who is of Puerto Rican descent, will be the first Hispanic Supreme Court Justice and only the third female justice. And yet another glass ceiling will have been broken.
The nomination of the first Hispanic to the Supreme Court is inspiring Hispanic students nationwide.
Hispanic students at Washington D.C.'s Cesar Chavez Public Charter School told the local Channel 8 News that Sotomayor's nomination gives them hope that they can excel to a level they never thought possible.
"Look at her story; if she can do it why can't you," a student, Brenda Balcarcel told Channel 8. "Yeah, it's hard, but if you want something you're going to work hard and you're doing to do it."
One student, Hancy Montesino told Channel 8 he believes that there can now be a Hispanic president, "we have a chance now," he said.
And yet another told Channel 8 that he thinks Sotomayor's nomination will inspire parents to encourage children to work harder in school.
"And it almost gives parents a reason to push their kids far enough so they can achieve greatness – hey, you could become the next president like Obama did…. He eliminated that whole idea that only the white man can do it. He did that and so did Sonia," Bonerge Rubio, a student told Channel 8 News.
Does Sonia Sotomayor's Supreme Court nomination inspire you? Share your thoughts in the comments below.
Information compiled from Channel 8 News and Wikipedia.
Need money to pay for college?
Every semester, Fastweb helps thousands of students pay for school by matching them to scholarships, grants and awards for which they actually qualify. Sign up today to get started. You'll find scholarships like the Course Hero's $5,000 Scholarship, and easy to enter scholarships like Niche $2,000 No Essay Scholarship.
---