Student Life >> Browse Articles >> Off-Campus Housing
Moving Day Misery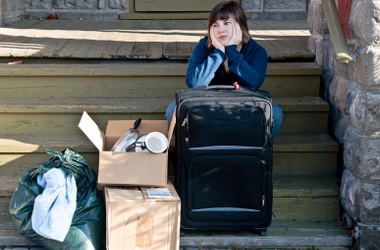 By Contributing Fastweb members
June 05, 2007
"We reach the Office of Residence Life where I am patiently awaiting my room assignment. The secretary says, 'I'm sorry we made a mistake, we ran out of rooms and we didn't get a chance to notify you in time.' Not only does my mouth drop to the floor in shock, but my mom is utterly upset. She ranted and raved and complained. They said they could only put me on the waiting list, which meant I still might not end up with a room. Eventually, we worked things out. I have been living off campus in a beautiful townhouse (Yippie! No sharing a bathroom with six girls)."
- Carla, University of Maryland Eastern Shore
"I happened to live seven floors up without the use of an elevator. It was hot and sticky moving sofas and bunk beds up the stairs. It started raining, so we moved the car closer. We figured since it was move-in day, no tickets would be given out. We were wrong … I was ticketed and had to move my car."
- Amanda, Central Michigan University
"As we were loading my Tahoe, my dad went to move it with the back glass window up and tailgate down. I guess he didn't realize the window was up because as he was backing up, the window hit the top of our garage door and EXPLODED!
"I loaded all my stuff into his truck and left. My dad was supposed to bring my truck later that night, all fixed, with the rest of my stuff. He had to come in my mom's car since mine needed body work and a new window. He called me around midnight because he was lost. They stopped at a gas station and I received another call that the car wouldn't start. We had to get a tow truck to tow it to my apartment complex. Then I was stuck there for a couple days with a car that didn't work."
- Lindsey, Texas A&M
"I was moving out. The landlord was a real jerk. She stood at the door and took pictures as my mom, boyfriend, moving people, and I loaded boxes into the van. If something even slightly hit the wall or door she pointed it out and took a picture.
"During the middle of moving a load to my new place she took it upon herself to re-key the place. I had to call my attorney and the police to get back in, that took a few days.
"I am now in a lawsuit with her. She is claiming all kinds of damages. Thankfully, I have about 15 people to attest to the fact that the place was spotless, including the cop who stayed while we finished moving and cleaning the place."
- Amanda, Oklahoma State University
---