Student Life >> Browse Articles >> Student News
Colleges Guarantee Four-Year Graduation, Pay Your Tuition if They Fail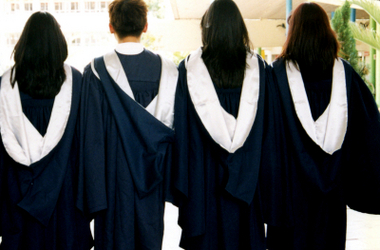 Colleges guarantee you'll graduate in four years or they will pay your remaining tuition costs.
By Kathryn Knight Randolph
September 20, 2011
The American dream: a high-paying job, a beautiful home and a hefty retirement fund. All made possible by the Bachelor's degree you completed in four years.
There's a reason it's called a dream, and unfortunately, it's not the reality. In fact, the most recent data from the National Center for Education Statistics suggests that even obtaining a college degree in four years is hard to come by.
Approximately, 36.4% of college students receive their Bachelor's degree in four years. A majority of students, however, require five or six years to successfully finish college.
But now, a handful of colleges and universities are guaranteeing their students will graduate in four years. And if they don't, the school will foot the tuition bill for the next year, according to The New York Times.
Most of the colleges are private universities like Randolph-Macon College in Virginia and Baldwin-Wallace College in Ohio, but public universities, like University of Nebraska and Western Michigan University, are also jumping on board with the program.
Four-year graduation guarantees are not taken lightly at these schools. To participate, students must sign an agreement with the school saying they understand all of the stipulations. These agreements ask students to commit to maintaining good academic standing and frequent scheduling sessions with advisers. However, they differ by school.
If it's the college's fault that a student doesn't graduate; for instance, if required classes aren't available, the graduation agreement goes into effect and the student attends another year on the university's dime. The graduation agreement doesn't cover students who perform poorly in classes or decide to take a brief break from school.
As Baldwin-Wallace College points out, the graduation guarantee not only helps students save money during their college experience but also enables them to make more upon entering the workforce.
Their website states, "In addition to paying for additional years of tuition, room/board and incidental costs, students facing postponed graduation can have lost earnings potential related to delayed career entry. These losses can amount to $28,000 — 60,000 a year due to an inability to enter the workplace in a timely manner."
Currently, there are 15 colleges in the country with a graduation agreement. Learn more about their individual graduation guarantee agreements:
---